Presidents' Day is a great holiday for boosting business with special sales. Whether you're a retailer or a service provider – or even B2B company – you can leverage patriotic themes and the idea of freedom of choice to generate February sales. Make the holiday more profitable than ever with the following ten tips for boosting Presidents' Day sales.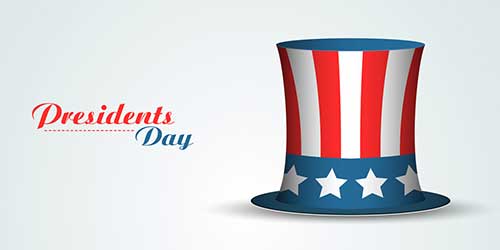 1. Tiered postcard marketing campaign
You know postcards are powerful marketing tools that let you reach a highly-targeted audience with minimal effort and budget, but did you know your postcard marketing campaigns can be even more successful when you send multiple tiers of promotions?
Plan to send three postcards for President's Day: the first goes to everyone on your list, and encourages them to subscribe to your online newsletter to gain access to your special VIP sale. The second goes out to the people who subscribed to your newsletter, this time encouraging them to like your Facebook page to get an additional percentage off.
You'll send fewer postcards each round, but your audience will be far more targeted – and you'll gain two new avenues for reaching them to promote future campaigns.
2. EDDM postcards
If your promoting a local Presidents' Day sale, you might instead opt for EDDM – Every Door Direct Mail – postcards. These postcards are sent to every address (business, residential, or both) in a defined geographic area, which can save on postage.
Make your Presidents' Day postcards stand out with ultra postcards, which feature a bright band of edge color sure to command attention.
3. Strategic wall graphic and poster placement
If your retail store is located in a popular mall, you can drive customers to your storefront with strategically-placed wall graphics, banners, and posters. Place them near in-mall competitors and outside storefronts that share your target audience for maximum impact.
4. Outdoor banner marketing
Place outdoor banners near high-traffic intersections and along roadways where they'll be noticed by hundreds or thousands of local motorists every day. Put them out a week or two before your big sale to build momentum for your Presidents' Day sale.
5. Launch a loyalty/rewards program
Use Presidents' Day as a springboard for your new loyalty/rewards program. Tell customers they'll get double points on your program for purchases they make on Presidents' Day. This works whether your program is new or pre-existing. Make sure your incentive is attractive enough to generate sign-ups!
6. Bring a friend, double your savings
Run a Presidents' Day sale promotion that gets customers to double your business: when they bring a friend and both make a purchase, both get twice the discount!
7. Table tents
Operate a restaurant? Table tents are perfect marketing tools for promoting special Presidents' Day entrees, drinks, and desserts. Feature high-margin menu items people love to get the most bang for your marketing buck.
8. Use hang tags liberally
Dramatically increase impulse purchases in-store with large, attention-getting hang tags that feature special sales and benefits, or an enhanced customer image. Print Presidents' Day-themed hang tags to help your products stand out.
9. Bundle items
Bundle slow-moving stock with popular items at discount prices to increase sales and avoid liquidating old stock. Special Presidents' Day gift baskets are a perfect idea for retail shops!
10. Mark your calendars
This requires some planning ahead, but if you print calendars (wall, desk, or fridge magnet), you can promote your Presidents' Day sales with special coupon codes – which also allow you to measure response.
Ready to boost your Presidents' Day sales? Maximize your ROI with discount printing!