Savvy businesses know it takes a lot more than luck to boost St. Patrick's Day sales. Whether you want to promote a special St. Patrick's Day event, advertise your St. Patty's deals, or sell your St. Patrick's products, you need a sound marketing strategy to maximize your return on investment. Find your pot of gold with the following 10 tools for St. Patrick's Day marketing.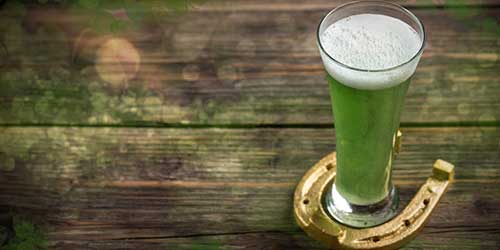 1. Banners
Banners are perfect St. Patrick's Day marketing tools for local establishments: gift shops, restaurants, bars, boutique retailers, and even service-based companies such as auto repair shops and massage therapists. Design St. Patty's-themed brochures and place them in prominent areas to reach thousands of potential customers for minimal investment.
2. Flyers and posters
Print flyers to market your St. Patrick's Day event and place them anywhere and everywhere your target audience congregates. Want to get even more attention? Print large posters that are easy to read from a distance. Short-run posters are perfect for event marketing, because you can print small quantities to get the most from your marketing budget.
3. Table tents
Restaurants and bars can advertise St. Patrick's Day dessert and drink specials or upcoming St. Patrick's Day parties with table tents. However, you don't have to run a pub or eatery to take advantage of table tent marketing; all you need to do is partner with one that serves your target audience. Print your message on one side and theirs on the other and split the costs to slash your investment without sacrificing your reach.
4. Postcards
Send direct-mail postcards to your existing customers and/or a list of people who match your customer demographics. Include a special coupon code so you can track response for your St. Patrick's Day sale or event. Print triple-thick ultra postcards featuring a band of edge color to command attention for your promotion.
5. Coasters
Coasters are clever St. Patrick's Day marketing tools for restaurants and bars – or any brand that wants to attract the same audience. Beer companies often distribute free coasters to bars to promote their brands, but any company can do the same and get the same branding power.
6. Hang tags
Place hang tags on your St. Patrick's Day sale items. It's a good strategy for attracting attention to your special sales and can encourage impulse purchases at retail stores and boutique shops. A small investment in hang tags can increase the average receipt and boost mid-March profits.
7. Save-the-date magnets
If you're hosting a large-scale St. Patrick's Day festival or other event, you can print your schedule on save-the-date magnets and distribute through sponsors, local bars and restaurants, and via direct-mail. Consider a ticket or other coupon code to help track response.
8. Catalogs
Do you sell St. Patrick's Day T-shirts, mugs, hats, party supplies, or other merchandise? A direct-mail catalog strategically sent to a qualified mailing list can help you boost spring holiday sales. If a full catalog isn't in the budget, consider sending a postcard that leads customers to your online shop instead.
9. Stickers and labels
Move more merchandise with special St. Patrick's Day labels, which will help draw attention to your products and spark inspiration for how they can be incorporated into the holiday. You can also print large stickers to place in unique areas and earn more attention for your brand, products, and services.
10. Booklets
Booklets help you establish authority in your industry, provide excellent value to your customers, and lead to increased sales. A party supply company, for example, might print booklets that detail how to plan and host the perfect St. Patrick's Day party. The booklet would be packed with helpful tips and tricks, and sprinkled with product purchase suggestions. You might be able to adopt a similar concept to boost your own sales.
Ready to make more green this St. Patrick's Day? Do it for less with discount printing.