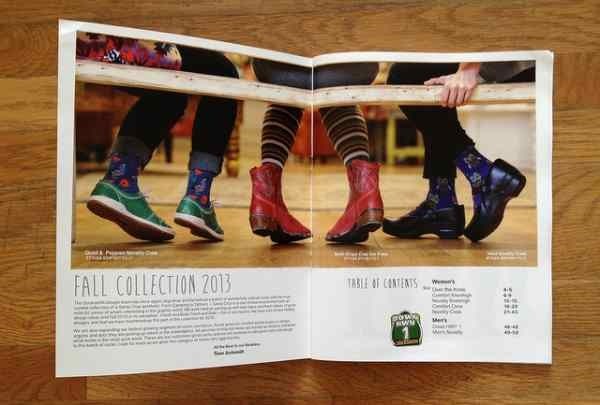 Catalog Spread Design by Judi Oyama
Want to earn more profits from your direct-mail catalogs? Incorporate the following 10 tricks into your next catalog marketing campaign.
1.  Buying guides
Include buying guides with honest product reviews to help your customers make better buying decisions.  They'll trust your expertise, and they'll ultimately be happier with their purchases, which means they'll come back for more.
2.  Product comparison charts
Make it easy for customers to compare important product features, benefits, pros and cons, and prices with visually compelling product comparison charts. Show your customers the best deals depending on their situation, and position those deals for excellent profit margins.
3.  Full-color printing
Full-color printing is cheap in the digital age. Don't skimp on full color, because product visuals reel customers in.
4.  Related products
Showcase related products, accessories and peripherals all in one page. Even better, package accessories with big ticket purchase packages to maximize your profits.
5.  Cheap printing
You want your catalogs to arrive on crisp, clean paper with vibrant, non-smearing inks; but premium printing doesn't have to break the bank. Keep an eye out for catalog printing deals to minimize your investment and maximize your return.
6.  Testimonials and case studies
Real-world customer testimonials and case studies, complete with photos, help sell other potential customers. When they read real testimonials, they'll trust you. When they read case studies, they'll relate to your other customers' situations and understand you can similarly help them.
7.  Stage the products
Show your products in use in large image spreads. Clothes should be depicted on models, home theater systems should be shown set up in a real home theater environment. By staging your products, you create desire because you help customers visualize themselves enjoying them.
8.  Limited-time offer
Your catalog cover should feature a limited-time offer to motivate customers to look at your catalog – and place their order – now.
9.  Better mailing list
Your mailing list plays a major role in your catalog marketing success.  Understand who your best customers are, and send your catalogs to a mailing list comprised of those who share their demographics.
10.  Print on a budget
If  you have a limited budget for catalog marketing, you can opt to print a smaller catalog as a booklet, flyer or even a postcard. Give a representative sampling of your products or showcase a single product, and attach a special offer.  Then, drive customers to your website to order.
What are your favorite catalog marketing tricks?