Refrigerator magnet printing is a powerful marketing strategy that brands and promotes your company every time your audience heads to the fridge. Fridge magnets are unlike other marketing tools in that they:
are useful, which means your audience is likely to prominently place them on their refrigerators
have longevity; a single refrigerator magnet

can brand your company for years – even decades!
If you want to tap into the power of fridge magnet marketing, you can draw inspiration from the following 10 useful fridge magnet themes that promote your company.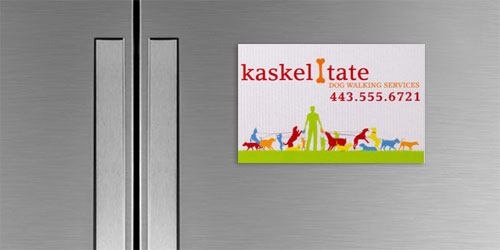 1. Sports schedule
From local high school football teams to favorite professional baseball teams, if your audience is into sports you can print magnets featuring their schedule, ticketing information, and more. Don't forget to add your own logo and other promotional messaging.
2. Emergency numbers
Print fridge magnets featuring local emergency numbers: police, fire, hospital, poison control, and more.
3. Business directory
Partner with non-competing local businesses to print a business directory magnet. This lets you share the investment and increase your reach. Encourage each business to include a special coupon code so you can measure response. Good candidates include pizzerias, gift retailers, mechanics, business services, and more – in fact, any business that serves your local market can benefit.
4. Calendar with seasonal sales
Print a calendar magnet that highlights holidays and other special dates, and include seasonal sales along with coupon codes to promote year-round purchases.
5. Kitchen tips
Print magnets packed with kitchen tips that can serve as a handy reference for cooks. Your magnet might list measurement conversions such as milliliters to teaspoons, ingredient substitutions, and special diet considerations such as gluten-free foods.
6. Useful websites
You can print refrigerator magnets that list useful websites your audience is interested in. Local business websites, restaurant websites, school websites, real estate websites, and others are good ideas. You can also feature helpful online tools, such as currency converters and recipe websites.
7. Dry erase whiteboard
Print large, glossy magnets with white backgrounds to serve as dry erase boards – perfect for to-do lists, grocery lists, and jotting random notes to other family members.
8. Kids picture frame
Print die-cut magnets with open interiors that frame children's artwork. Your logo and business information can serve as the border for kids' showcase galleries.
9. Relevant images and messages
Brand your company by printing magnets that feature a powerful image and message that's relevant to both your audience and your business. A pet store, for example, might print a magnet featuring cute puppies wearing sunglasses and the message "Puppies rock." The pet store would also add its logo and contact information.
10. Healthy eating
You can print magnets that promote healthy eating. Include a food pyramid or recommended serving portions of each major food category that reminds your audience to eat fruits and vegetables – and lay off the sweets. This is a good strategy for health-oriented companies, gyms, weight loss programs, nutritional stores, and grocery stores.
High-quality magnets are more likely to make their way to your audience's refrigerators. Maximize your return on investment by printing premium magnets at discount prices.