Black Friday remains the biggest shopping day of the year, as more than 100 million people venture out to shop Black Friday deals – spending nearly $60 billion between Black Friday and Cyber Monday. It stands to reason that you want your share of Black Friday sales. It's relatively easy to let your existing customers know about your deals (and you should absolutely do so), but new customers will contribute to business growth this holiday season.
Attracting new customers can be difficult, especially since so many competitors are wooing them with their own Black Friday deals. That means you need a strategic marketing campaign designed to introduce new customers to your company, create a desire for your products, and ultimately motivate them to take action and make a purchase. To those ends, the following lists 10 ways to attract new customers to your Black Friday deals so you can boost holiday sales this year.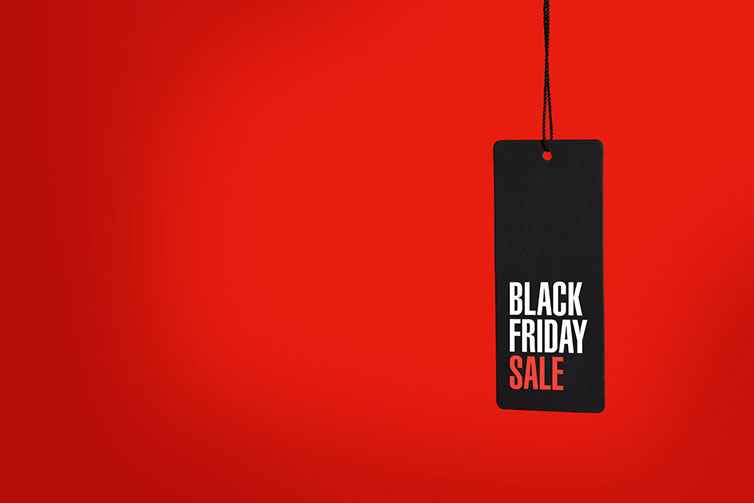 1. Sweeten the deal
One of the best ways to attract new customers to your Black Friday sales is to sweeten the deal with conveniences and add-ons they'll appreciate.
For example, you might offer holiday cards or gift wrapping to make your retail store a one-stop shop. Conveniences such as these resonate with busy customers who simply want to get their shopping done and move on with their lives.
Other incentives include free shipping and even freebies when customers reach a spend threshold.
2. Impulse marketing
Promote your Black Friday deals to customers who are actively shopping to bring them into your store. You can print vinyl banners that advertise your Black Friday sales and place them outside the shopping mall where your storefront is located, for example.
Or, print window clings to convert window shoppers into customers. Other ideas include printing posters to hang in strategic locations or printing flyers for advertising partners to stuff into their customers' bags.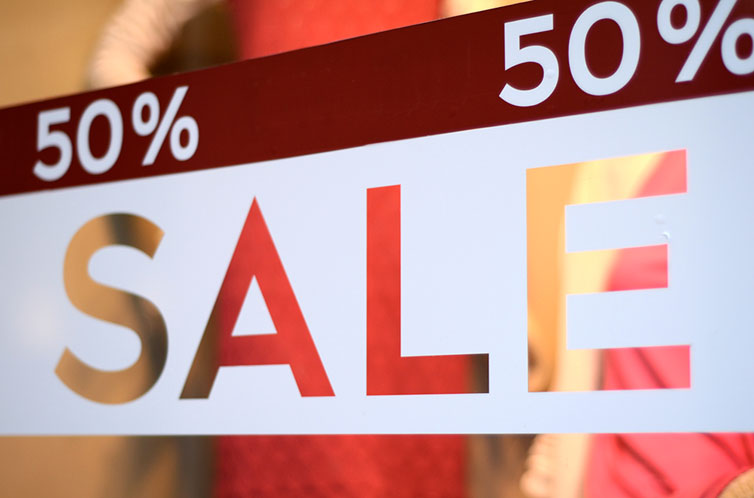 3. Offer early bird sales
The one major drawback to Black Friday shopping? Black Friday crowds. Let your customers beat the crowds by offering early bird sales and "sneak peek" specials. Help them get their holiday shopping done early and hassle-free, and you could win new customers for life!
Market your early bird sales with direct-mail postcards, banners, posters, flyers, and digital marketing tools to increase your reach. Consider including a special VIP code or pass to add a sense of exclusivity to your sales; then, make sure you give early bird shoppers the red carpet treatment so they come back again.
4. Direct-mail postcards
Direct-mail postcards make it easy to reach a well-targeted audience by your targeted demographics: location, age, gender, income and more. You can print postcards to send via EDDM (Every Door Direct Mail) to reach specific neighborhoods; or, you can print postcards to send to a list comprised of people who match your best customer demographics.
Be sure to include a coupon code so you can measure your response rates, and consider printing ultra postcards. They're triple-thick and feature a band of attractive edge color, which can help your postcards stand out to recipients.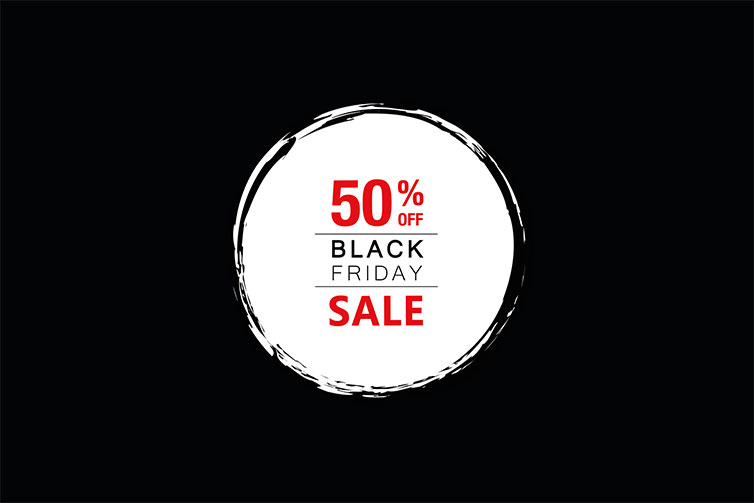 5. Bundle your products
Make it easy for customers to buy for their loved ones with bundled gift sets. You might consider bundling your bestsellers with slower-moving items to help you move more inventory, faster and with greater profitability.
Promote your gift bundles with traditional marketing – direct-mail postcards, flyers, posters, inserts, and banners – to bring people into your store. Once they're there, drive sales home by printing stickers or hang tags that promote the benefits (and special sales prices) of your gift bundles. Again, it's all about creating convenience, which is a powerful way to win new customers.
6. Print catalogs, holiday gift guides, or inspiration books
Print booklets as holiday gift guides or inspiration books, then send them to a targeted mailing list to attract new customers to your Black Friday deals.
For example, you might print a guide to hosting the perfect holiday party or cooking the perfect Christmas meal. Or, you might print a holiday gift guide for everyone on your customers' lists. Other ideas include holiday travel guides or inspiration books packed with photos of unique and creative gifts they'll be proud to give to their loved ones.
And, of course, you can print Black Friday catalogs and send them to your targeted list. Your catalogs should showcase your best products, as well as accessories and add-ons they'll want to buy (which can increase holiday profits). Add in helpful tips and tricks to lend credibility to your catalog content and influence more sales.
Of course, be sure to add a coupon or time-limited offer to fuel Black Friday sales!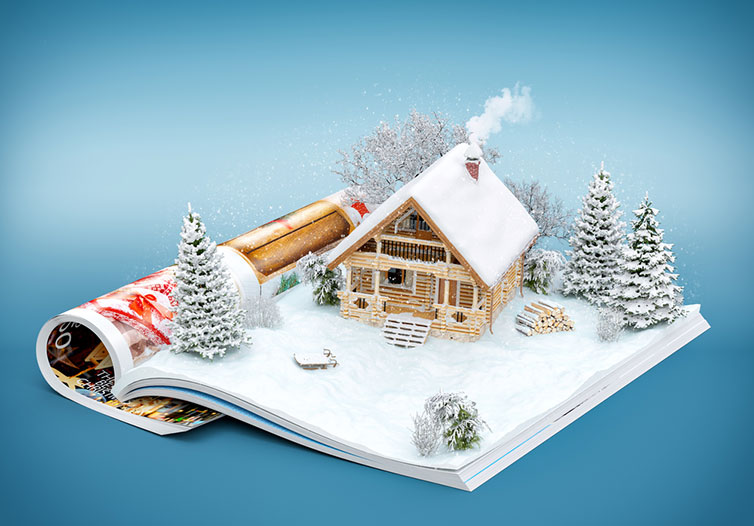 7. Send thank-you cards
Do you have a list of past customers who haven't visited in a while? Turn those old customers into new customers by printing thank-you cards.
Your thank-you cards should be genuine. Thank your customers for their past business and wish them a happy holiday season. Then, add in a special offer as an incentive to come back. When you print holiday greeting cards, your message is unexpected yet appreciated, and it's a powerful way to convince past customers to give you another try.
You can also print invitation cards to invite new customers to check out your Black Friday deals.
8. Print rewards cards
Print customer loyalty rewards cards to attract new customers to your Black Friday deals. Use traditional marketing tools to increase awareness for your campaign, then set it up so they receive an instant discount when they sign up for your card on Black Friday.
Then, offer ongoing discounts when they make later purchases. In this manner, loyalty rewards cards can prove powerful instant incentives that lead to long-term customer relationships.
9. Try table tents on Black Friday
You don't need to operate a restaurant to take advantage of table tent marketing. Instead, you can partner with a restaurant to place tablet tents that promote your Black Friday deals on their tables.
This is an excellent strategy for retailers located in busy shopping malls, where thousands of people will visit the food court on Black Friday. Strategically placed table tents can lead to hundreds of impulse purchases by new customers.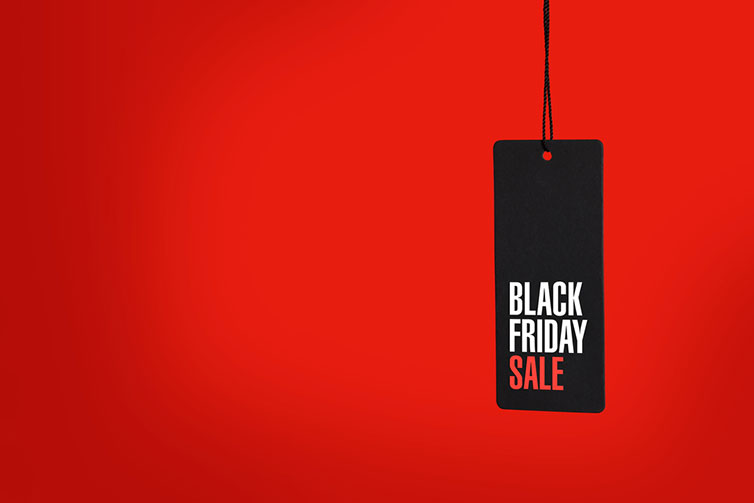 10. Partner with a charity
'Tis the season to give, and many nonprofit charities ramp up their marketing campaigns over the holiday season. Partner with a worthy cause your audience is passionate about to attract new customers.
For example, you might donate a portion of every sale to your selected charity. This strategy not only endears with a cause your audience cares about, but it also helps double your marketing efforts, as your partner is likely to promote your Black Friday sales.
Ready to launch a winning Black Friday marketing campaign designed to attract new customers? Maximize your ROI with discount printing services today!