Does flyer marketing work? Yes! In fact, 79 percent of small to medium enterprises engage in flyer and brochure marketing. Though that statistic doesn't tell you what kind of return on investment you'll get from flyer marketing, it certainly confirms that flyer marketing works: if it didn't, why would so many businesses continue to print flyers?
Of course, design and flyer printing are only part of the equation when it comes to developing a successful flyer marketing campaign: You also need a solid distribution strategy that puts your flyers in front of people who are likely to buy. To that end, the following lists 10 ways you can put flyers in customers' hands today.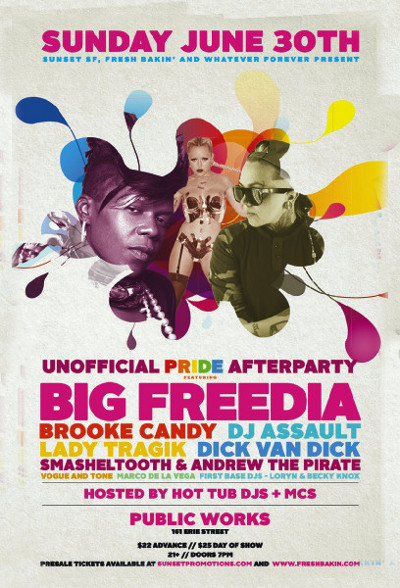 Club card flyer for Sunset Promotions
1. Direct mail
Direct mail is one of the best ways to reach a well-targeted audience, whether it's your own in-house customer list or a list comprised of those who share your customer demographics. Flyers are among the most affordable direct mailers since they simply need to be folded and affixed with mailing seals.
2. Local retailers
Retailers, gas stations, grocery stores, and other local businesses often have counter space that's perfect for flyer distribution. Many also have public bulletin boards and lobby areas. See if you can work out a deal with non-competing businesses that share your audience to place your flyers in their stores. If you also own a local store, a flyer swap is an easy strategy that benefits both businesses.
3. Street team
Perfect for restaurants, bars and entertainment venues; you can employ a street team to hand out flyers to people passing on the street (or sidewalk, as it may be). One example: a bar in a busy entertainment district might distribute flyers to people to promote their band and drink specials on Saturday nights.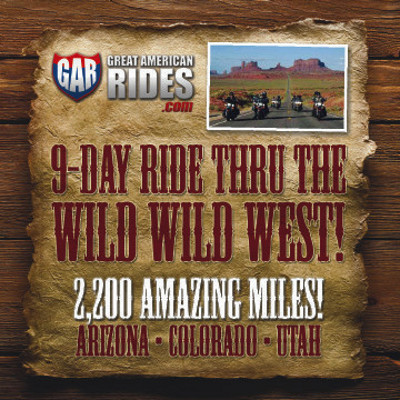 Club card flyer design by Blittzed! for Great American Rides
4. Door-to-door
Door hangers make great marketing tools, but if you print extra flyers they can pull double duty if you stuff them in screen doors. You'll need to be strategic with your distribution: target only neighborhoods where likely customers reside. If you operate a service business such as landscaping, lawnmowing or contracting, you can take flyers to each job site and distribute them to neighboring homes.
5. Events
Attend the same events your customers do and hand out flyers in-person and via your booths — if you set them up. You might even place people in the crowd to hand out flyers that direct potential customers to your booth!
6. Newspaper inserts
Target specific geographic areas by printing flyers to insert in local newspapers. Newspaper flyer inserts command more attention than standard advertising because they're separate pieces. Despite the insertion fee, they can actually cost less, too, especially when you're printing full-color flyers.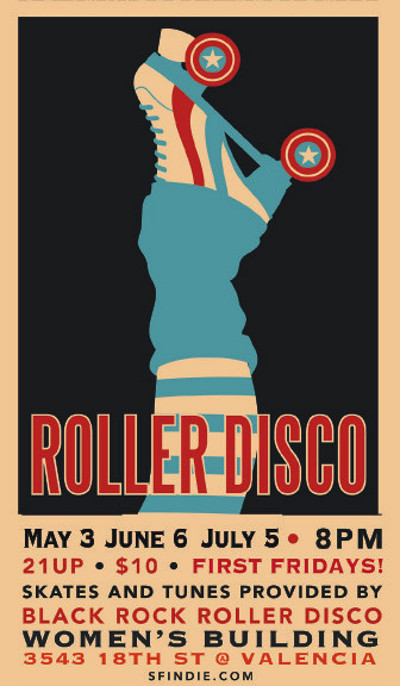 Club card flyer design by R.Black for SF IndieFest's Roller Disco
7. In packaging
Do you routinely ship packages to customers, such as with mail-order catalog and e-commerce businesses? If so, don't miss an opportunity to market your products and services by inserting flyers in each package before it goes out the door. If you don't ship, find a business that shares your audience and work out a deal to get your flyers inserted in their packages.
8. Vehicles
Place flyers under windshield wipers in busy parking lots. Malls and events are often great places to finds hundreds or even thousands of cars in a single lot, which means you can distribute flyers to hundreds or thousands of people in no time. Be sure to check local ordinances and get permission from property owners before you commit to this flyer distribution strategy, as it's not allowed everywhere.
9. Pizza boxes
If you're targeting a local audience, see if you can work out a deal with local pizzerias to have your flyers affixed to their pizza boxes. You might, for example, offer to help pay for the cost of pizza boxes in return for the right to add your flyers to them.
10. Online
Though flyers are print marketing tools, they can also be effective online. Once you've sent your flyers to be printed, save web-optimized versions to share on your website and social media pages.
Ready to get more sales with flyer marketing? Boost your return on investment with discount flyer printing today!