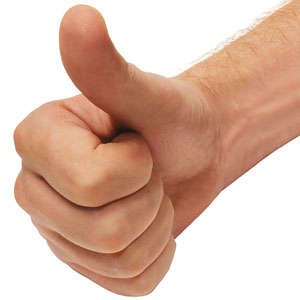 Facebook has proven itself to be a powerful marketing tool. Your Facebook page fan base is akin to having an opt-in mailing list, with the added social sharing and "like" factor. You can take advantage of these features to harness the power of free (essentially) marketing to your Facebook fans: reveal special promotions, fully develop your brand image and customer culture and win over loyal customers for the long-term. But first, you have to have a healthy Facebook page fan base. To help grow yours, try the following 10 ways to get more Facebook page likes.
1.  Ask questions
Asking questions is one of the best ways to engage your Facebook page audience and to generate more likes from post shares. I've found the best questions to be those that seek highly opinionated answers. For example, our lake improvement association once asked which of the 30-plus bars around our local lake served the best pizza. We received a wide variety of answers and plenty of fan debate – and the question stands as our most popular post to-date.
2.  Develop gated content
Gated content is something desirable you produce and offer only to Facebook fans. Develop content your target audience will want to have, then require them to like your page before they can access it. For best results, engage in additional promotional activities such as paid advertisements and blog marketing.
3.  Always respond
This should go without saying. Always, always, always respond to fan posts. It's hard enough to grow a targeted audience; once you have it, reward your fans by engaging them. If you do not, you'll bore them and they'll leave.
4.  Post photos (and lots of them)
Photos are the most-viewed and most-shared types of posts on Facebook, and the second most-commented types of posts (just slightly behind brief text). Photos are visually attractive, which makes your posts more dominant on newsfeeds. And you can post photos of anything relevant to your business and your fans.
5.  Post for the most (views)
If you manage your own Facebook page (and I highly recommend you do), then you know that keeping up with a large fan base can be time-consuming. Maximize your time with post scheduling services. Some, such as HootSuite, even let you auto-schedule posts for maximum views. The science behind such services isn't perfect, but it does result in decent post views while saving a ton of time in the process.
6.  Post every day
Post daily to keep your brand and page flowing through fan newsfeeds. Schedule as necessary.
7.  Take a stand
Controversy fuels comments. Don't be afraid to take a stand on a hot issue on your Facebook page. Make sure it's consistent with your brand, and you only risk alienating those who are not in your target audience. Your best potential customers will align themselves with you.
8.  Be relevant to now
News "happens" faster than ever, and social media is the fastest way a story can spread like a wildfire. When you post, be relevant to now – not yesterday, not even an hour ago. Breaking news on your Facebook page is a great way to be the go-to link for viral likes.
9.  Launch contests
Fans love contests, especially those that are fun and engaging. One of my clients' most successful campaigns was to give a free pizza to the first fan who posted the World Series score after each run. Not only did the promotion yield plenty of new likes, it engaged the page community and sparked World Series discussion right on the page (which in turn introduced new fans to the page).
10.  Tell everyone
If you write a blog, include your Facebook page link in your author bio. Place the link at the end of your emails. Include your Facebook page URL on your print marketing collateral, including posters, letterhead, flyers, postcards and business cards. The more you can promote your Facebook page via these "free" methods, the more you'll grow a highly targeted audience. These are fans that didn't like your page after a prompt, but after learning more about you and your company and seeking you out on Facebook. The distinction is huge. How do you earn more Facebook page likes? Let me know in the comments!