You have a lot of restaurant marketing options at your disposal, but none are so powerful as refrigerator magnet printing. A CBS News poll found that 87 percent of Americans have magnets on their refrigerators – and more than half of their fridges feature five or more magnets.
There's no doubt people love to place magnets on the fridge, which also happens to be the very spot they go when they're hungry. It's the perfect marriage for restaurant marketing!
Think about this:
Studies have found that the average household opens its refrigerator door 40 or more times each day – which means they're visiting the fridge at least 40 times daily. Multiply that by 365 days per year, and you get 14,600 visits a year.
That means a single magnet can put your restaurant in front of customers – when they're hungriest – nearly 15,000 times each year. Not bad for a 20-cent investment!
If you're ready to make your restaurant a household name, check out the following 10 proven and creative restaurant magnet marketing ideas.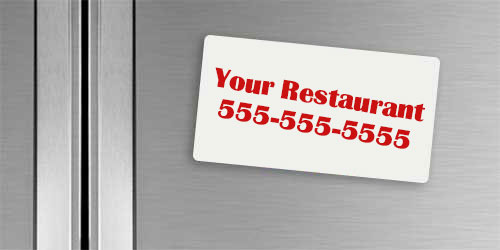 1. Menu magnets
Obvious yet effective, menu magnets are perfect restaurant marketing tools. Whether you operate a carryout, offer home delivery, or run a fancy sit-down restaurant, menu magnets put your fare in front of hungry customers, right in their kitchens.
2. Calendar magnets
Print calendar magnets that feature your restaurant brand. Customers can quickly reference your calendar – and be reminded they're too busy to prepare dinner.
3. Sports team schedules
Perfect for sports fans, sports schedule magnets become go-to refrigerator references. Checking the schedule on the fridge is even faster than searching on smartphones.
4. Reference chart magnets
Kitchen measurement conversion charts and ingredient substitution lists are perfect fridge companions that can also promote your restaurant. For example, many people follow gluten-free diets. You could print a fridge magnet that lists gluten-free ingredient substitutions – and promote your gluten-free pizza at the same time.
5. Important local numbers
Emergency numbers, school numbers, poison control, local services, and, of course, your restaurant, can all be printed as a handy magnet for local customers.
6. Coupon codes
Create three or four family specials, then print them on fridge magnets. Ask customers to use coupon codes to redeem your special offers so you can measure response.
7. Wine and pairings
Does your restaurant have an extensive wine or beer list? You can print a magnet that lists the best pairings for different types of beer and wine – and showcases the food and beer/wine pairings you offer in-house.
8. Babysitter checklist
Give customers a handy babysitter checklist to place on their refrigerators, complete with an ad for your delivery service so the sitter doesn't need to worry about cooking. Parents can even use the magnet to hold the pizza money.
9. Local services magnets
Partner with non-competing local businesses to print magnets that highlight the best local service providers: your restaurant, a plumber, an attorney, an insurance company, a massage service, a movie theater, and more.
10. Dishwasher magnets
The fridge is a great place for magnets, but have you considered printing magnets for dishwashers? Yours could ask customers if they're tired of doing dishes – and if they are, they should call on your restaurant.
Take your restaurant to the next level with discounted magnet printing today.