Outdoor marketing is a powerful way to introduce your business to new customers and motivate them to visit your physical or online location – otherwise known as taking the next step in the purchasing process. Vinyl banners are among the cheapest outdoor marketing tools, which means companies of any size can benefit from large banner printing.
What are the benefits of outdoor marketing? Consider these statistics from marketing guru Brandon Gaille:
Signs attract half of a startup business' new customers
For local businesses, 85 percent of your customers live in a 5-mile radius; which means each could see your sign 50 to 60 times per month
The smallest retailers (less than 100,000 sq. ft. shopping centers) benefit the most from signage, since 35 percent of their customers stop on impulse
Those statistics largely refer to on-site signage, but they illustrate how outdoor marketing can boost traffic and increase business. The same ideas can be applied to banners strategically placed alongside busy roadways, outside shopping malls, and in targeted areas your audience frequents.
Before you get there, however, you need to develop a creative outdoor marketing campaign that gets noticed, remembered, and influences your audience to follow up in person or online. For your inspiration, the following lists 20 brilliant examples of outdoor and banner marketing you can use as creative springboards for your own campaigns.
1. Take a break from the sun (found on Design Soak)
This clever banner uses die-cut letters to cast a shadow that reveals the messaging, which promoted safe skin care on the beach and helped raise funds for the Clare Oliver Melanoma Fund.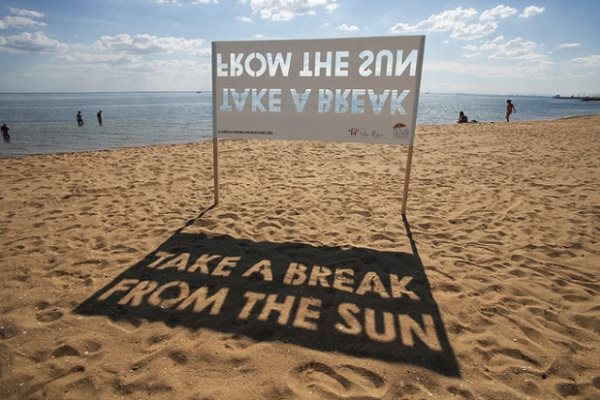 2. Need money for my family in the rainforest (found on Pinterest)
This clever outdoor advertising campaign turned city trees into advocates for the rainforest to help fund deforestation efforts.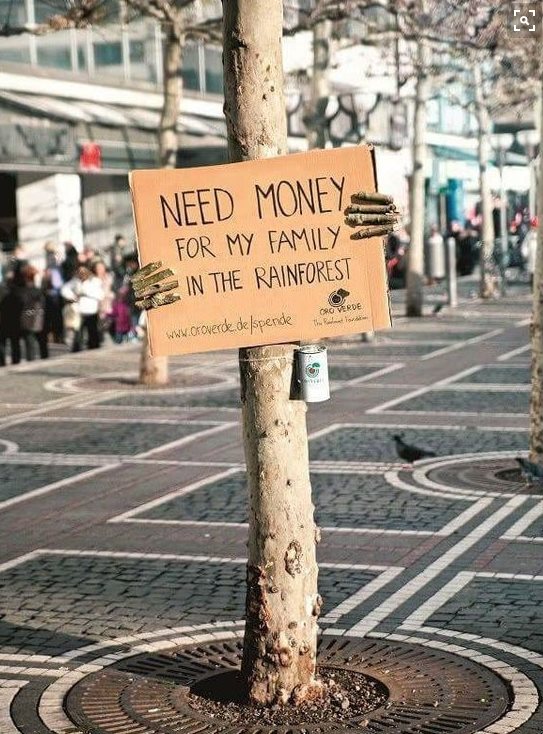 3. Donato's Pizza billboard (found on The Meta Picture)
Donato's new hand-tossed pizza is so good, the billboard model can't resist a slice.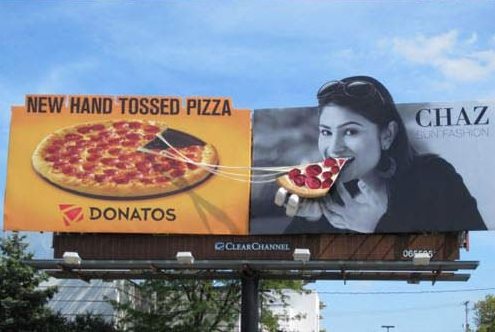 4. Capisco hot sauce (found on Pinterest)
The message of this outdoor ad is clear: Capisco is the hottest sauce around!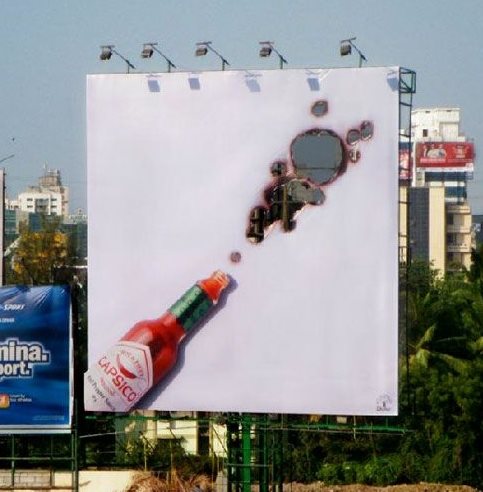 5. Alberta skiing wall graphic (found on Toxel)
This clever wall graphic and floor sticker combo promotes the Alberta skiing industry.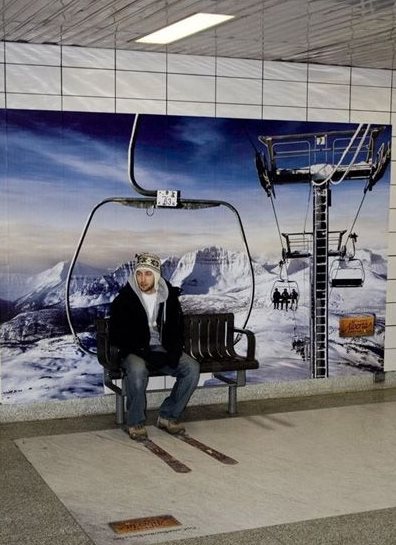 6. Always Fresh Pasta (found on From Up North)
This outdoor ad replicates the pasta-making process to demonstrate the freshness of the product.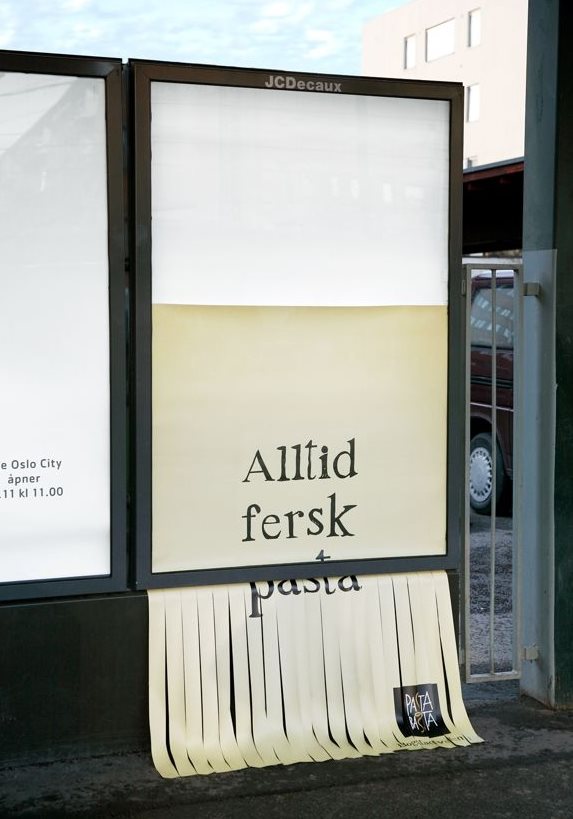 7. Guinness fill-in-the-blank (found on Pinterest)
Fill in the blanks to reveal the name of this well-known beer brand. This ad makes you think to get the messaging (though a not-so-subtle hint is available in the form of the brand's logo). Devoting thought process to the ad makes it more likely you'll remember it later.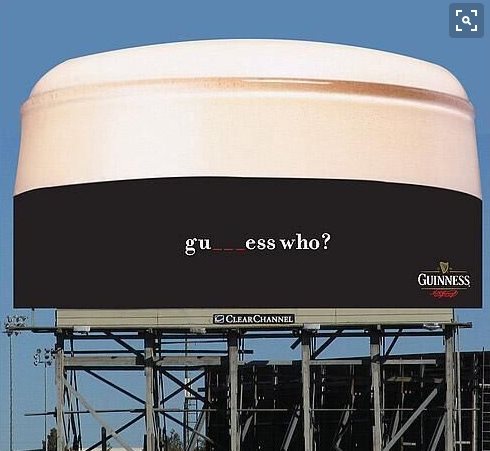 8. Life's too short for the wrong job (found on PSD Box)
This Jobsintown.de ad makes it clear you don't want to get stuck in a dead-end job.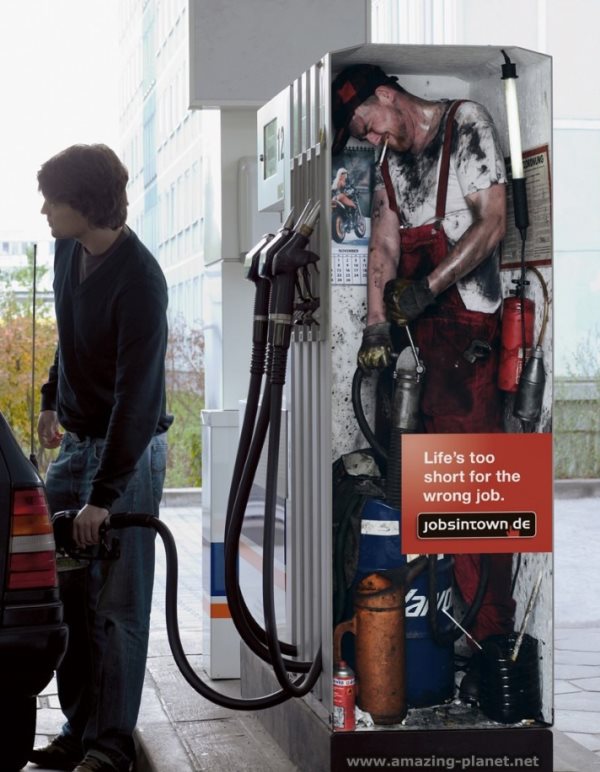 9. Victoria's Secret outdoor ad (found on Pinterest)
An interactive ad that encourages you to use your phone's barcode scanner to reveal what's hiding underneath… Victoria's Secret lingerie, of course.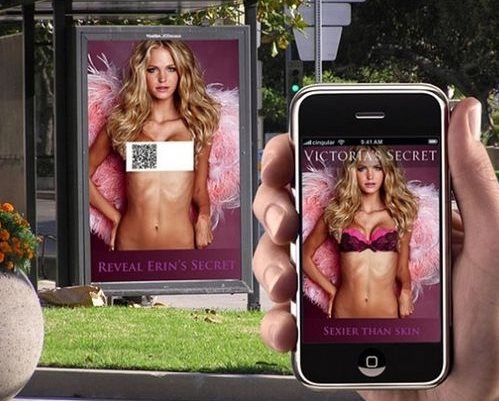 10. Carnival Cruiselines water park (found on One Extra Pixel)
This enormous banner incorporates its environment into the messaging with a painted fire escape and secondary graphics.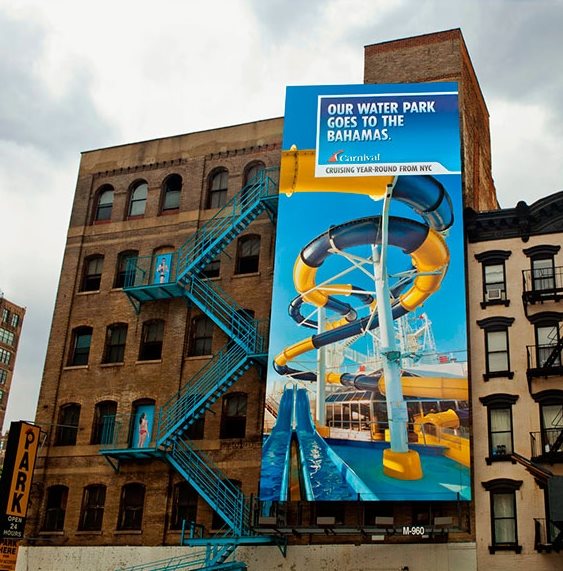 11. Beware the kraken (found on Pinterest)
A branding masterpiece featuring the tentacles of the kraken and promoting The Kraken Black Spiced Run.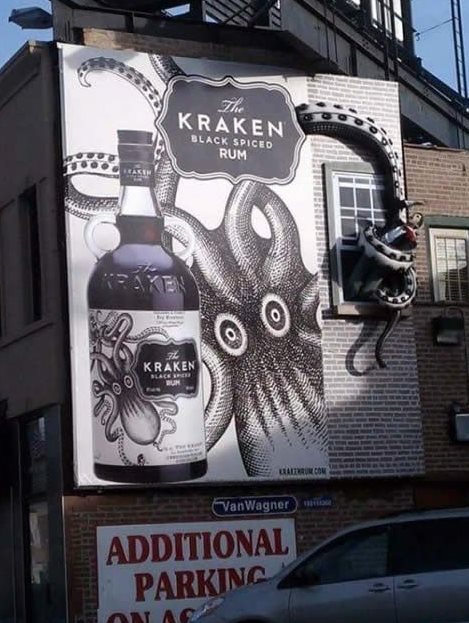 The Altoids brand name does sound like a set of muscles, after all; and the ad earned accolades from the Outdoor Advertising Association of America.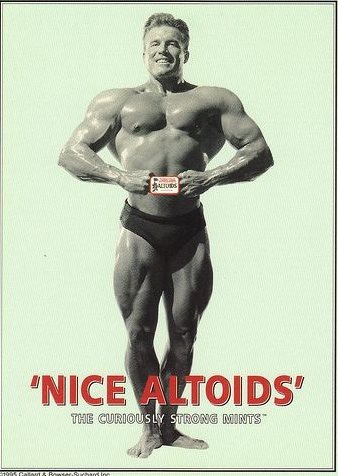 13. Australia Post (found on Pinterest)
To promote its personalized stamp campaign, Australia Post placed mirrored advertisements in bus stations.
14. Air New Zealand (found on From Up North)
Another attention-commanding outdoor ad featuring a large banner and a "kayaker" to promote Air New Zealand.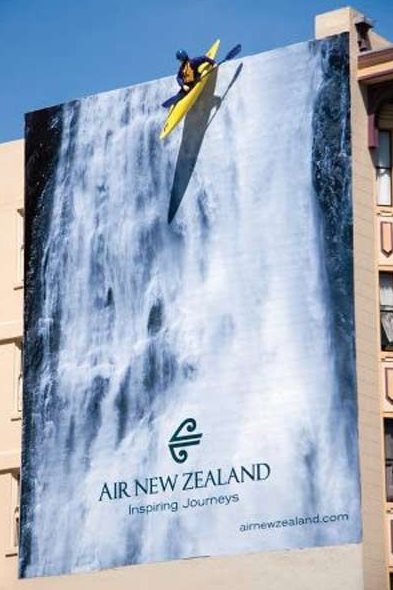 15. Hot Wheels billboard (found on Pinterest)
Hot Wheels turned life-sized cars into toys with this clever, fun, and unforgettable bridge billboard.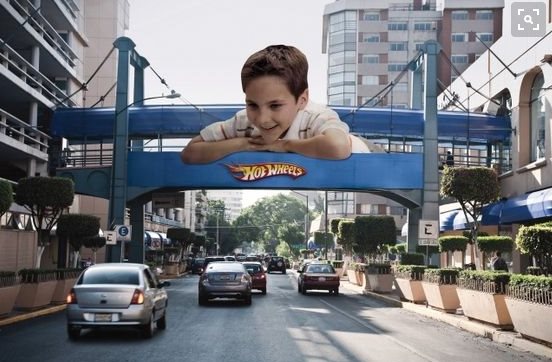 This outdoor advertisement is not only impossible to ignore, it features visuals that are highly relevant to the message while incorporating the environment to facilitate memorization.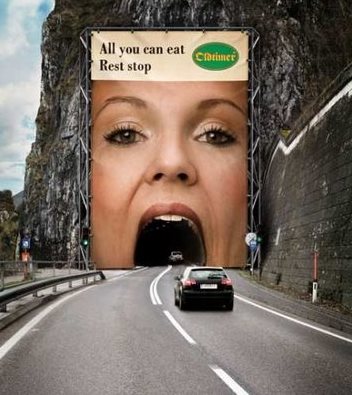 17. The Simpsons movie (found on Toxel)
Bus stop stickers/wall graphics recreate the living room from the popular TV show to promote the movie it spawned.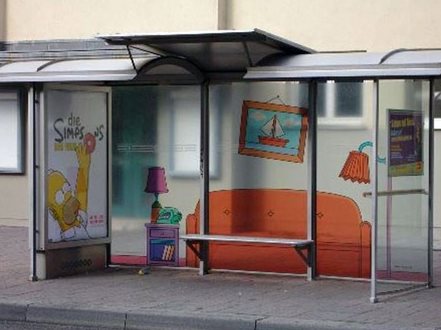 This award-winning advertisement incorporates a mirror to help pedestrians picture themselves tubing down a Wisconsin river.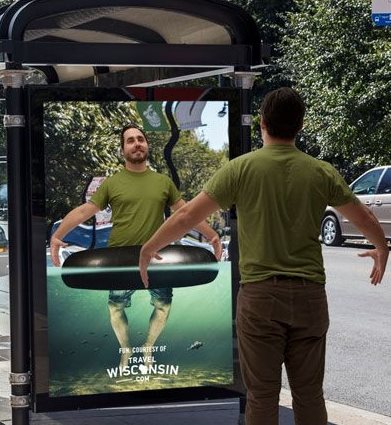 19. Science World: Beavers (found on Bored Panda)
Did you know a beaver can cut down 200 trees per year? You would if you saw these creative outdoor ads promoting Science World.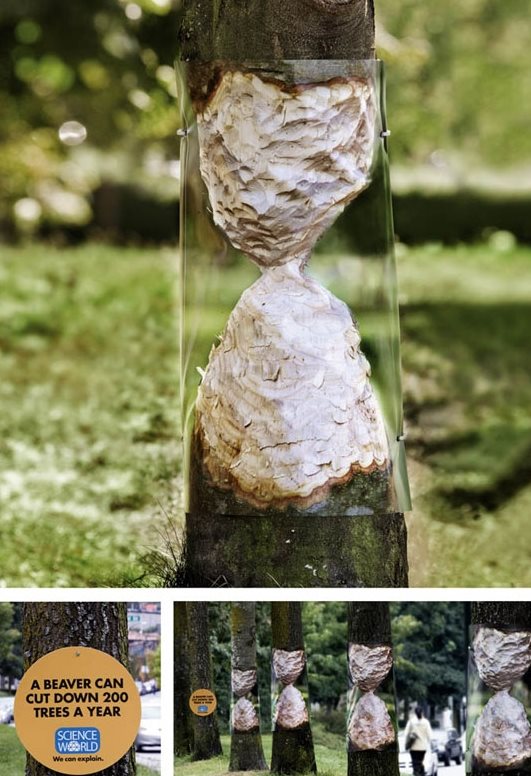 20. Coca-Cola ad (found on Pinterest)
Big brands such as Coca-Cola feature entire catalogs full of interesting and meaningful outdoor ads, and this one is no exception.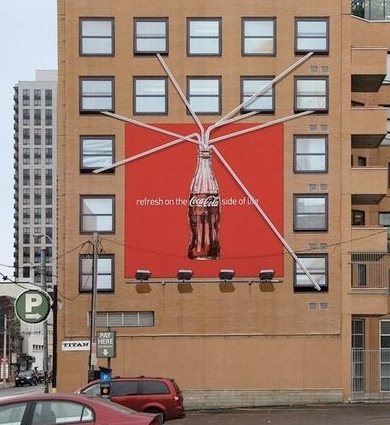 Ready to promote your business with creative outdoor marketing? Do it for less with discount banner, wall graphic, and window cling printing services.