Summer is nearly here, which means it's a great season to promote your brand, products, and services via outdoor marketing channels. A single outdoor marketing placement can earn you hundreds or even thousands of views every single day, making outdoor marketing incredibly cost-effective for even the smallest of businesses. Boost summer sales with the following 20 outdoor spots for powerful summer marketing.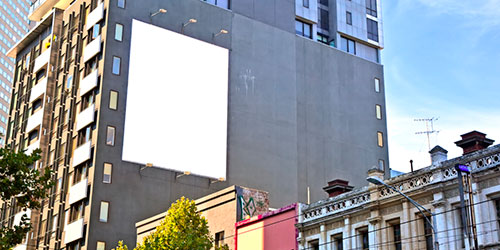 1. Utility poles
Lamp posts and other utility poles can be used for sticker placement and to hang banners from. In some cases, you might even be able to hang a banner over the street to maximize your visual impact.
2. Windows
Retailers and restaurants can pull customers in via window clings, perfect for areas that enjoy high foot traffic.
3. Walls
Bare walls in prominent locations present excellent opportunities for large-scale wall graphics, which can make a big statement about your brand.
4. Doors
Cover shop doors with posters, flyers, or banners to promote your specials and draw curious customers in to learn more.
5. Busy intersections and roadways
Place large banners at busy intersections and alongside busy roadways to make sure commuters and travelers know about your brand, event, or special summer sales.
6. Sporting events
Sponsor sporting events and get your stickers, banners, and posters prominently placed near scoreboards and other highly-visible locations.
7. Concerts and festivals
Similarly, you can sponsor local concerts and festivals. Get your banners placement front-and-center: on or over the stage, for example.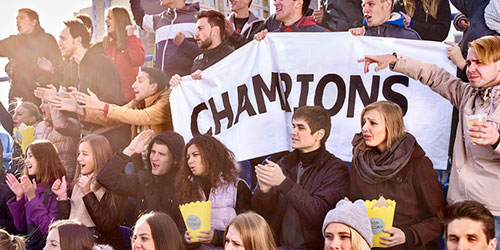 8. Outdoor bistros and other eateries
Outdoor bistros and other eateries are good locations for banner and poster marketing, particularly if your target audience frequents a favorite establishment.
9. Benches
Bus benches are good places for outdoor marketing, especially if you want to get creative and make your banners or stickers work with the benches for a unique, attention-getting visual.
10. Automobiles
Place bumper stickers or car door magnets on cars and trucks to market your business on-the-go, everywhere you go this summer. Recruit friends, family members, and employees to do the same; then, reward them for their efforts with a pizza or cocktail party.
11. Public bulletin boards
Outdoor public bulletin boards are excellent for poster and flyer placement, but you might need to check back every couple of days to replace any that have been taken.
12. Outside your storefront
If you have a storefront for your retail, restaurant, or service business, place a large banner out front to attract traffic from down the street and motivate impulse purchases.
13. Near competitors' storefronts
Don't let customers get to your competitors without having to go through your marketing first! Strategically place banners near competitors' storefronts to convince their customers to give you a try.
14. Sidewalks and streets
Print unique, creative stickers that interact with their environments and place them directly on sidewalks and streets to influence audience thought and customer decisions.
15. Billboards
A staple outdoor marketing tool, billboards can be expensive yet effective with strategic placement.
16. Customer lawns
If you operate a landscaping, mowing, roofing, contracting, or other home service you should print yard signs to place in customers' yards so the entire neighborhood can see who is responsible for beautifying homes.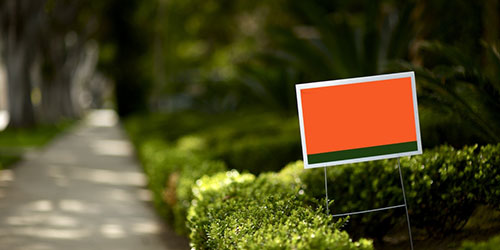 17. Door knobs
Though this is more individualized than other outdoor marketing tools, door hangers are impossible to ignore and make it easy to target the best neighborhoods most likely to buy your products and service.
18. Overpasses and bridges
Railroad bridges, walking bridges, and highway overpasses present excellent opportunities for vinyl banner marketing all summer long.
19. Public parks
Place banners, posters, signs, and stickers in and around public parks to help brand your company and promote special summer sales, online and off.
20. Shopping mall entrances
If your store is buried inside a shopping mall, place large banners right at the exterior entrances to promote your summer sales and boost foot traffic to increase profits.
Ready to launch your own summer outdoor marketing campaign? Do it for less with premium discount printing services.