Holiday cards are excellent tools that can bolster client relationships, express customer appreciation, and foster long-term loyalty. However, not all holiday cards are created equal; in fact, generic holiday cards typically warrant little more than an afterthought. The key to success is to add meaning to your holiday cards. The following lists 20 tips for printing and sending meaningful holiday cards your customers will love, which in turn leads to long-term business relationships.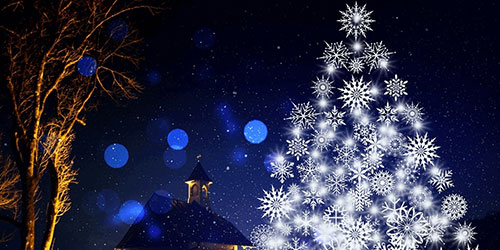 1. Include a handwritten note
You don't have to handwrite the entirety of your holiday card, but a handwritten note after the body copy can go a long way toward making your holiday cards more meaningful.
2. Add personalized photos
Don't settle for generic stock holiday landscapes; instead, personalize your holiday cards with photos of you, your family, or your team.
3. Handwritten envelopes
Personally address your holiday card envelopes. Not only will this make your presentation more meaningful, it will also increase open rates. Have too many to handwrite? Opt for a handwriting font instead.
4. Include a personalized gift
Does your best client enjoy dining out? Include a gift certificate to a hot new restaurant. Do they like the local hockey team? Include two tickets to an upcoming game.
5. Divide your mailing lists
You want to send holiday cards to all your customers and contacts, but if your list is large you might not have time to handwrite notes or the funds to include gifts to all of them. Instead, divide your mailing list in two: one for your best customers, which you'll personalize, and one to the rest of your contacts, who will receive your "standard" holiday card.
6. Print custom holiday cards
Make your brand prominent and your holiday cards more meaningful with custom printing. You don't even have to hire a designer when you use PsPrint's free holiday card design tool!
7. Include a sentimental phrase
Add a sentimental, funny, or poignant phrase or poem that resonates with your audience to lend a sense of solidarity and let them know you "get it."
8. Have everyone sign it
Have your entire team or all your family members sign your holiday cards to make them more meaningful.
9. Ask about your customers
Recall each specific relationship and ask how their families and children are doing, whether they're meeting specific stated goals, or otherwise demonstrate you not only remember them but care about how they're doing.
10. Simply thank them
A simple thank-you note – particularly for specific purchases – can go a long way toward making your holiday cards more meaningful.
11. Do not market promotions
Resist the urge to turn your holiday cards into direct-sales tools. Instead, use the opportunity to bolster customer relationships, which will lead to more business on its own.
12. Send a tip
Do you have a helpful tip you know a specific customer can use? Include it in their holiday card! Recipes can also serve as helpful tips for the right audience.
13. Show their impact
Do you donate to charity around the holidays? Snap a photo and tell customers what you did – and make sure they know you couldn't have done it without them! Make your customers the driving force behind your charitable deeds.
14. Include a list of events
If you serve a local market, consider including a list of holiday/winter events they might be interested in. You might even add in a refrigerator magnet as a handy reference.
15. Add in a freebie
In addition to the aforementioned magnet, you might offer a freebie that will help your customers achieve their goals. Perhaps a mini booklet on how to throw the perfect Christmas party. Just make sure your freebie is relevant to your audience and your business.
16. Let your kids design your cards
Then upload it using PsPrint's design tool and go to print. This is a great way to make meaningful holiday cards for family businesses.
17. Let your team write your cards
Have your team members list the reasons they love serving your customers, and make their quotes the focal point of your holiday cards.
18. Send holiday-specific cards
What holidays do your customers celebrate? If you know, send cards for those specific holidays: Christmas cards, for example, and Hanukkah cards.
19. Turn them into VIP invitations
Do you host or sponsor a holiday event, such as a New Year's Eve bash? Turn your holiday cards into invitation cards with VIP perks for your best customers.
20. Ask for help
Use your holiday cards to ask customers how you can better serve them in the upcoming year. Make it easy for them to respond.
Ready to print your own custom holiday cards? Do it for less with premium, discounted holiday card printing!
Images via Pixabay