Are you looking for ways to effectively market your business, grow your customer base, and increase sales? You need powerful marketing tools with proven track records of success. The following lists 25 marketing tools that land customers – and why they work.
1. Postcards
Direct-mail postcards make it easy to reach a highly-targeted audience overnight, generating direct sales and valuable leads. Their size and weight make postcards cost-effective to print and mail. Print ultra postcards to stand out from competitors.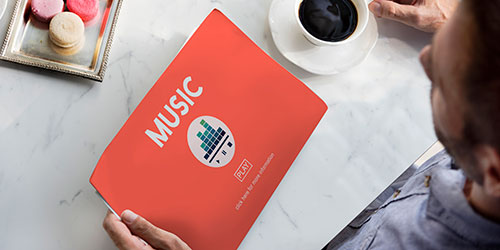 2. Catalogs
Create desire and motivate new purchases with catalogs sent to your existing customers and others who match their demographic data.
3. Sales letters
Sales letters offer a more personal approach to direct-mail, and are great for content-heavy pitches, soliciting donations, and selling big-ticket services.
Versatile tools that can be deployed via direct-mail, used as sales presentation helpers and leave-behinds, distributed as point-of-sale promos, and sent as follow-ups to online and phone requests.
5. Booklets
Brochures on steroids, booklets can be positioned as how-to guides that conveniently recommend your products and services. Add value to your customers' lives, and they'll add value to yours.
6. Labels
Convince retail customers your products are better than your competitors' with beautiful labels.
7. Hang tags
Draw attention to sales prices and/or the benefits of buying your products with strategically-placed retail hang tags.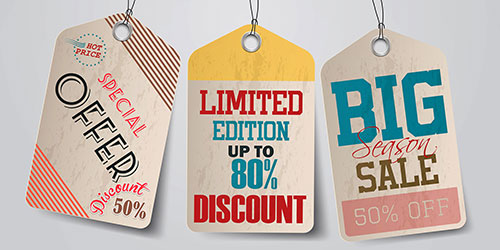 8. Window clings
Retailers and restaurants located in areas that enjoy high foot traffic or roadside visibility can draw customers in with large, colorful window clings promoting the latest specials, products, and deals.
9. Rack cards
Run a tourist attraction, hotel, museum, restaurant, or theme park? Don't go without rack cards, the go-to marketing tool targeting vacationers on-the-go.
A B2B staple that clearly demonstrates merchandising attraction and retailer/reseller benefits.
11. Flyers
Mailed, hand-delivered, or point-of-sale, flyers are versatile (and cheap) marketing tools for any type of business, nonprofit, or event.
12. Posters
Flyers' larger cousins, posters can command attention for your product, service, cause, or event from a distance.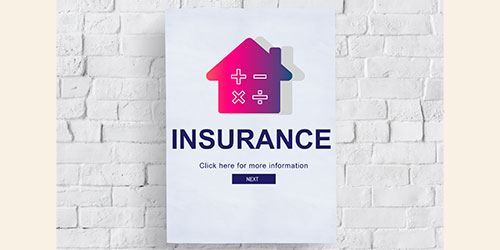 13. Table tents
Restaurants, bars, and night clubs know table tents can help push desserts, drinks, and high-profit entrees – but you don't have to be an eatery, pub, or club to take advantage of table tent marketing.
14. Wall graphics
Large-format wall graphics make it easy to get your message to the masses, indoors or out, and are cheaper to print than you think.
15. Banners
Strategic positioning and large sizes make banners perfect for reaching hundreds or even thousands of potential customers every single day.
16. Refrigerator magnets
Print useful magnets that give customers value, and they'll be exposed to your brand every time they need a glass of water or scoop of ice cream.
17. Stickers
Perhaps the most versatile marketing tools available, stickers are great for social marketing, product branding, and unique attention-getting produce placement.
18. Door hangers
All the power of postcards without the cost of postage. Door hangers are impossible to ignore, cheap to print, and cheap to distribute. Be sure to target the right neighborhoods to reach your audience.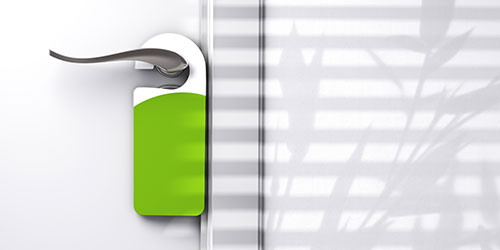 19. Newsletters
Print newsletters keep you connected with your audience and help you establish an authority platform that's trusted for product and service recommendations.
20. Pocket folders
Prepare persuasive presentations augmented by pocket folders that contain your most important marketing tools: business cards, brochures, flyers, sales, sheets, and more.
21. Coasters
Like table tents, coasters can help promote food and drink menu items and product brands – and they make it easy partner with restaurants, bars, and clubs that share your audience to get your product at every table, no matter what you sell.
22. Envelopes
Attention-getting envelopes increase open rates for sales letters, which then increase your sales, customer acquisition, and business growth.
23. Car door magnets
Large car door magnets let you brand your company vehicles (and those of friends and family members) or promote your products and services anywhere – without the cost and permanency associated with vehicle wraps.
Personalized outreach fosters customer relationships and encourages your audience to show up for your events.
25. Menus
Restaurants can leverage menu design to boost profits by recommending the most profitable dishes; and just about any business can use menus to upsell and cross-sell packages, particularly boutique services such as salons.
Ready to grow your business with these marketing tools? Do it for less with premium-quality discount printing.