Do you have a plan to grow your business in 2017? Whether you've already created your strategic marketing plan or you're just getting started, consider incorporating the following 25 New Year's resolutions for small businesses. These tips will help you increase your brand visibility, foster long-term customer relationships, and attract new customers in the interest of growing your business in 2017.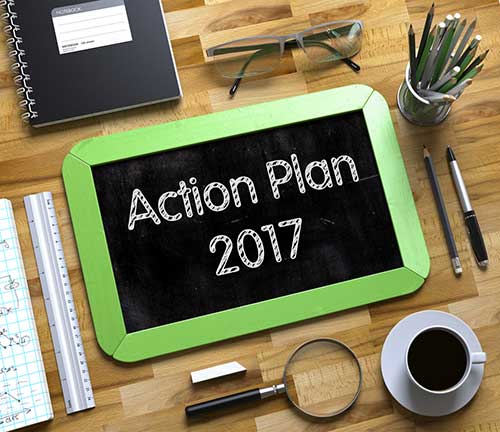 1. Set SMART goals
The importance of goal-setting gets tossed around a lot, but when you're a busy small business owner it can become easy to lose sight of your goals. Set SMART (Specific, Measurable, Attainable, Realistic, Time-bound) goals for the year, then work backward by month, week, and day to break your goals down into smaller daily tasks that are easy to track and achieve.
2. Follow the money
If you offer different product and service suites, note whether one produces significantly more revenues than others. Then, consider dropping the others and focusing exclusively on that area. Successful companies adapt to demand rather than stubbornly hold onto ideas that do not work.
3. List things you do not know but wish you did
Then, create a plan to learn them over the next year. Not sure how social media works? Take an online course. Not sure how to use accounting software to project future profits? Find out. Not sure what feature your customers wish you offered? They'll tell you.
4. List tasks you can delegate
This isn't necessarily a commitment to delegate, but you should create a list of everything you possibly could delegate to others. Can you hire a virtual accountant rather than do your own books? Do you need to be doing all the design work? Can you hire a salesperson to work on commission?
After you list everything you can delegate, find out what each would cost. Then, identify those you can afford and that will free time to focus on growing your business.
5. Give your marketing materials a makeover
If it's been awhile since you've refreshed your branding and marketing tools such as business cards, sales sheets, and brochures, consider giving them a makeover to give your brand a modern appeal new customers will identify with. Make sure your digital marketing tools are designed to match.
6. Institute a loyalty program
Reward customers for their loyalty with rewards cards, discounts, special VIP sales, free events, and more. Make your customers feel part of your brand to encourage word-of-mouth marketing.
7. Revisit print marketing
If you've placed an emphasis on digital marketing in recent years, now is the time to revisit print marketing. Direct-mail postcards, catalogs, banners, and other print marketing tools are as powerful as ever – perhaps even more so, since some of your competitors might have abandoned these tried-and-true strategies and created an opportunity for you to reach targeted audiences where they are not.
8. Focus your digital marketing
Resist the temptation to have a profile on every single social media site, and instead focus on a single platform. One great social media page is better than five mediocre pages. Find out where your customers congregate, and reach them in their natural digital environment.
9. Create business processes
Do you have a process for every aspect of your business? Checklists your employees and contractors can follow to ensure accuracy and quality? If not, take the time to create fool-proof business processes. Systematizing your business in this manner eliminates confusions, sets standards and criteria, lets you track progress, identifies inefficiencies, and frees your time to focus on business growth.
10. Get a mentor
See if you can get the ear of a respected successful business professional who can help you make tough decisions and offer perspective on your small business. Or, put together a small advisory board to do the same. Not sure who to ask? SCORE offers free mentors in almost any industry.
11. Follow up on old accounts
Do you have a list of customers who haven't bought from you in a while? Reach out to them with a special offer that invites them to come back. See if they're currently working on any projects you can help with, and let them know about new products and services they might have missed.
12. Try something new every month
Try a new marketing tool, campaign, or strategy every single month. Brainstorm new avenues for business growth and see which yield the best results. Chances are you'll find a new tactic that steadily churns a solid return on investment.
13. Invest in content
Newsletters, email blasts, blogs, social media posts, booklets, and other content help you stay connected to your audience, establish credibility and authority within your industry, and ultimately help you increase sales and grow your business.
14. Recruit brand ambassadors
It would be nice if we all had a group of influential brand ambassadors espousing the virtues of our businesses night and day – and you can, but you might have to be willing to pay for it. That's not necessarily a bad thing. Identify existing customers and employees who already love your company and might be persuaded to help spread the word for a small incentive: some freebies or lifelong discounts, for example, or a bonus check.
15. Hold a weekly planning session – even if it's with yourself
Dedicate time each week to review your goals and make sure you're on-track to meet them. Plan the next week's goals and adjust as-needed. If you are truly invested in business growth, you need to be committed to mapping your strategy.
16. Identify inefficiencies and waste
Audit your business to identify inefficiencies and waste. Do you have employees you do not need? Do you spend too much time on menial tasks you could hire out? Are your business processes archaic and could you be more efficient by adopting technology? Do you have leftover materials that could be recycled instead of paying to throw them away? Eliminate efficiencies and waste to free money you can invest in business growth.
17. Find new ways to keep customers coming back
Can you institute a program that keeps customers coming back month after month? An easy example would be a software company – instead of making a one-time sale on desktop software, can you take your application to the cloud and charge a monthly fee that ultimately pays more over time? Other examples include a mechanic who gives customers a maintenance book with appointments pre-scheduled for the year; and a fashion retailer who offers a sliding scale discount for customers who have made a purchase in previous months.
18. Network
Identify groups that will increase networking opportunities and help you meet new potential customers. Your Chamber of Commerce, visitor's bureau, Rotary International, Kiwanis, BNI, Lion's Club or other organization membership can lead to significant business over the year.
19. Ask yourself hard questions, then answer them
Continually ask yourself if you're truly doing everything you can to grow your business, or if you've reached a state of convenience that has atrophied growth. Ask yourself whether you're giving your customers the best service possible, or if there are ways you can improve. Ask yourself if you're happy with your business, and if not, what you need to do to be happy.
20. Ask for customer feedback
Ask your customers how you can improve your products and services, customer service department, and other areas of your business. They'll be happy to tell you, and if you ask enough of them you'll likely identify areas you can improve that will help you retain and attract customers.
21. Ask your employees for feedback
Chances are your employees have identified ways you can improve your business, but they might not feel comfortable telling you. Let your employees know you value them and their opinions by asking them how you can improve the experience for both customers and your employees. Happy employees are invested in your success.
22. Ask your suppliers for feedback
Your suppliers can likely offer advice – if you just ask. One good example would be a restaurant seeking new menu ideas. Many restaurant suppliers know what recipes will be successful based on ingredient sales volume.
23. Study your competitors
Commit to studying how your competitors are marketing their businesses, what they're selling, and how they sweeten the deal. Then, brainstorm ways to beat them at their own game.
24. Partner with others
You can partner with non-competing businesses that share your audience and develop packages you can all sell at an overall discount. For example, a day spa might partner with a restaurant for a lunch and massage deal. Both the spa and restaurant offer a 10 percent discount, and both sell the package to increase each other's business. You can also partner with nonprofit causes to donate a portion of your proceeds; since the non-profit will be promoting your sale your increase your reach and earn new customers.
25. Host an event
Host a seminar, podcast, conference, or other event packed with useful information your customers need. This is a great way to introduce your business to new customers and interact face-to-face, collect contact information, set appointments, and even make direct sales. Make your event spectacular, and you can even earn media coverage.
Ready to create your new and improved 2017 marketing plan? Increase your ROI with premium discount printing services.