Valentine's Day is an obvious opportunity to rake in sales for companies that sell candy, greeting cards, jewelry, and romantic gifts. However, your business doesn't have to cater to the holiday's traditions to cash in on Valentine's Day. All you have to do is show your customers some love! To that end, the following lists 25 ways to love your customers this Valentine's Day.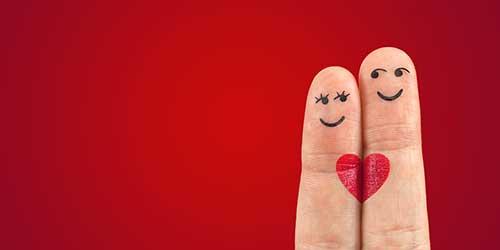 1. Send Valentine's Day greeting cards
Make your own custom Valentine's Day greeting cards to send to customers; if possible, include a relevant, handwritten note inside each. Don't try to pitch your customers on a sale. Instead, genuinely wish them a happy Valentine's Day. It will go a long way toward influencing future purchasing decisions, not to mention referrals.
2. Offer free gift wrapping
This seems to be a lost art among retailers today, but it's a great way to give busy customers an extra incentive they'll truly appreciate.
3. Give them a romantic evening out
Partner with other non-competing companies to create a Valentine's Day night out package. For example, a restaurant could partner with a movie theater to offer a date night discount bundle.
4. Launch a rewards card
Tell customers you want to show them love for their loyalty with a new rewards card that offers discounts, freebies, and other incentives the more they buy from you.
5. Romantic add-ons
Brainstorm cost-effective add-ons your customers will appreciate: a free dessert, a matching set of earrings to go with that necklace, or simply coupons to non-competing businesses that are perfect for date night.
6. Newsletter spotlights
If you send an email or print newsletter, show some love with customer spotlights. Ask customers for photos of them enjoying your products or services, or simply run a fun story about how your customers are unique.
7. Social media mentions
Similarly, you can thank your customers on social media platforms such as Facebook, Instagram, and Twitter.
8. VIP Valentine's Day sale
Send a direct-mail postcard to your best customers with an exclusive discount coupon code good for products and gifts from your website or brick-and-mortar shop.
9. Gift certificates
When customers make a purchase, give them an instant reward with a gift certificate good for their next purchase.
10. Sweepstakes entries
Enter your customers to win a special Valentine's Day package: a set of products, a night out on the town, or even a vacation! Give all your customers one entry, and then let them increase their odds of winning with daily website, email, or social mentions.
11. Give away free swag
Customers love getting free, useful stuff like shirts, coolie cups, and calendars. Feature your brand to increase your reach everywhere they go.
12. Offer a free upgrade
You can promote a free limited-time upgrade on your products or services; or, make a big impact on special customers by spontaneously upgrading them free-of-charge and without notice.
13. Give referrals
If you operate a B2B business, take time to match colleagues with referrals to each other that could lead to new business between them.
14. Charity match
Do your customers have a favorite charity? Offer to match their donations, or to donate a portion of each purchase, for a limited time around Valentine's Day. In this manner, you're helping them spread their love to others.
15. Send a Valentine's Day gift guide
Create a gift guide booklet and send it via direct-mail to your target audience. Devote specific pages to niche gifts: for husband, wife, friends, children, parents, etc.
16. Let them share the deals
Make it easy for your customers to share coupon codes with their friends and family members via email and/or social media. Or, hand out business card-sized discount vouchers to every customer and ask them to give them to their family and friends.
17. Give event tickets
If you know some of your best customers love the movies, the opera, or a band that's playing Valentine's Day weekend, brighten their holiday with free tickets. Demonstrating that you know your customers and are thinking about them will help foster long-term relationships and fuel future sales – plus earn you valuable word-of-mouth marketing.
18. VIP Valentine's Day catalogs
Print VIP catalogs for Valentine's Day and send them to your best customers with exclusive deals available only via your catalog.
19. Give them an amazing shopping experience
Fill your store (or website) with Valentine's Day décor, greet your customers in-person or via chat when they enter, and make yourself a useful, valuable gift-buying expert. Train your staff to be helpful, not overbearing or (worse) careless, and your customers will reward you for delivering an amazing shopping experience.
20. Send them a cup of coffee
Send customers a direct-mail postcard good for a cup of coffee. Partner with a coffee shop to split the cost.
21. Send a complimentary bottle of wine
And add your own unique wine bottle label to personalize your gift!
22. Create Valentine's Day gift bundles
Make it easy for customers to get their loved ones the perfect gifts by bundling similar items. Valentine's Day gift baskets not only deliver value to your customers, they can help you sell slow-moving items when you package them with hot sellers.
23. Last-minute Valentine's Day sale
Cater to procrastinators by saving some stock for a huge last-minute Valentine's Day sale. Create gift bundles and offer free gift-wrapping to sweeten the deal and save even more time.
24. Conduct case studies
Perform a few case studies of your best customers, which show your love by highlighting their businesses and simultaneously demonstrate to others how you can help their own organizations. Feature your case studies in your newsletters and emails, on your website, and via social media.
25. Valentine's Day date night guide
Print a guide to enjoying the perfect Valentine's Day, packed with unique date night ideas couples can experience. Be sure to sprinkle your copy with mentions of your own products and services.
Ready to show your customers love (and boost your sales) this Valentine's Day? You'll love the great printing discounts offered by PsPrint.