What's in a name? Everything, when it comes to naming your company or brand. Your name speaks volumes about who you are, what you do, and who you do it for. It tells your story succinctly, and imparts your unique selling point. Your brand or company name influences purchasing decisions and can play a major role in your success – or failure. That's why it's so important to get your name right the first time. To help you select the perfect company or brand name, check out the following 30 resources for naming your company or brand.
The magazine's online portal for naming businesses and brands includes several helpful articles full of naming insight you can use to coin your business name.
Another online portal, this one provided by the SBA, that differs from many in that it covers the steps you need to take to formalize your business name.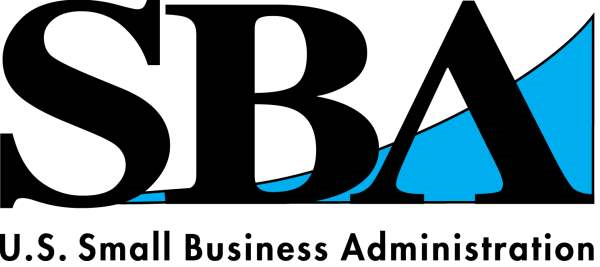 Read this insightful article to understand why we "google" but we don't "microsoft."
Strategic Name Development offers lists of the biggest brand names, slogans, and taglines you can use to discover popular trends and to inspire your own business name.
Covers the basics of naming your business, the right way.
A lot of material covers what you need to do to name your business; this article also covers what you should never do.
An excellent blog post that discusses the term "special wrongness."
About.com helps you run your business name through the gauntlet to see if it passes the "business name test."
This professional naming firm publishes its process, so you can emulate what the pros do to name your own business. Of course, you could also hire the firm to develop your name.
Not the most serious tool on the web, but it can spark inspiration.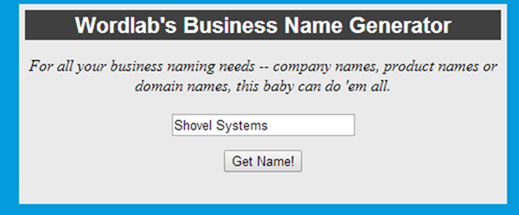 More professional insight into what makes a great business or brand name.
This 19-step interactive process will help you come up with the perfect brand name.
Enter keywords, then play with mathematical percentages to adjust attributes such as prefixes, suffixes, and vowels to develop your brand name.
One of the most successful naming firms presents this free guide to help you name your own business. It's available in a comprehensive version as well as a shorter version.
This frequently-updated blog covers all aspects of branding; read the most popular posts to help you in your process.
Want a truly unique brand name? This creative website helps you develop new words to use as your name.
The most comprehensive brand name generator on the web, NameRobot doesn't spit out random names; rather, it walks you through a process to help you develop a name based on your company's attributes.
Simultaneously helps you develop business names and checks their URL availability for selected domain extensions such as .com and .co.
A brand naming services that guarantees .com availability for suggested names. Pricing is tiered based on how many names you want to consider.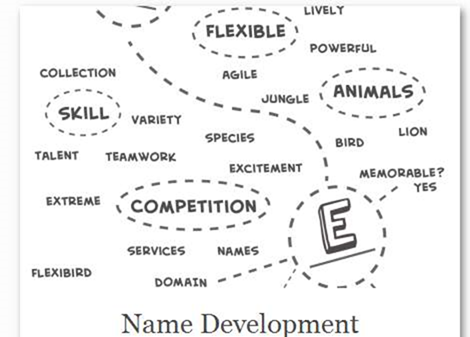 The world's first "verbal design" agency focused on developing accurate brand names.
Browse names developed by A Hundred Monkeys to spark inspiration for your own; if you get stuck,  you can hire this well-known naming firm.
Lets you run crowdsourced business naming contests.
Another crowdsourced business naming contest website.
Yet another brand name contest site.
The last business name contest site listed here, but notable for its popularity. Compare pricing and what you get for all naming contest sites in order to choose the best for you.
Helps you search for brand names, domain names, social media names, and more through the use of a comprehensive comparative search engine that makes suggestions based on keywords.
This hardcover book lends insight into the methods followed by the world's top branding companies.
Make sure you can legally use your perfect brand name, then legally protect it using the resources listed here.
This free .pdf guide walks you through the process of professionally developing a brand name.
Another free guide, this one reveals the Zinzin method for professional business naming. Armed with these 30 resources, you should be able to develop a powerful company or brand name that's memorable and suits your business perfectly. What other business and brand name resources do you like?