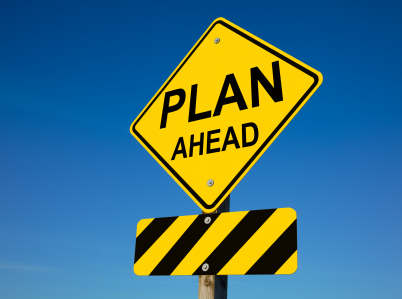 If you own or operate a small business, you know that even the most minute details can have a major impact on  your bottom line. Addressing every way to streamline your business processes, improve operational efficiency, and maximizing productivity and profitability is nearly impossible for one person to do on their own. That being said, there are simple steps you can take to achieve all of those goals, if you tackle them one at a time. The following lists 30 ways you can improve your business today. Granted, you probably cannot do all of these in a single day; however, if you commit to working on one strategy per day for 30 days, one month from now your business will be in better shape than it's ever been – and positioned for a long and fruitful future. Without further ado, here are 30 ways to improve your business, starting today.
1.  Set goals
Goal-setting is critical to business success, but oftentimes entrepreneurs only set long-term goals. While you need to know where you want to be, you also have to define how you're going to get there.  What do you need to do on a monthly, weekly, and – most importantly – daily basis to reach your long-term goals?
2.  Track your progress daily
Every day, track your progress in terms of profits, project advancement, and goal achievement. If you know what needs done daily to achieve your long-term goals, being able to tick those tasks off every day will let you know you're on track and help keep you motivated.
3.  Join a networking group
Business networking groups such as BNI can help you grow your business exponentially via word-of-mouth marketing – the most valuable type.
4.  Develop staff rewards
Create a system to reward your staff members for outstanding work and ideas. Study after study has proven that good employees are more interested in jobs they love and in which they feel appreciated than they are in making more money.
5.  Develop systems for everything
This one could take some time, depending on the size of your small business, but creating systems is critical to streamlining processes. Make employee checklists to ensure all procedures and policies are properly adhered to. Develop sales systems, product development systems, and delivery systems. Doing so not only makes you more efficient, it makes you more profitable because you can identify ways to improve your processes. Moreover, well-designed systems are more adaptable if you need to make a change.
6.  Delegate and outsource
Focus on what you do best, then delegate and outsource the rest. All of it. Today. Now. You'll have a better end product, more time, and more money.
7.  Maintain two to-do lists
One list should include everything you need to do over the next week or month, complete with deadlines. The other should have the tasks you need to do today. Focus on those only, and let tomorrow take care of itself. In this manner, you're able to complete critical tasks and shuffle in new ones as needed. Understand how to prioritize – for example, if you need to finish a client project and get a carpet quote today, make sure the client project is finished before you have the carpet company over.
8.  Ask your staff how to improve
Your staff members are on the front lines. They know what makes your customers happy and what doesn't. They know what systems work and what do not. Ask them for advice, and you'll find some gems you can keep.
9.  Ask your customers how to improve
This is a no-brainer, but many small businesses fail to take this step. Some, I think, fear they risk losing customers if they get them thinking about their company in a negative way. Not so. Rather, customers will a) often offer good advice, b) be impressed that you care enough to ask, and c) assume a level of ownership and work to help you succeed.
10.  Recruit an advisory board
Ask other successful small business people to join a small advisory board to help you make business decisions.
11.  Eliminate wasteful spending
Identify everything you spent money on the past month and year, then evaluate what you could do without. If you're a web designer, for example, and 95 percent of your business is conducted entirely online, do you really need that $1,500/month storefront?
12.  Post on social media
Earn an audience with your customers by consistently engaging them on social media – not with sales pitches, but with honest insights and helpful information.
13.  Enhance collaboration
Help staff collaborate by adopting digital solutions. One of my clients, for example, recently adopted a system that lets them file staff meeting notes, suggestions, and system procedures digitally. Now, they'll never lose a great idea and staff can collaborate on ideas when each individual has time. In addition, iPads are mounted on walls at employee stations with checklists, so when a process needs updated it can be done system-wide on the cloud with no paper waste or wasted time.
14.  Read industry news
Find out what new innovations and marketing solutions are fueling your industry, learn from others' successes, and keep an eye on the competition. Stay abreast of industry news, and you'll enhance your skills, spark inspiration, and discover opportunities. 15.  Try a new marketing strategy What marketing strategies haven't you tried? Continually try something new, especially low-cost marketing strategies. You'll end up discovering new marketing channels that work well for you – and your competitors don't know about.
16.  Write an article
Distribute it to publications your target customers read. If it's insightful and well-written, content-starved editors will be happy to feature it. You'll get third-party credibility.
17.  Do the worst first
What task do you dread? Get it out of the way early so you're energized to focus on the things you enjoy doing.
18.  Evaluate your goals nightly
At the end of the day, honestly assess how you stand with your goals. If you're off-track, develop a plan to get back on track.
19.  Plan tomorrow
I always suggest planning tomorrow today. When you know what to expect, you can get a good night's sleep and be inspired, motivated, and energized to complete your daily tasks.
20.  Clean your plate
Do you have too many irons in the fire? Work on only one project at once. You might think you're delaying your goals, but you're really getting there faster.  Think of it this way: one step at a time is far easier and more effective than trying to leap up an entire flight of stairs at once – which is impossible.
21.  Scratch the meetings
I hate meetings. They waste time. They never seem to be on-point. Instead, use digital collaboration – email, online whiteboards, etc. – to share ideas and delegate tasks.
22.  Exercise
Exercise increases your energy level and releases endorphins, which can help you work better and boost creativity.
23.  Raise your prices
Charge more, make more. Many small businesses are hesitant to raise their rates, but most would benefit significantly by doing so.
24.  Drop deadbeat customers
Do you have customers who waste most of your time yet account for little profit? Drop them. They're in the way of your goals.
25.  Reevaluate your target audience
Customers evolve, and your customers today might be different than they were five or ten years ago. Always strive to understand your customers, and you'll understand how to make them happy.
26.  Develop a customer retention plan
A bird in hand is worth two in the bush. Brainstorm ways to keep your happy customers buying from you, whether it's new and updated products or ongoing services they want.
27.  Ask non-customers why they didn't buy
If you've ever worked on selling a customer only to have them choose a competitor (and who hasn't), take time to reach out and ask them why. In some cases, it's for reasons you can let go (price, for example, if your competitors offer lower quality). In others, you'll glean valuable insight into how you can better position your company for future sales.
28.  Embrace mistakes
Mistakes are just steps on the way to achieving your goals. Embrace your mistakes, but evaluate and learn from them. What are your worst problems right now? Work on solving them.
29.  Smile
Be friendly to everyone you meet, and be sure to wear a smile on your face. You'll improve staff morale and make customers feel more comfortable doing business with you.
30.  Take a vacation
Last but certainly not least, take time to refresh and recharge. You'll come back energized, motivated, and inspired to make your company even better. What tips can you share for improving your business today?