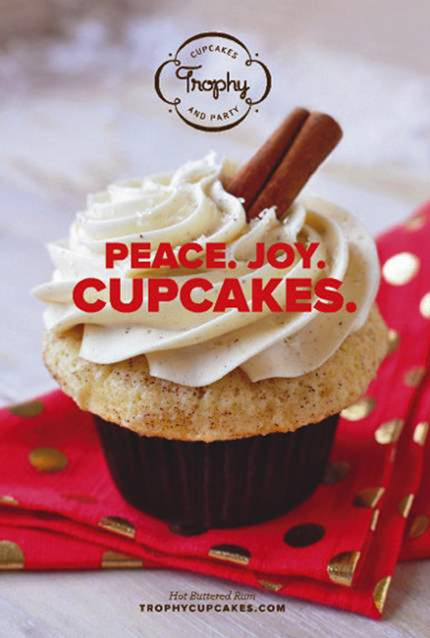 Postcard for  PsPrint customer Trophy Cupcakes and Party
If you're a fan of the PsPrint Blog, you've no doubt read a lot about how postcards can be powerful marketing tools. With a well-targeted mailing list and a compelling offer, postcards are the kings of direct mail; not only are they exceptional at generating response, they're cost effective because they're require the least postage. Those attributes make postcards attractive for companies that want to expand their customer base and boost sales, but you might not be sure what you can market with direct-mail postcards. The answer is pretty much anything, and for your inspiration I've listed here 30 ways to market with direct-mail postcards.
Promote a special discount offer or buy-one-get-one sale.
Turn your postcard into a response card in which customers share friends' information and everyone gets a discount.
Turn postcards into event invitation cards to get guests to your business-sponsored or sales event.
Use postcards to encourage customers to drop in for a charity drive, and give them a per-donation discount.
Print newscards, or postcards as mini-newsletters, as a cheap way to stay in touch with your customer base.
Print mini-catalog postcards that present your featured products and give customers a discount coupon to shop your full catalog online.
Print postcards as thank-you cards to follow up after closed business.
Postcards can also be sent as appointment reminder cards.
Print postcards to inform your customers with relevant information, then offer a consultation to help them make important decisions.
Send postcards with VIP access to your restaurant or night club.
If you're in real estate, send postcards to introduce new neighbors.
Develop a multi-postcard marketing campaign for the full year. Why? Repetition sells; in fact, it's said that 80 percent of sales are made after the fourth contact, while only two percent are made on the first.
Print postcards that promote your accessory items, not just the big Kahunas.
Partner with non-competing companies that share your same target customer base and launch a cross-promotional package your customers can't refuse.
Print postcards with bold text and contrasting colors to command attention.
Similarly, incorporate meaningful or humorous (yet relevant) photos and illustrations to get noticed and help make your point.
Print extra-large postcards to ensure yours doesn't get lose in the mix.
Try die cuts and foil stamps to make your postcards – and your brand – stand out from the competition.
If you have a small budget, start small: only print and mail those postcards you can afford to invest in. Then, use your return to launch a bigger direct-mail postcard campaign.
Print direct-mail postcards that drive traffic to your mobile website with QR codes.
You can also print postcards designed to get customers to download your app; again, QR codes can make this process a snap.
Tap into the power of augmented reality to use postcards as sales demonstration platforms, either in 3-D or linked videos.
Print postcard magnets that are useful in some way (kitchen measurement conversion charts and local sports schedules, for example) so customers see your brand every time they go to the fridge.
Print postcards with perforated tear-off wallet-sized customer cards that can be stamped every time your customers use them until they get a freebie.
Send postcards as maintenance and service reminders: pet vaccinations, oil changes, dentist check-ups and more.
Send postcards with steps to follow and emergency information in the event of an accident, if you're in the auto insurance, body repair, or wrecking industry.
Send a postcard offering a freebie if customers bring a friend along, especially if you operate a restaurant and want to get the word out about your dishes.
Print a customer survey postcard requesting feedback on how you're doing; pay attention to the results.
Send postcards the explicitly point out the differences between you and your competitors, featuring your benefits.
Send postcards for holiday promotions: Valentine's Day, Independence Day, Easter, Christmas, Thanksgiving and more.
As you can see, there are many different ways to position postcards to promote your products and services. Think about each as it relates to your specific industry, and you'll undoubtedly come up with dozens more that aren't listed here. Then, get to work developing a winning postcard marketing campaign!