Foil roll stickers are powerful marketing tools that make a strong visual impact and can influence customer purchasing decisions. When you print foil roll stickers – whether metallic silver, metallic gold or rainbow holographic stickers – you're making a bold statement about your brand. Featuring an attention-getting metallic sheen, foil roll stickers can be classy and sophisticated or adventurous and daring, depending on how you use them. Take your sticker marketing to the next level with foil roll sticker printing and the following five cool ways to market your business with foil roll stickers.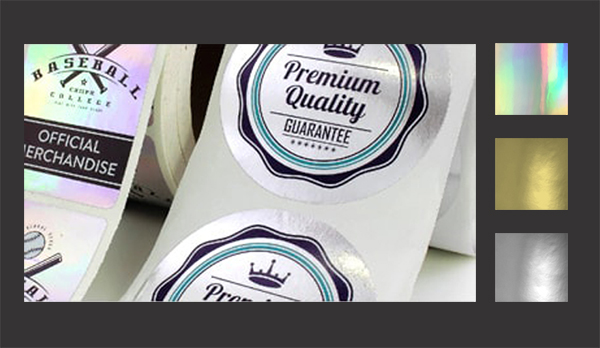 1. Product labels
If you sell retail products, foil roll stickers can differentiate your brand from the competition and help it stand out on store shelves. Perfect for premium food items, luxury cosmetics, sports performance products, and more, foil roll stickers are excellent ways to draw attention to your brand.
Consider how your products might look with a metallic silver label emblazoned with your logo, a metallic gold sticker that features your unique benefits, or a rainbow holographic label that reflects customer desires.
2. Service stickers
If you operate a service company, such as an HVAC business, you can print foil roll stickers that remind customers who they should call if they need service, maintenance, and repairs. Print bright and shiny foil roll stickers that feature your logo, brand name, a service schedule, and your contact information, then affix them to the products you sell and maintain.
In our HVAC business example, that could mean furnaces, air conditioning units, condensers, boilers and other equipment. An appliance company might place service stickers on refrigerators, washers, dryers, and ranges. Your stickers will be noticed when customers need you most, prompting them to call!
3. Direct-mail marketing stickers
Foil roll stickers are excellent enhancers for direct-mail marketing. They can be used as shields and seals to highlight your benefits and special offers. They can also be used as envelope sealers to command attention right out of the mailbox. Foil roll stickers can help create visual excitement and lend a sense of quality and even luxury, all of which help influence customer decision-making.
4. Branding tools
Print foil roll stickers to hand out at festivals, trade shows and other events your customers attend. Insert them into retail packages you ship out of your warehouse. Place them on the exterior of your packages, affix them to your automobiles, and stick them to doors, walls, windows – anywhere you can think of – to enhance your brand prowess. Your logo will be memorable when you put it on full display with a metallic gold, silver or rainbow holographic background!
5. Awards and accolades seals
Did your wine win best of show? Has your product line earned a respected industry designation? Have you added a new feature or benefit when customers purchase your products? Do you have a special discount offer for customers who buy now? Metallic foil roll stickers can help you promote unique benefits and sweet deals on your products, even after you've printed the original labels. Many companies include awards and accolades seals as part of their product presentation, since the metallic seals command attention to benefits and deals that motivate impulse purchases.
Foil roll stickers are perfect marketing tools for both retailers and service-based businesses. Customers' eyes are naturally drawn to them so you can leverage the power of the visual excitement they create to land more sales. Get started with foil roll sticker printing at discount prices!