Do you own a vacation rental? If so, you know how critical it is to stand apart from competitors, especially if your rental is located in a tourist hotbed. Get more rentals and boost profits with the following five easy vacation rental marketing campaigns.
1. Ultra-targeted direct-mail postcards
Postcards are incredibly efficient marketing tools when you combine the right pitch with a well-targeted mailing list. See if your local convention and visitor's bureau, tourist association, or Chamber of Commerce maintains a list of recent inquiries. Many have websites that allow visitors to request trip-planning travel guide booklets. You can send your postcards to this list.
Create a special discount offer (trackable via coupon code) and mail postcards as inquiries are received, if possible. The sooner you get them out, the more likely you'll get a response. The audience is actively planning a trip to your area and seeking accommodations, and a postcard will set your vacation rental apart and boost reservation rates.
2. Brochure or booklet direct-mail campaign
Similarly, you can create a special brochure or booklet to market your vacation rental to potential guests. You can get a list from the local tourist association, as described in #1, or you can create your own lead generation process by taking out online ads or optimizing your website content and using lead capture forms.
Make it easy for potential guests to request more information about your property, then send them a brochure. Or, you can sweeten the deal by creating a special booklet packed with tips about visiting your area, choosing a vacation rental, and loaded with partner coupons. This value-added approach will help you get mentions by third parties, increase your request rate, and ultimately help you book more nights.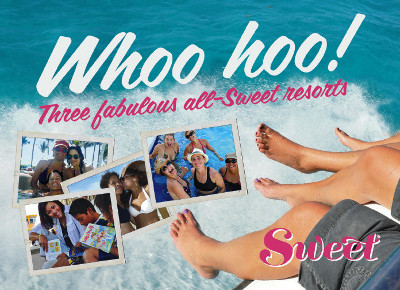 Postcard design by Francesca Bautista for Sweet
3. Rack cards
Welcome centers, visitor's centers, rest areas, and restaurants often feature rack cards packed with local lodging and attraction information. The key to successful rack card marketing is to make yours stand out with compelling design, oversized printing, attention-getting and memorable images, or even by placing your own custom racks apart from competing vacation rentals.
Add in a special discount offer to make your vacation rental seem more enticing than the rest!
4. Newsletter/visitor guide inserts
You might already be aware of these, but you might not be taking advantage of them. Many local tourist associations print special visitor guide booklets to send to requesters. Many of your competitors probably advertise in these. See if you can go a step further and stand out from the pack by adding a sales sheet, flyer, or brochure insert with each newsletter or visitor guide your association or CVB distributes.
5. Facebook magnets
Facebook can be a great platform for increasing awareness of your vacation rental, but it doesn't put a tangible promotional tool in customers' hands. You can change that by creating a Facebook campaign that offers free magnets to a well-targeted audience likely to be interested in your vacation rental.
Print magnets featuring area events, tips and tricks, important phone numbers and web resources, and any other local information potential guests will find valuable. Be sure to also promote your vacation rental on your magnet. Magnets are useful, so many people will be glad to take a free magnet – which lets you market your property every time they go to the fridge. Just be careful to advertise to a highly-targeted audience. If you don't, your magnets could be wasted on those who have no intention of visiting the area and just want a free fridge magnet.
Did you know you can use PsPrint's free online design gallery to customize professional designs? It's the fast, easy, free way to design custom marketing materials with a professional edge. Try it now!