Did you know that 75 percent of U.S. households participate in some sort of landscape maintenance? Or that construction output is estimated to increase by 85 percent by the year 2030? These are significant numbers if you operate a contracting company, whether you're a landscaper, carpenter, roofer or another type of contractor. The market is healthy, but there's also plenty of competition, so it's essential to consistently seek new business to stay competitive and profitable. You can start with the following five easy ways landscapers, carpenters, and roofers can double their business.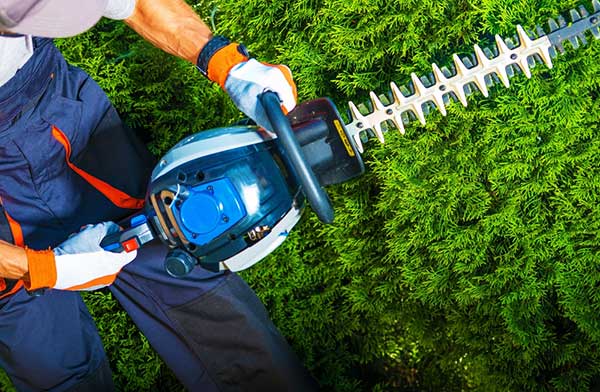 1. Yard signs
One of the best ways to get new business is to showcase your best work to a highly targeted audience comprised of potential customers. Yard sign printing is a powerful, yet easy, way to do just that. Print yard signs that feature your brand and contact information, and place them on every property you work on. Neighbors and passers-by will see your work, connect it with your brand, and give you a call when they're ready to keep up with the Joneses.
2. Door hangers
Like yard signs, door hangers can expose potential customers to your work and your brand. Door hangers work even better when used in conjunction with yard signs: place yard signs in front of the homes you work on, then distribute door hangers to the nearest neighbors. The neighborhood will see your door hangers, connect them with the nearby work you've done (via your yard signs), and instantly know who to call if they want to improve their properties. Add a time-limited offer to motivate neighbors to act fast.

3. Car door magnets
Make sure everyone knows which company is responsible for the beautiful work you've done by printing car door magnets to place on every vehicle in your fleet. Car door magnets contribute to omnipresent branding: your company will be in the spotlight when it's parked in front of the properties you're working on, plus it will be on display everywhere you go. Repetition is critical to long-term business success, so print car door magnets and use them with yard signs and door hangers to make your brand ubiquitous.
4. Booklets
Make it clear which company is best for the job by printing booklets that showcase your best work and provide inspiration customers can use as a springboard for their own projects. Booklets that contain useful information your audience wants work best. For example, a landscaper might print booklets as inspiration guides, packed with tips and tricks for beautiful landscaping along with large color photos. A remodeling company might create a kitchen remodeling guide that covers planning, unique options, contemporary trends and tips for choosing a contractor.

Door hanger design by Paul McDougal Marketing Inc.'s Kurt Ogawa for Barrier Solar
5. Postcards
Direct-mail postcards are easy to print and deliver to a well-targeted audience. You can create a mailing list comprised of people who fit your best customer demographics (by age, household income, property ownership, etc.); or, you can target every household in a prime neighborhood with Every Door Direct Mail postcards (EDDM). Include inspiring photos on your postcards and invite recipients to go online to see more examples, learn more about your company, and to redeem a time-limited incentive to start their projects right away.
Contractors need to consistently market their services to remain relevant, competitive and profitable. Of course, contractors are also very busy. You can balance your need to market with your busy schedule by taking advantage of easy marketing tools that are proven to increase business. Best of all, you can maximize your return on investment with discount printing for contractors today!