What marketing tools do you use to promote your fall marketing campaigns? Postcards, catalogs, and flyers are all popular (and effective) fall marketing tools, but if you want to get a leg up on the competition it's a good idea to explore new marketing opportunities they're missing. Boost sales with the following five fall marketing tools you didn't know you needed.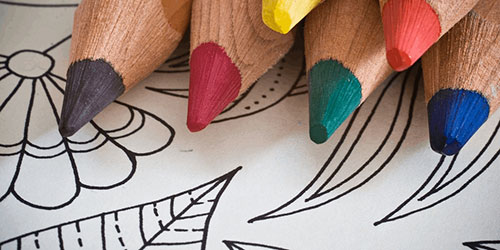 Window clings are excellent marketing tools for retailers pushing fall sales, particularly if your storefront is located in a mall or busy shopping area. Window clings can draw customers into your store and promote impulse purchases. They're also good for promoting service business specials and can be placed in automobile windows for marketing on-the-go.
Speaking of marketing on-the-go, car door magnets make perfect marketing tools for service-based businesses that are always out and about. They're much cheaper and easier to use than vehicle wraps, plus they can be removed anytime so small business owners can use them on dual family-work vehicles. Promote your service specials this fall with car door magnets, and see if you can recruit employees, friends, and family members to sport your magnets on their vehicles for a small reward or fee.
Coloring books might not be the first things that come to mind when you think of fall marketing tools, but if you cater to young trick or treaters you can print custom coloring books to hand out during Halloween. Nonprofit organizations often employ this strategy to help teach youngers important lessons; for example, a fire department might print custom coloring books featuring fire safety tips.
Want to make a bold, can't-miss statement to thousands of potential customers? Place wall graphics on the sides of prominently-positioned buildings, large indoor mall walls, and anywhere else customers frequent. You can print wall graphics to capitalize on an attention-getting Halloween theme to boost sales this fall.
Fall is a great time to print how-to booklets that influence customers to purchase your products and services. A mechanic might print a booklet on how to winterize vehicles, for example, or a party shop might print booklets on how to throw the perfect Halloween party. Want to get ahead of the holiday marketing rush? Print a booklet on how-to find the perfect Christmas gift!
Take advantage of these fall marketing tools to augment your existing marketing strategy so you can boost profits this fall. Get started now!
Image via Pixabay