Summer is the best season for outdoor marketing, which means the Fourth of July presents an excellent opportunity to take advantage of outdoor marketing to increase business. The following lists five outdoor marketing tools you can use to achieve a profitable Fourth of July.
1. Banners
Banners are perfect Fourth of July marketing tools: they're cheap to print, yet they can reach hundreds or thousands of potential customers every single day. Prominently place banners in high-traffic areas, outside mall entrances, and at Independence Day events to boost brand awareness and business.
2. Window clings
If your shop enjoys plenty of foot traffic or has a large street-side window front, you can print window clings to attract Fourth of July customers. Use large, colorful window clings to invite customers in to beat the heat and see your special offers. Great at generating impulse purchases, window clings turn window shoppers into buyers!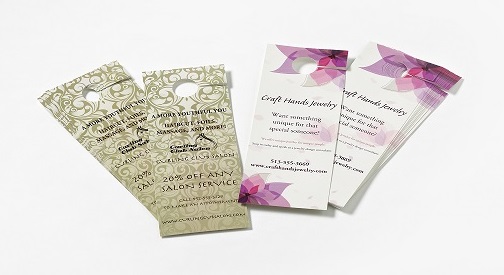 3. Door hangers
Door hangers offer targeted Independence Day marketing that can't be ignored – literally. Prospects have to physically handle door hangers, which gives you an excellent opportunity to get noticed, create desire, and motivate follow-ups. Be sure to target the right neighborhoods with a strong offer to maximize response rate.
4. Stickers
As marketing tools go, none are as versatile as stickers. Print stickers to place in prominent outdoor locations that will get noticed by your target audience: windows, walls, doors, signs, and more. Get creative and place stickers in unique areas specifically designed to reach likely customers: bar tops, tables, mirrors, restrooms, vehicles, bicycle helmets, ceilings, stairwells, streets, sidewalks – anywhere your brand will stand out to the right people.

5. Car door magnets
Take your Fourth of July marketing on-the-go with car door magnets which, like banners, can net hundreds or even thousands of views every single day. Car door magnets are removable and reusable, so you can promote your Independence Day sales on your vehicle then store your magnets after the holiday is over. Next year, dust them off and do it again! That makes car door makes extremely cost-effective. See if you can recruit friends, family members, and employees to sport your car door magnets on their vehicles to increase your reach.
Print Fourth of July marketing materials at discount prices today!