If you're looking for a great way to thank your customers for helping you grow your business, you need to think from their perspective to find a meaningful way to express your appreciation. Find inspiration in the following five powerful ways to say "thank you" to your customers.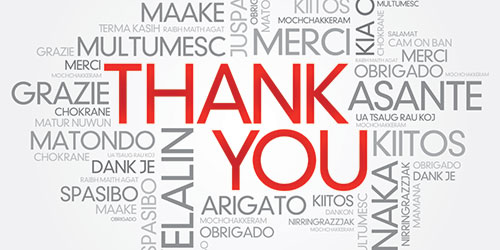 1. Showcase your customers
Showcase your customers in your print newsletters, email blasts, on social media pages, and on your website. Be sure to give them a big shout out and thank them for their business. This is also a great opportunity to tie-in case studies that demonstrate how you can help others who are similar to your current customers.
2. Offer an unexpected perk
Surprise your best customers with an unexpected perk, such as a spontaneous discount, tickets to an upcoming event, or a free add-on at the time of purchase. Tell them how much you appreciate their business, and personalize the perk as much as possible. This helps send the message that you've genuinely thought about them and will help form a powerful bond that leads to lifetime customer loyalty plus word-of-mouth marketing.
3. Send thank you cards
Don't underestimate the power of thank-you cards, especially when they're sent after a purchase or for no reason at all. If possible, take the time to include a handwritten note, personalized for each recipient (if nothing else, do this for your best customers).
Your thank you cards should feature a custom, branded design that lends a more personal approach from your company. The good news is you don't need a graphic designer to print custom thank you cards – all you need are PsPrint's free thank you card templates and online thank you card maker.
4. Host a customer appreciation event
Host a special customer appreciation sale, concert, family fun day, or other event to thank your customers. Some companies hold an annual event like this to thank their customers and encourage interaction between employees and customers. Market your event with invitation cards, brochures, and flyers.
5. Offer VIP access
Give your best customers early-bird access to special "hot item" sales, extra discounts on merchandise through loyalty-rewards cards, or send special VIP direct-mail catalogs with special pricing and a unique product selection not available anywhere. This type of special treatment lets customers know you appreciate them and keeps them coming back time and again.
Want to thank your customers in a powerful new way? Do it for less with premium discount printing services.