Black Friday is the biggest shopping day of the year, but many small business operators sit on their hands due to the large investment required to compete against the big box stores. That type of thinking, however, is not only wrong, it's detrimental to success. You might not be able to launch a multi-million-dollar ad campaign, but you can take a creative approach to level the playing field and get more than your fair share of holiday sales. To that end, the following details five ways to beat big box stores on Black Friday.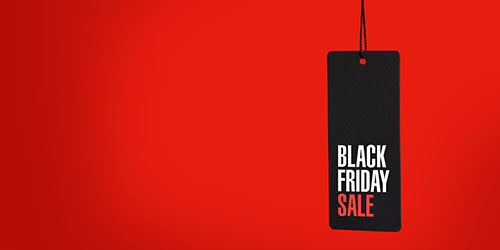 1. Start early
One easy way to beat the big box stores on Black Friday is to start marketing well in advance. A lot of customers prefer to get their holiday shopping done sooner rather than later, and your marketing can offer them an easy way to avoid the Black Friday crowds and hassles. Postcards, flyers, catalogs, and sales letters sent in advance can land you all the Black Friday sales you need – well before Black Friday.
2. Ultra-targeting
You know who your best customers are, so create a marketing campaign that caters exclusively to them (and people who match their demographics). Targeting customers who are a) likely to want what you sell and b) unlikely to want to wade through Black Friday traffic is a great way to bolster holiday sales. This is particularly true if you serve an older population. It's a little dated, but a Gallup poll found that most Black Friday shoppers are between 18 and 29 years old – while just eight percent of those 65 and older shop on Black Friday.
3. Offer the perfect gift
Some gifts are bought simply because people have to satisfy an obligation. Others are purchased because people want to give their loved ones something special. As a small business, you're uniquely-positioned to sell the latter. Big box stores have big box merchandise, but they don't carry the specialty items that qualify as "the perfect gift." Use posters, flyers, postcards, brochures, catalogs, and other marketing tools to promote the exclusivity you can offer.
4. Value-added benefits
Big box store shopping is a one-and-done deal, but small businesses can offer value-added benefits the largest corporations are too bloated to provide. Follow-up service, installation, support, multi-product packaging, and other benefits are the domain of small businesses – use them to your advantage to sweeten the deal for your Black Friday customers.
5. Personalization
Last but not least, personalizing your communications is a great way to sway customers' decisions. Remember, people buy from people, not companies. While you can't compete against the volume pricing offered by big box stores, you can offer personalized service many customers will appreciate.
Send holiday cards with handwritten, personalized notes. Help your customers select the perfect products for their situations (how-to booklets can help), and train your staff to give customers a pleasant shopping experience. Remember the Gallup poll we mentioned earlier? Even the largest segment of Black Friday shoppers (aged 18 to 29) was relatively small at just 34 percent – which means 66 percent of buyers are seeking a different shopping experience. You can provide it.
Ready to launch your own custom Black Friday marketing campaign? Increase your return on investment with high-quality discount printing!