Sales letters and other direct-mail materials are critical tools to many marketing campaigns. Businesses invest plenty in preparing just the right pitch, copy, offer, and design to make their marketing tools attractive; yet many treat the envelopes those tools are packaged in as after thoughts. That's counterintuitive, since your envelope is the first thing your prospects will see. Thus, your envelope needs to do some heavy lifting and encourage opens. If you want to boost your direct-mail marketing return on investment, consider the following five ways to increase envelope open rates.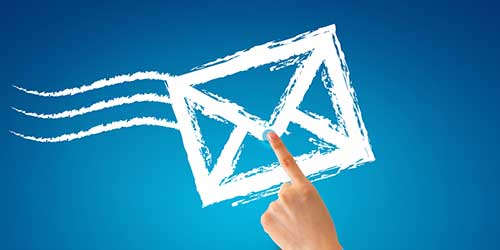 1. Command attention with unique design
The first step toward increased open rates is getting noticed, so avoid the standard white envelope and instead opt for a unique design that stands out from everything else in the mailbox. Ideas include:
Full-color envelopes
Brightly-colored text
Photos and illustrations on the outside of your envelope
"Look inside" arrows and stickers meant to be affixed to interior forms
Non-standard envelopes sizes, shapes, and paper stocks
When your envelopes feature unique design, your prospects will want to know what's inside.
2. Ask an intriguing question
Get prospects to take a closer look by posing an intriguing question, especially if the answer will obviously reveal a major benefit. Examples include:
Do you know how to reduce your bills by 20%?
Why should you always stock up on vinegar?
Are you overpaying for cable?
Do you wish you could afford a luxury vacation?
The promise of an answer will increase your envelope open rates!
3. Make a powerful benefit statement
Create desire with a powerful benefit statement. In these examples, we're simply rephrasing the previous questions:
Reduce your bills by 20% - find out how inside
Find out why stocking up on vinegar can add years of health to your life
Stop overpaying for cable today!
Enjoy a luxury vacation for next to nothing! Details inside
As you can see, the promise of a benefit is a powerful way to increase envelope open rates.
4. Deliver your offer
Sometimes it's best to simply cut to the chase. Deliver your special offer on the outside of your envelope, which will increase open rates – especially when paired with a call to action:
Get 20% off your next purchase – get your coupon inside
Buy one, get one free! Find your voucher inside
Open this envelope to save $100 on your next purchase
Make your sales package even better by sweetening the deal once they open your envelope!
5. Personalize your envelopes
You can increase envelope open rates by personalizing them. Include each prospects' first name on the outside of your envelopes:
John, this special offer is just for you
Kim, save 10% on your next purchase
A special discount just for Bob
Another way to personalize your envelopes is to handwrite each name and address – or, at least, use a handwriting font in your design.
Remember that your envelopes are the first things prospects will see, so it's crucial they're part of your overall marketing campaign – not just delivery vehicles. Ready to boost sales with powerful envelopes? Maximize your return on investment with premium discount envelope printing.