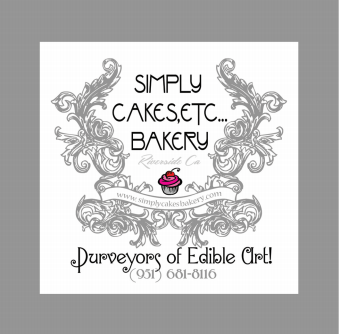 Sticker for Simply Cakes Bakery
Need to get the word out about your upcoming event? Stickers can be unique, memorable, and powerful event marketing tools. They're affordable to print in volume, too, so you can use stickers in a variety of ways to make sure your audience is aware and interested in attending your event. The following lists five great ways to market your event with stickers.
1. Paint the town with roll stickers
Roll stickers are excellent for placing your stickers anywhere and everywhere your target audience will see them. From windows and walls to mirrors and even restroom stalls, roll stickers can be affixed nearly anywhere (with permission) and in unique, unexpected places to command attention for your event. Seek out public venues, shops, restaurants, and other places frequented by your audience for roll sticker placement.
2. Large-format stickers
Large format stickers can deliver your event information in a big way. Adhesive banners can cover entire walls, inside or out, to make sure passers-by know about your event. Window clings are perfect, non-permanent marketing tools for large storefronts. Creative floor stickers can get your event notice wherever your audience goes – in groceries, local shops, municipal buildings, and anywhere else you can get permission to place them.
3. Bumper stickers and window clings
Want to market your event on the go? Print attention-getting bumper stickers to get people to "follow" you to your event. You can also print window clings for vehicles and ask friends and family members to help get the word out about your event everywhere they go!
4. Custom die-cut sticker handouts
Take to the streets and hand out custom die-cut stickers promoting your event to everyone who will take one. Be sure to target areas your audience frequents. You can do it yourself, hire a couple of employees to do it, or recruit a dedicated "street team" to hand out your stickers. This is also an excellent strategy for trade shows, since they already have a relevant audience interested in attending industry events.
5. Place stickers on mailers and other communications
Place promotional stickers for your events in special invitation mailers and all event communications to encourage your audience, vendors, and other participants to help you market your event wherever they go. Roll stickers, sheet stickers, custom die-cut stickers, bumper stickers, and window clings are all excellent candidates for inclusion in your event invitations and other direct-mail marketing efforts.
Ready to invest in event marketing that sticks? Print high-quality stickers at discount prices today!