Christmas in July continues to increase in popularity; in fact, in resort destinations such as Put-In-Bay, Christmas in July represents the busiest weekend of the year. If you operate a restaurant, bar, tourist attraction or retail shop, you can cash in on Christmas in July with a strategic print marketing campaign. Get started with the following seven Christmas in July print marketing tips!
1. Get people in off the street
If you're located in a Christmas in July hot spot, attract visitors into your shop, restaurant, bar or club with outdoor marketing. You can print cheap vinyl banners and place them in strategic high-traffic locations to promote your business to the masses. Or, send employees to the sidewalks to hand out flyers to passersby. Add a discount coupon to motivate response (and allow you to track your return on investment). And don't forget to print window clings to turn window shoppers into customers.
2. Partner with your local CVB, Chamber of Commerce or tourism association
Local agencies get tons of requests for information about events, places to stay, and where to eat, shop, and play. You can reach out to these organizations and offer to print a brochure or flyer to insert in the mailers they send out. You'll probably need to pay a fee (the extra weight of your promo can increase postage, plus you have insertion fees), but it's worth it: you won't find a more targeted audience to reach via direct-mail marketing.
Alternatively, you can ask to purchase or rent mailing lists from local agencies and send direct-mail postcards with discount coupons directly to interested guests before they book their trips – perfect for promoting your hotel, resort or Christmas in July attraction.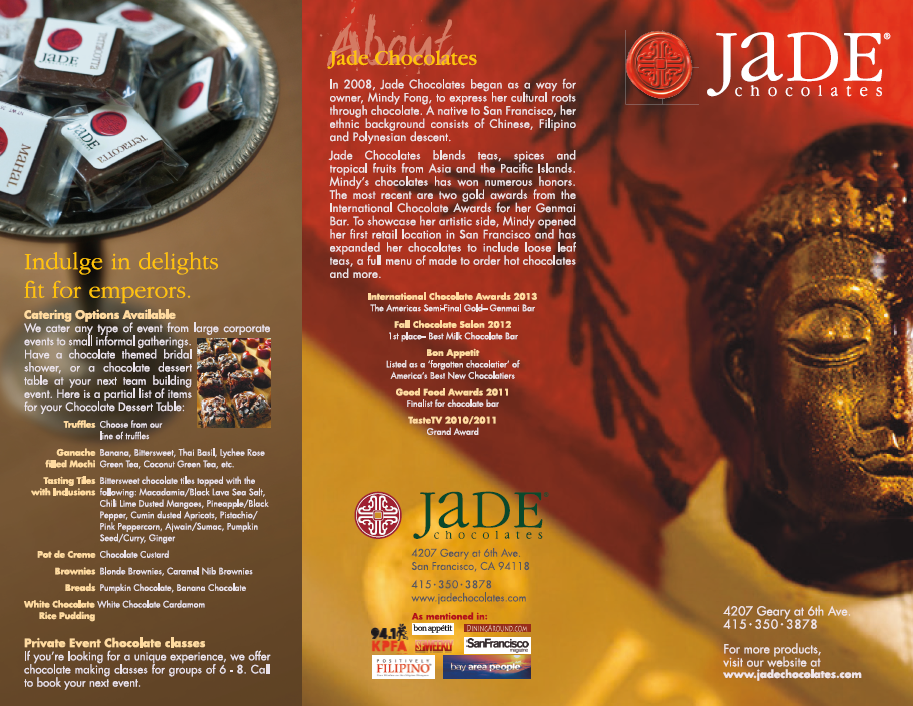 Brochures for Jade Chocolates in San Francisco, California
3. Get in the resorts and hotels
Inquire with local resorts and hotels about ways you can get your marketing materials to their guests. Ideas include printing brochures and catalogs to leave in hotel rooms and lobbies, flyer printing for front desk counters, and discount coupon business cards for concierges to hand out – a perfect idea for nightclubs since hotel guests often ask staff for recommendations.
Another idea: offer to print door hangers for hotels: the top half indicates whether guests want their rooms cleaned or wish to be undisturbed, and the bottom half promotes your business.
4. Print rack cards for tourist centers, hotels and restaurants
Most visitor centers have rack card stands, and many hotels and restaurants do, too. Don't miss out on this excellent opportunity to reach potential customers who are seeking things to do on Christmas in July. Print rack cards that stand out from the competition by adding a discount coupon to motivate response and give you the ability to track ROI, and place them in every local rack card stand.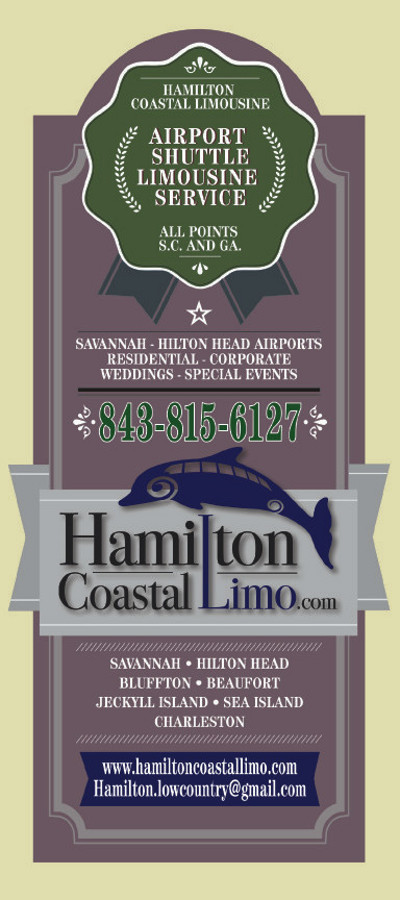 Rack card for Hamilton Coastal Limousine
5. Showcase discounts with stickers and hang tags
Your Christmas in July marketing isn't done when customers enter your shop. Print stickers and hang tags to draw attention to your most profitable merchandise and exclusive sales. You can also print hang tags and stickers to promote upsells and cross-sells; for example; you might offer 20 percent off a hat with the purchase of a T-shirt. Never underestimate the value of point-of-sale marketing!
6. Take a cruise with car door magnets
Make your branding ubiquitous and lend the impression that your business is a must-see for all visitors by printing car door magnets and cruising through tourist hot spots during Christmas in July. This is a great way to keep your marketing in the public eye; moreover, you can move your marketing with the crowds, so you're always certain to gain maximum exposure.
7. Boost sales with table tents
Table tent printing is an excellent idea for restaurants, bars, and nightclubs that want to boost Christmas in July sales. You can print table tents that feature special entrées, drinks, and desserts to influence additional orders and increase your average ticket. You don't need to own a restaurant or bar to take advantage of table tent marketing, either: you can partner with one of those business to print your promo on one side of the table tent and theirs on the other.
Ready to make this the best Christmas in July ever for your business? Print marketing is a powerful way to do it. Maximize your ROI with discount printing!