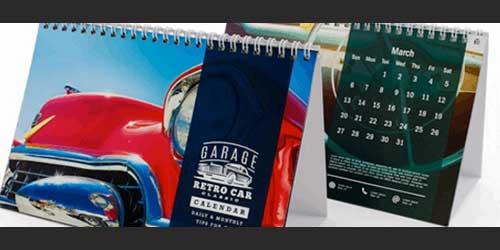 Desk calendars are excellent tools for getting your brand prominently featured, and they can even foster direct sales. The key to successful desk calendars is developing a theme that resonates with your target audience. To spark inspiration, the following lists seven desk calendar themes for powerful year-round marketing.
1. Product/subject photos and illustrations
You can print desk calendars that feature your products or a relevant subject that represents your business and speaks to your customers' passions. A dog grooming service might print desk calendars featuring puppy photos, for example, while a mechanic might print a desk calendar featuring classic car illustrations. Restaurants and retailers might print product shots: they're favorite dishes (and recipes) or a line of classic guitars, for example.
2. Customer showcases
Ask customers to send in interesting, funny, or breathtaking photos that are relevant to your products and services, then feature them in your desk calendars. A wedding planning service might print desk calendars featuring beautiful wedding photos alongside wedding planning tips. A B2B business might turn customer showcases into mini case studies.
3. Helpful tips and tricks
Create a series of helpful tips and tricks your customers can use year-round. A grocery store, for example, might print desk calendars featuring seasonal recipes and accompanying photos. A mechanic might distribute desk calendars packed with car care advice by month.
4. Monthly specials
Your desk calendars can feature monthly specials to help drive direct sales. A home improvement store, for example, might print desk calendars featuring historical photos of extreme weather alongside seasonal discounts for items such as snow shovels, rakes, and lawnmowers. A pizzeria might print a "pizza lover's" desk calendar featuring interesting and unique styles of pizza or slides of pizza history, add in some monthly lunch specials, and distribute their desk calendars to nearby offices.
5. Interesting facts
"Did you know?"-style desk calendars are popular, so see if you can come up with a series of interesting facts or trivia questions to feature each month. Each fact should be relevant to your business and your customers. Turn your desk calendars into conversation pieces and you'll be rewarded with brand recognition.
6. Hidden images
Commission photos or illustrations in which a unique image, or set of images, is hidden for customers to find each month. You can even create a special offer around it: offer a discount at the end of each month to any customer who finds the hidden images, tears the page out, and brings it in to prove it. When they do, snap photos to share via social media!
7. Writing/thought prompts
Make your desk calendars interactive with writing prompts, thought prompts, or inspirational sayings. This is a great way for self-improvement businesses to engage their clients in a meaningful way that also promotes new business.
Do you have a great idea for your desk calendar theme? Maximize your ROI when you print premium desk calendars at discount prices.