Though it's still officially called Washington's Birthday, President's Day has become a holiday to recognize and celebrate all U.S. presidents; for marketers and small businesses, it presents an opportunity to glean insight from some of the most powerful marketing campaigns of all time: presidential election campaigns. The following lists seven lessons presidents have taught us about marketing.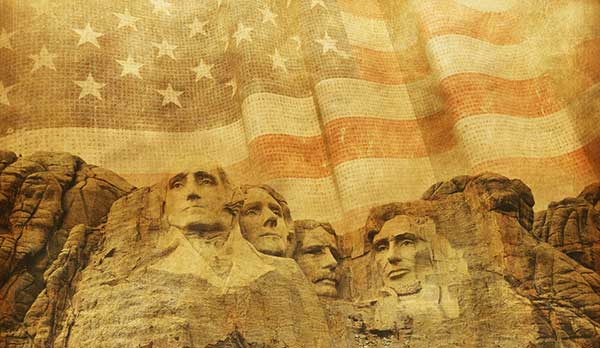 1. You don't need to be the most popular to win
Five presidents have lost the popular vote yet won the White House: John Quincy Adams, Rutherford B. Hayes, Benjamin Harrison, George W. Bush, and Donald Trump. The Electoral College's weighted state votes means winning the presidency involves understanding the desires of a targeted audience, then developing a strategic campaign designed to win the states with the most votes.
Similarly, you don't need to have the most popular product or service in your industry; rather, you need to appeal to your core customer base. Think about Apple's iOS, which has a 40 percent U.S. market share versus Android's 60 percent; yet Apple netted $10.7 billion in profit from $52.6 billion in revenue during Q4 2017 alone.
2. Persistence pays off
It can be easy to abandon marketing strategies if they're not immediately fruitful, but several presidents have proven persistence pays off. In fact, one-quarter of presidents lost previous elections prior to winning the presidency.
So, for example, if you print direct-mail postcards and they do not earn the response rate you were hoping for, don't give up: identify what went wrong. Did you target the wrong audience? Deliver the wrong pitch? Have a lackluster incentive? Whatever it was, fix it, then send another postcard.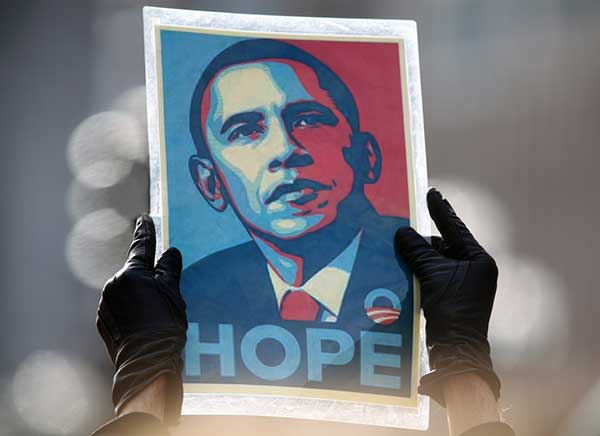 3. Great branding pays huge dividends
Remember President Obama's "Hope" poster, designed by Shepard Fairey? Of course you do, whether you voted for him or not. That iconic design represents the larger brand created for Obama's first presidential bid – when he was the first presidential candidate to be marketed like a high-end consumer brand.
President Trump's team took notice of the awesome power of branding when they created the "Make America Great Again" slogan. It doesn't matter how large or small your business is; a strong brand presence that resonates with your audience can pay huge dividends.
4. Engage your audience
President Obama was the first to embrace social media, and in doing so he was able to reach a demographic that had largely been ignored in American politics – and on their terms. President Trump has been unabashed about his Tweets, even when they've spurred derisive comments from non-supporters.  
Rather than worry about giving opponents a platform to directly attack their statements, both social-savvy presidents have instead focused on delivering messages their core audience will champion and share – in a format they're comfortable with.
Abraham Lincoln said you can please all of the people some of the time, some of the people all of the time, but never all of the people, all of the time. The best marketers focus on pleasing some of the people (their core customer base) all of the time.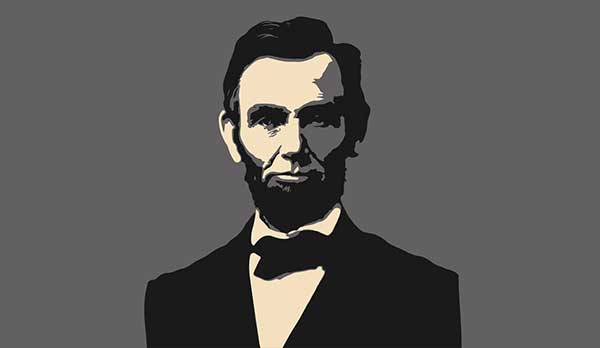 5. Presentation is critical
During the 1960 election, John F. Kennedy and Richard Nixon squared off in history's first televised presidential debate, which was also broadcast over the radio. Those who listened to the radio broadcast largely felt Nixon won the debate; however, those watching on TV felt Kennedy won. Kennedy's confidence in front of the camera contrasted with Nixon's obvious discomfort under the stage lights. The televised debate was a major contributing factor to Kennedy's eventual victory.
Branding is only part of the equation. Your presentation must be consistent, it needs to speak to your audience, it should inspire confidence you can deliver on your promises, and it should exude quality. That's why your marketing tools should feature stellar design and production: vivid inks and premium paper stocks can help inspire consumer confidence in your company.
6. Expose the competition
When the stakes are high, the dirt gets uncovered. Presidential campaigns have been notorious for unearthing – or even manufacturing – scandals; one reason candidates are heavily-scrutinized by parties before nominations are made. Some of the most effective ads in election history have directly attacked opponents' weaknesses: Johnson's "Daisy" ad that suggested Goldwater would propel the U.S. into nuclear war, for example, and the George W. Bush campaigns that featured veterans attacking John Kerry's military record.
You can show customers how you're better than your competitors by exposing their weaknesses; one example was T-Mobile's 2013 "Break-Up Letter" campaign, which attacked everything people hated about their current mobile carriers (contracts, high prices, early termination fees, etc.).
7. Do a great job
The better you are at delivering on your promises, the more customers will want to come back (and the more new customers you'll attract). Franklin D. Roosevelt boasts one of the highest overall average approval ratings at 63 percent; so it's no wonder he was elected for four terms.
In fact, FDR was persuaded to run for his third term because it was felt the country needed his leadership to navigate World War II. He had become so indispensable to the American people, the sanctity of the two-term limit (though not legally imposed at the time) was eschewed.
Become indispensable to your customers, and marketing becomes much easier.
Consider how you can incorporate these president-inspired ideas in your own marketing campaigns. Develop a winning marketing strategy based on the successes of our nation's greatest leaders, and you can become a leader in your industry.
Make your marketing campaigns look presidential with premium printing services at discount prices!