Looking for a way to boost business and fuel revenue this fall? Some marketing strategies are seasonal, allowing you to take advantage of promotional themes and customer purchasing behaviors to grow your business. Case in point: the following seven marketing strategies that only work during fall.
1. Early bird holiday specials
In 2016, a study by the Rubicon Project found that one-third of consumers and one-half of American parents start their holiday shopping by Labor Day. It's called Christmas creep, and it presents an excellent opportunity for you to land sales before the Black Friday/Cyber Monday onslaught.
Run early bird holiday specials that make it easy for your customers to get their shopping done now and avoid the crowds. You can promote it with vinyl banners, direct-mail postcard printing, and window clings, for starters.
In addition to exclusive sales, you can offer add-on incentives to earn more business: free gift-wrapping, for example, complete with greeting cards and gift labels.
2. Creepy marketing campaigns
Fear is a strong marketing motivator, but you typically don't want to frighten customers with scary artwork – unless it's the Halloween season, of course. Catalogs, postcards, banners, posters, flyers, and booklets that feature monsters, ghouls, and ghosts are perfect at commanding attention for your promotions this time of year.
More than 171 million Americans celebrated Halloween in 2016, spending $8.4 billion on Halloween-related purchases. Often considered one of the most fun holidays, you can put your design team to work creating creepy Halloween marketing tools that scare up business this fall.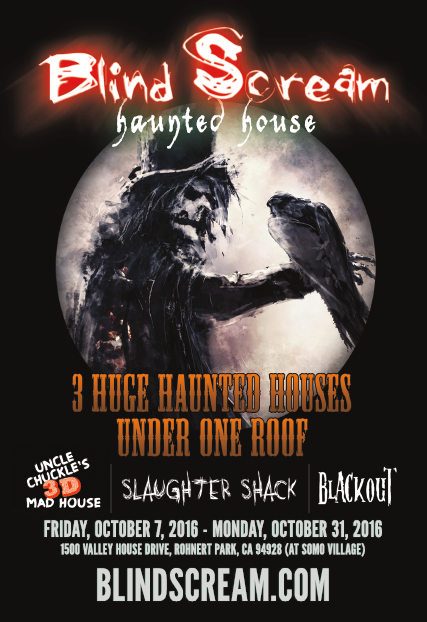 Postcard for Blind Scream designed by Michelle Marques
3. Tailgate marketing campaigns
Football dominates fall sports, which makes catering to tailgaters a great strategy if you sell:
Cold weather clothing
Outdoor grilling equipment
Electronics, such as outdoor radios and TVs
Camping gear: tents, lawn chairs, and coolers
Anything related to football
When you consider fans spend an average of $196 on each tailgate party, you can easily see why tailgating presents an excellent fall marketing opportunity.
4. Lost time exclusive deals
Daylight Savings Time ends in early November, which means many Americans lose an hour overnight. That can be bad for retailers, who lose between 2.2 percent and 4.9 percent of sales volume due to DST.
You can make it up to them with a special sale packed with deals. You might consider staying open an extra hour that date and hosting an exclusive discount sale just for time-minded customers.
5. Small Business Saturday specials
Small Business Saturday can be a powerful sales vehicle for local businesses. It's held the first Saturday after Thanksgiving, and in 2016 a record 112 million shoppers purchased from small businesses.
Sandwiched between Black Friday and Cyber Monday, Small Business Saturday lends local businesses the opportunity sell products and services the big box retailers can't or don't – before they're tempted to go online to finish their shopping.
Make a local push for your company with banners and EDDM (Every Door Direct Mail) postcard printing.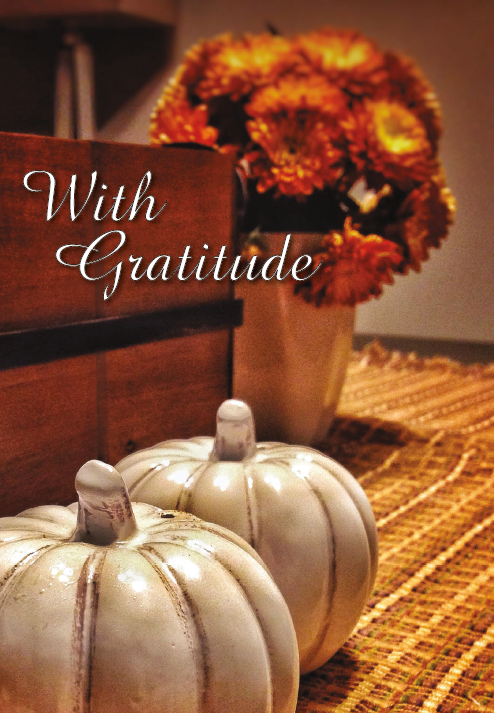 Holiday card for Holy Names of Jesus and Mary in Campbell, California designed by Susan Seichrist
6. Winterization
If you offer winterization services, fall is the time to market them. Winterization is an add-on service for many types of products, including:
Homes
Boats
Automobiles
Air conditioning units
Campers
Use direct-mailers such as postcards to market your winterization services early so people know who to call before it gets cold.
7. Thanksgiving customer appreciation sale
There's no doubt Thanksgiving kicks off the busiest sales season of the year – over the next four days are Black Friday, Small Business Saturday, and Cyber Monday. Most companies focus on low prices, but if you're in a luxury or service niche you might consider a Thanksgiving customer appreciation sale.
Instead of discounting everything, use invitations cards to invite your best customers to an exclusive sale in which you offer specific high-profile items at a special price. This VIP, white glove treatment can work well for businesses that serve discerning customers.
Ready to boost profits with a powerful fall marketing campaign? Maximize your return on investment with premium discount printing services today.