Seeking ways to grow your service-based company in 2018? There are plenty of opportunities; in fact, in October 2017 the U.S. service sector reached its fastest growth rate in 12 years. From personal massage and mobile pet grooming to bookkeeping and business consulting (you can check out 105 service-based business ideas here), if you're in the business of offering a service 2018 could prove to be a highly-profitable year – provided you have the marketing strategy to command sales. To that end, the following lists seven ways service companies can grow in 2018.
1. Give B2B presentations
If you offer B2B services, reach out to companies in your target market and ask if you can give a brief presentation in front of its decision-makers. Develop an interesting presentation that delivers useful and unique insights they can use whether they hire you or not. Of course, the goal is to land new clients; but if you can't deliver value with your presentation, they won't trust you to deliver value if you're hired.
Make sure you print pocket folders packed with useful leave-behinds and presentation-helpers, including sales sheets, flyers, brochures, and your business card (print ultra business cards for extra impact).
2. Be omnipresent
Make sure your service business is impossible to ignore by leaving your mark wherever your customers are. Strategically place flyers where your audience is likely to notice them. Print vinyl banners and stake them near busy intersections your customer base is known to travel through. Print custom stickers that feature your brand and affix them everywhere your audience goes.
The more recognizable your brand, the more likely your phone will ring.

Banner for Axis Dance
3. Host events
Create unique events that deliver value to your customer base, and print direct-mail invitations, postcards, posters, and banners to promote your events. A dog groomer might host a dog grooming class, for example; or, a mechanic might host a special winter safety seminar. A financial consultant might host a business tax class. A daycare might sponsor a household safety course for new parents.
No matter what event you create, if you can offer real value that's relevant to your customers' needs, you can turn guests into customers in no time.
4. Sell add-on services
Look for opportunities to upsell or cross-sells other services to your existing customer base. A carpet cleaning service might offer upholstery cleaning, for example; while an auto detailing service might offer Rain-X window treatments. Print brochures or sales sheets to promote your add-on services, and make it easy for customers to say "yes" with promotional discounts.
If you're already doing the work, add-on's and cross-sell's can net additional revenues for minimal effort and investment.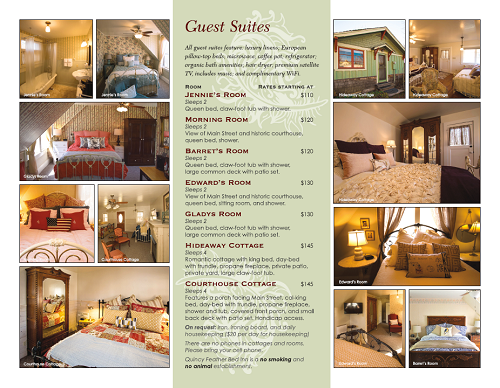 Brochure for Quincy Feather Bed Inn designed by Shelley Hunter
5. Keep marketing to your house list
Every business wants new customers, but the fact remains that it's cheaper and easier to sell more services to your existing customer base than it is to attract new customers. Don't leave your current customers behind; instead, dedicate a portion of your marketing strategy to retaining and selling more services to them. You might, for example, print direct-mail postcards to send to your house list to introduce new services and specials.
Even better, track what your customers buy; since many services need repeated on a routine basis, simple reminders can keep customers coming back regularly. For example, a dog groomer might send a postcard three months after each grooming to remind customers it's time for another session; or, a carpet cleaner might send postcards every six months to remind customers it's time for another cleaning if they want to keep their carpets from getting too dirty.
6. Be valuable
Become a valuable resource to your audience, and they will thank you with their business. One way to add value is to print booklets packed with useful information your customers want (and peppered with recommendations for your services, of course).
A computer repair service, for example, might print a booklet that features computer maintenance best practices as well as solutions to common problems. Customers might reference the booklet as-needed, and when they get stuck the computer repair service is top-of-mind.
Another way to be valuable is to print refrigerator magnets that include helpful (and relevant) tips and tricks, schedules, or important numbers for service-based businesses. You can partner with non-competing local businesses to print a local service directory magnet!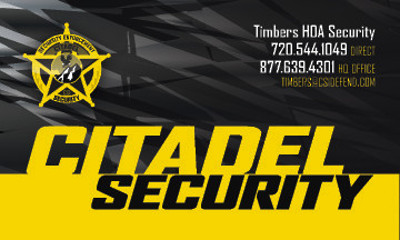 Magnet by sevenDesign's Josh Chase for Citadel Security
7. Start a loyalty rewards program
Print loyalty rewards cards that can be stamped every time customers use your service. After a certain number of purchases, they get a freebie or discount on the next purchase. This is an extremely popular and effective way to keep customers coming back on a regular basis – and away from competitors.
Ready to grow your service company in 2018? Maximize your ROI with premium printing at discount prices!