Spring is in the air and your customers are venturing out from under winter's thaw and into the outdoors. How are you going to captivate that foot traffic and convert it into sales? You can start with the following eight outdoor marketing tools for surging spring sales.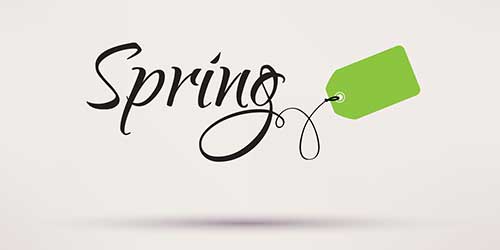 1. Banners
Banners are perfect outdoor marketing tools for spring, offering benefits such as:
Large-format advertising that can be viewed up-close and from a distance
Versatility in placement, from roadways and intersections to sidewalks, windows, and walls
Enormous exposure, reaching hundreds or even thousands of potential customers daily
Banners are also cheap to print, which makes banner marketing a great choice for small businesses and large corporations alike.
2. Door hangers
Put your own feet to the street with door hanger marketing, which lets you ultra-target your placement to maximize your return on investment. For example, a painting company can place door hangers only on homes that are due for a fresh painting. A real estate company can place door hangers in neighborhoods where several homes are being sold.
Even if you pay to have your door hangers distributed, the ability to supremely target who sees them and when can have an incredibly positive effect on your spring sales.
3. Posters
Event marketing staples, posters are perfect for promoting spring sales, festivals, and the arts. Place posters in prominent areas where locals will see them, and in targeted areas frequented by your audience. You can even print short-run posters to minimize your investment without sacrificing your reach.
4. Wall graphics
Change the landscape by printing wall graphics that can't be ignored. Work out a deal with a property owner who has a blank wall in a prominent outdoor location – you might need to rent the space – then print oversized wall graphics that deliver mass exposure for your brand, products, and/or services this spring.
5. Window clings
Though technically applied indoors, window clings are outdoor marketing tools perfect for drawing in window shoppers and passers-by. They're excellent at earning impulse purchases and motivating shoppers to visit your store – before they visit your competitors.
6. Yard signs
Yard signs aren't just for politicians; in fact, national brands have taken advantage of the power of yard signs to earn exposure in even small-town venues. Great for local retailers, global websites, and regional restaurants, yard signs let you take advantage of repetition via mass distribution without breaking the bank.
7. Stickers
Stickers are excellent ways to creatively market your business in targeted outdoor locations. Think of ways you can use stickers to make people think about your brand. Have you stickers interact with their environments: sidewalks, walls, park benches, vending machines, light posts (just get permission first!). A great outdoor sticker is also an opportunity to earn social photo shares!
8. Car door magnets
Take your marketing on-the-go, wherever you go, with car door magnets. Unlike vehicle wraps, car door magnets aren't permanent. Plus, they can be swapped out for seasonal spring sales – and they're cheaper to print. Recruit employees, friends, and family members to sport your car door magnets on their vehicles to boost your reach this spring.
Ready for a spring sales surge? Maximize your return on investment with premium discount printing services.