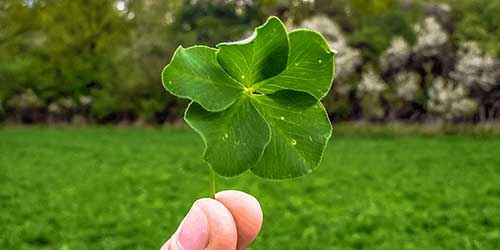 Want to boost sales this St. Patrick's Day? Whether you want to promote a special St. Patty's Day event, motivate parents to buy fun holiday gifts for their children, use the green-laden holiday as a catalyst for marketing spring fashions, or anything in between, you won't need the luck o' the Irish to cash in on a St. Patrick's Day direct-mail postcard marketing campaign.
Identify your audience and special offer
Start by identifying the audience for your campaign by demographics: age, gender, location, income, marital and children statuses, interests, and more. You can use these demographics to generate a mailing list comprised of people who are likely to buy from you.
Next, develop a special offer that will appeal to your audience. Using our examples, a night club might offer a drink special or free appetizer for its St. Patrick's Day concert; an online children's gift shop might offer busy parents a St. Patrick's Day gift guide and free two-day shipping; and a fashion retailer might offer an attractive discount to spark spring sales.
These aren't the only types of businesses that can take advantage of St. Patrick's Day to boost sales, of course: with a bit of brainstorming, you can come up with a fun and relevant promotion that interests your audience.
Design your own St. Patrick's Day postcards
This is the fun part: with PsPrint's free postcard templates and online design tool, you don't need to be a graphic designer to print professional-looking postcards that command customer attention and help increase response rate and ROI. Here's how it works:
Browse the design gallery to find a postcard design that's perfect for your promotion (each template was crafted by a pro designer, and most feature multiple color schemes to make it easy to find a match for your brand)

 

Open your selected template in the free design tool, which lets you completely customize the design with your own text, call to action, logo, images, fonts, shapes, colors, and other design element

Download a free PDF to see how your printed postcards will look, then make any necessary revisions before sending your artwork to print
If you're looking for a fast, easy – and free – way to design your own professional St. Patrick's Day postcards, PsPrint is the place.
Print and mail your postcards
Once you've finished creating your unique postcard design, simply choose your postcard printing options. Consider making your postcards stand out with triple-thick ultra postcards, which feature a band of color around the outside edges. Other options include your choice of postcard paper stock, finishing options such as an extra-glossy UV coating, and quantity.
Now, all that's left to do is mail your postcards. Instead of hassling with addressing, stamping, and sending each individual postcard, you can let PsPrint's mailing house handle addressing, postage, and mailing for you. That means you can plan and launch your St. Patrick's Day direct-mail postcard marketing campaign entirely online, right from your computer, and completely hands-off. What could be cooler than that?
Start planning your St. Patrick's Day postcard marketing campaign today!