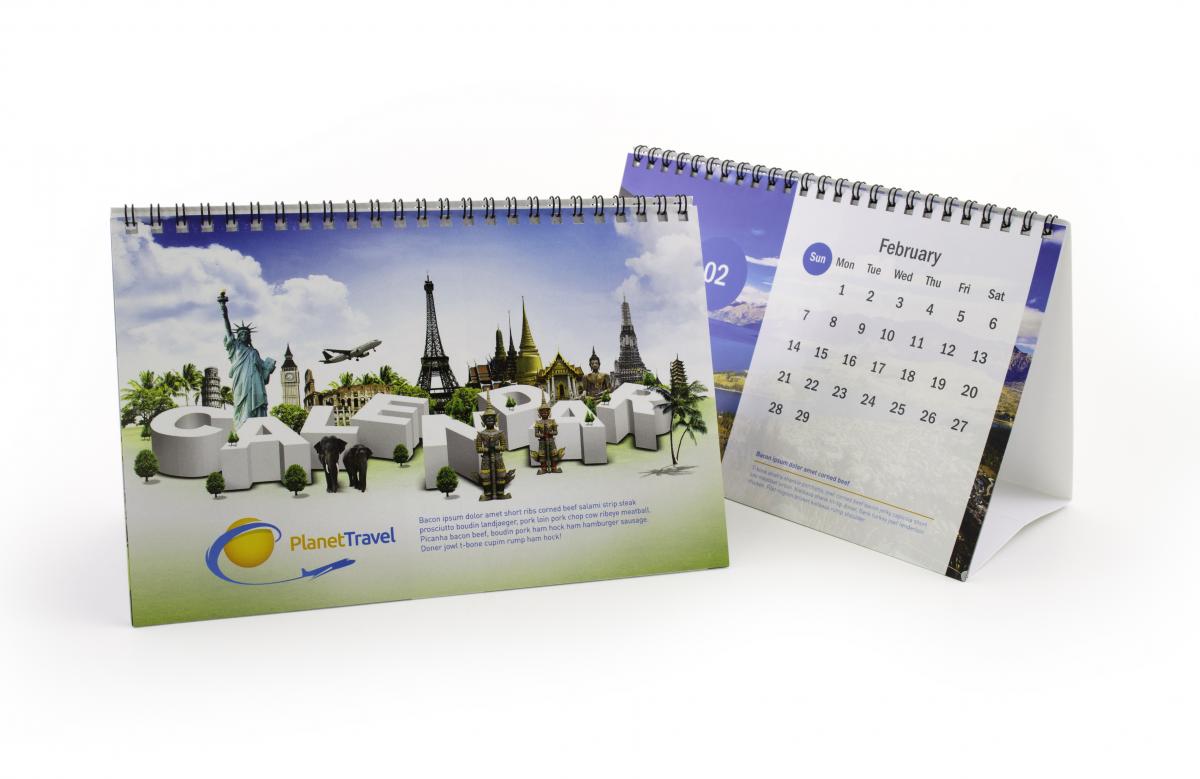 Do you use desk calendars to market your business? If not, you could be missing out on a prime opportunity to keep your brand front-and-center 365 days of the year. The following details everything you need to know to successfully market your business with desk calendars.
Set a goal
During the planning phase you should set a goal for your desk calendar marketing. Your goal should have to do with branding and influencing sales. Examples include:
An auto mechanic might want to make sure it's the first company people think of when they have car trouble

A restaurant or food delivery service might want to make sure all the business people in their area has its menu, contact information, and lunch specials

A home improvement store might want to expose customers to its seasonal specials year-round
Consider how your desk calendars might help you achieve your goal, and use your goal as a tool for making decisions during the planning phase.
Create a relevant theme
Desk calendars are useful and used by many, but the main reason one desk calendar is chosen over another is relevance. That is to say, how relevant your calendar is to your customers. You want to print desk calendars that feature attractive images and artwork your customers will relate to. Your desk calendars should also have relevance to your business. Using our examples:
An auto mechanic might print desk calendars featuring classic cars

A restaurant might print desk calendars featuring its favorite recipes and dishes

A home improvement store might print desk calendars featuring stunning residential landscapes and interior décor
Design to your theme and goal
Now that you have a goal and theme, your desk calendar design should work to satisfy theme. As stated, your visuals should have relevance to your customers and your business; but you can take things a step further by including your logo, address, and contact information on every page. Even better, incorporate specials to influence direct sales. For example:
An auto mechanic might feature a different special each month: a discount on tire rotation in March, for example, or a discounted oil change in July

A restaurant might promote a different lunch special each month to encourage group office orders

A home improvement store might create seasonal discount offers for each month: rakes in October, snow blowers in December
Be sure to include a coupon code with each special offer so you can trace sales back to your desk calendars. If you're not seeking to influence direct sales with special offers, no problem: desk calendars are still excellent for year-round branding!
Print desk calendars for ROI
Once you've created your design, be sure to maximize your ROI by printing premium desk calendars at discount prices. There are three factors that will directly influence your return on investment:
The quality of your desk calendars

The relevance and attractiveness of your design

Your upfront investment
If you print bargain basement cheap desk calendars on poor paper stocks, they won't be attractive and your customers will not want to display them. Conversely, printing premium desk calendars makes your artwork more attractive and dramatically improves the likelihood your audience will want to use them.
Get the best of both worlds with PsPrint, which offers high-quality desk calendar printing at discount prices.
Aim for targeted distribution
Finally, you want to put your desk calendars in the hands of those who are most likely to use them – and respond them. Existing customers are a great place to start, but you can also distribute calendars:
To offices, businesses, and residences in your local area

To targeted mailing lists

At trade shows, conferences, seminars, and other events

On retail and restaurant countertops

Anywhere else you can reach your target audience
Desk calendar marketing is a great way to promote your business year-round; and because desk calendars are both useful and relevant 365 days per year, they offer an incredibly cheap cost-per-view. More importantly, they offer all the benefits of repetition for powerful branding as well as opportunities to influence direct sales.
Boost business by printing desk calendars today!