Calendar printing can be a powerful way to promote your brand, products and services year-round; and there's no better time to distribute calendars than the holiday season. You can get a jump-start on your holiday marketing by printing calendars now.
Printing calendars now enables you to:
Take plenty of time to plan your

calendar distribution strategy

Get your calendars to your audience well before competitors do

Free time for other holiday marketing initiatives

Take advantage of calendar printing discounts to maximize your return on investment
Timing plays a major role in whether your calendars will be used; beat your competitors by getting them out just before Thanksgiving (and make the first month December so they can be used right away). The other major factor is your calendar theme: it must be appealing to your customers and relevant to your business to be successful.
Here are some questions you need to answer to print calendars your audience will love and that drive customers to your business.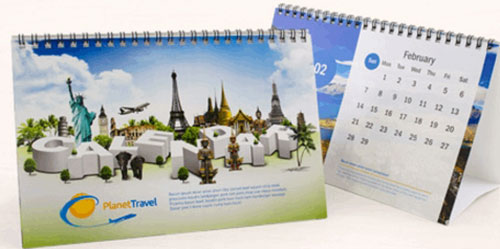 Will you print wall calendars or desk calendars?
Consider your audience to answer this one. If your customers spend their days at desks, as is often the case with B2B clients, a desk calendar might be your best option. If your customers are on their feet or spend their days in the kitchen, a wall calendar might be better. You want to print calendars your customers will naturally reference and interact with on a daily basis.
What theme will you promote?
This basically comes down to: what pictures will you use on your calendar? As mentioned, you want photos, illustrations, or other artwork that resonates with your audience and that's relevant to your business. Mechanics might print calendars featuring classic cards. Pet shops might print calendars featuring puppies and kittens. Travel agencies might print calendars featuring amazing vacation destinations.
How will you add value to your calendars?
Compelling artwork is only part of the picture; if you want your calendars to be powerful marketing tools, you also need to consider ways to add value. One way to add value is to feature a helpful tip each month (for example, a mechanic's calendar could list winter car maintenance tips in December). Another is to include seasonal coupons or coupon codes, which can motivate direct sales. Of course, you can add value to your own business by prominently featuring your brand on every page.
How will you distribute your calendars?
Or, more to the point: how will you get your calendars on your customers' walls or desks? You can send calendars via direct-mail, hand them out face-to-face at events and office visits, or place them on point-of-sale counters and racks.
If you can print a visually compelling, value-added calendar featuring a business-relevant theme your customers identify with – then beat your competitors to distribution – you'll have a winner. Plan early to take advantage of calendar printing discounts.