If you're looking for an affordable way to promote your company to hundreds or even thousands of potential customers every day, car door magnets are the perfect solution.
Unlike custom painting and vehicle wraps, car door magnets are cheap to print and non-permanent, so you can add and remove them as-needed. You can also swap car door magnets for different seasons and promotions; plus, they make it easier to recruit others to help you market your business.
The following lists five ways you can amplify your reach with car door magnets.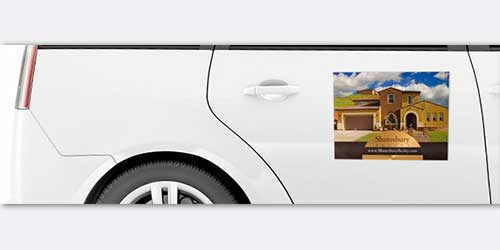 1. Place car door magnets on your vehicles
If you have a company fleet, be sure to place car door magnets on each vehicle so your brand and/or promotions are visible everywhere you go. Don't have a fleet? Car door magnets are still excellent marketing tools for single vehicles, whether you're a sole proprietor using a personal vehicle or a small company with a single corporate vehicle.
2. Get employees, friends, and family members involved
As people you know to sport your car door magnets on their own vehicles. Since magnets are not permanent and are easily removed, they won't mar your associate's cars – which makes it easy to convince them to help you.
Ask them to place your car door magnets during their morning and afternoon commutes, lunch breaks, vacations, and while running errands. You might consider offering an incentive or even payment for helping you out.
3. Drive around your service area
If you operate a restaurant or club in a busy entertainment district, patrol the area with attention-getting car door magnets potential patrons are sure to notice. Offering a special weekend promotion at your retail store? Cruise through the mall parking lot.
If you offer a residential service, take time to cruise through your target neighborhoods (and neighborhoods where you have completed work). The more potential customers are exposed to your promo, the more likely they are to call when they need your service.
4. Recruit daily route drivers
Sales people, account representatives, delivery drivers, and others often drive daily routes for work; give them an easy way to earn a few extra bucks and simultaneously amplify your exposure by donning your car door magnets on their vehicles.
5. Recruit long-distance drivers
Similarly, you can recruit long-distance drivers to boast your brand name nationwide during cross-country tips. This is a great way to get the word out about your website!
Car door magnet printing is a cheap, convenient, simple way to increase your brand visibility and promote your special offers. Amplify your reach by printing car door magnets at discount prices today.