Thinking about printing refrigerator magnets to promote your brand in customers' kitchens? Fridge magnets are powerful branding tools that put your company front-and-center every time your audience needs something cold, but did you know they can also motivate direct sales? The following details three ways to power-up your marketing so you can get business from refrigerator magnets.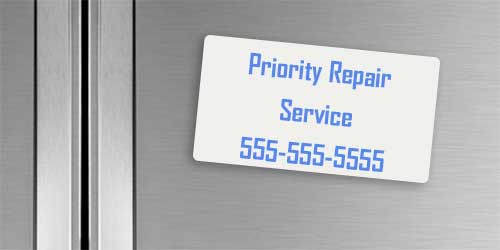 1. Print useful magnets with evergreen discount codes
Think about what your audience will find useful, then turn it into a refrigerator magnet. Do you cater to cooks? A kitchen measurement conversion chart might work. Do your customers love sports? The local high school football team schedule might do the trick. Do your customers love classic cars? A summer car show event schedule might be just what you need. Do you sell carryout or delivery food? Print your menu on a magnet!
Your goal is to give your customers something they'll want to consult time and again. Then, don't just let your branding and logo do the heavy lifting. Instead, include an evergreen discount code that's exclusive to your magnets (ten percent off, perhaps). You not only give your customers excellent value, you give yourself a way to track response.
2. Exclusive deals schedule
Map out a full year's worth of deals, month-by-month or even week-by-week. Print a refrigerator magnet that lists these special deals, complete with product/service images and special coupon codes to redeem for each deal.
Make sure each deal is exclusive to those who post your magnets on their refrigerators. This lends a sense of exclusivity your customers won't want to miss out on and also helps you measure your response rate. Your flyers and other promos can list other promotions, but make your fridge magnets unique.
Make your deals seasonal, if possible. For example, a hardware store might feature discounts on rakes in the fall and flower pots in the spring. An auto care center might offer vehicle winterization in November, and a special on detailing in May.
Remember, customers are always on the lookout for ways to save money. Make it easy on them with fridge magnets, and they'll reward you with their business.
3. Service call reminders
If your company installs household appliances, heating and cooling units, and other big ticket items that need consistent care and maintenance (not to mention emergency service), give your customers fridge magnets that feature your phone number and 24/7 emergency service line.
Instead of frantically searching for the first available service provider, customers will call you. This is a great strategy for plumbers, HVAC technicians, and appliance maintenance providers. Make your magnets even more powerful by giving your customers a "priority service" guarantee in which you will help them before first-time customers. Make your priority service guarantee the focal point of your magnets to practically guarantee you'll be the first one called if something breaks down!
Ready to print powerful fridge magnets that boost business? Get discount magnet printing from PsPrint.