If you're seeking unique print marketing ideas, chances are you haven't considered bookmarks – but bookmark printing can be a powerful approach to reach your target audience without competition getting in the way of your marketing efforts. The following details how you can boost sales with bookmarks.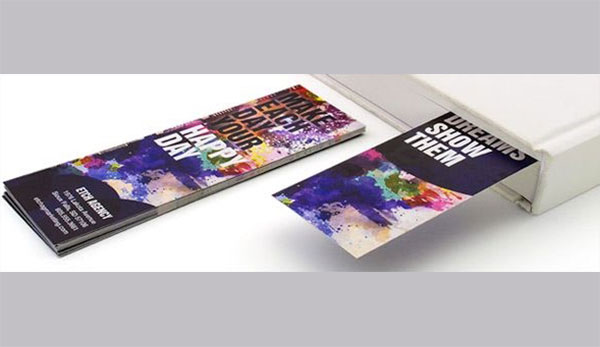 Print bookmarks that deliver value to your customers
The key to successful bookmark marketing is to give your customers value, which means your bookmarks should feature designs and information that interests your audience. Think of bookmarks as more than mere placeholders and identify ways you can make your bookmarks valuable.
Ideas include:
Cool designs that match the themes of the books your customers read
A list of helpful and relevant websites your customers should "bookmark"
Useful tips and tricks related to your business and the books they read
Coupons and coupon codes to save on products in-store or on your website
AR (augmented reality) features and QR codes for an immersive reading experience or links to relevant online content
Checklists, especially if they can help customers plan or accomplish their goals (for example, planning a birthday party or achieving more in their careers – perfect for self-help books)
A list of upcoming events; for example, local sports schedules, theater events, concerts, and nearby festivals
Invitation to join a community, whether it's a church, local nonprofit or online mastermind group
Inspirational quotes, funny jokes, and other text your audience will appreciate
Event tickets or invitations to an upcoming event (VIP access is a cool idea if you can offer it for an event)
Highlight related books or authors your audience should check out 
Of course, your bookmarks should also include your branding, a special offer, and a call to action to promote your business and influence sales.

Bookmark for "The Tales of Limindoor Woods" by Sieglinde de Francesca
Print high-quality custom bookmarks to enhance your brand image
People equate the quality of your marketing materials with the quality of your products and services, which means you should print high-quality bookmarks that not only look amazing but also feel fantastic in customers' hands.
Paper stock plays a crucial role in how your bookmarks will be perceived and can enhance your brand image.
Bookmark paper stock options include:
16 pt. C2S gloss cover stock: an ultra-thick paper with a glossy finish that's perfect for high-energy designs and for protecting your bookmarks
14 pt. C2S gloss cover stock: a thick paper stock that has a bright, glossy shine
15 pt. velvet with soft-touch coating: an elegant paper stock with a super-smooth finish for a luxurious, sophisticated fee
15 pt. velvet cover stock: a heavy paper with a semi-matte, velvety-smooth finish that offers a classic high-end look
13 pt. 100% recycled matte cover stock: The perfect eco-friendly option for bookmark printing, complete with a sophisticated matte finish
In addition to paper stock, you can decide whether to have holes drilled in your bookmarks for tassels. Finally, you should consider printing bookmarks with soy inks, which are more eco-friendly and capable of producing more vibrant colors than petroleum-based inks.
Bookmark for "The Chipmunk Jamboree" by William Middleton designed by Kelley Rich from redhotdesign
Distribute bookmarks strategically to maximize ROI
Once you've printed your bookmarks, all that's left to do is get them in customers' hands. A smart bookmark distribution strategy will ensure your bookmarks aren't wasted and your ROI reaches its full potential.
Bookmark distribution ideas include:
Give bookmarks to libraries to hand out for free
Give bookmarks to retail bookstores and college bookstores to hand out
Place bookmarks in books and booklets you send to customers
Add bookmarks to your sales letters and corporate identity kits
Hand out bookmarks at events: trade shows, fundraisers, conferences and festivals
Include bookmarks in every package you ship
Place stacks of bookmarks at point-of-sale locations at your place of business
Partner with non-competing businesses that share your audience and distribute bookmarks through them (point-of-sale displays, in shipped packages, and at events, etc.)
Take bookmarks to local schools and ask them to hand them out (you might want to speak directly with teachers and professors) 
Seek other creative opportunities for bookmark distribution, from direct-mail to partnerships. It's typically not difficult to get partners to distribute your bookmarks for you since it's a free gift they can offer to their own customers, students, and members.
Ready to boost business with bookmarks? Do it for less and maximize your ROI with discount custom bookmark printing today!