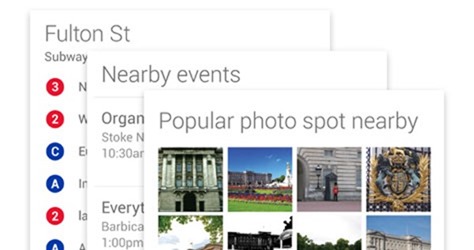 Google Now has launched to much fanfare, but given the service is still in its infancy (and "learning" about its individual users), it can be somewhat difficult to predict how marketers can best position themselves and their brands to take advantage of the service and reach your target customers. Certainly you can follow the most relevant news in your industry, but that feature isn't profound in and of itself. What we want to know is how to actually reach your customers with Google Now.  Here's what we can surmise so far.
1.  Know the cards
Since Google Now displays information on topic-specific "cards," the first thing marketers should do is learn what cards are available. By knowing the cards, you can better position your company to be featured on them.  The service promises to continually introduce new cards, but for the moment you can find an updated list of cards here.
2.  Enrich your Google+ profile
Google+ is one of the most obvious sources of information for Google Now, which means it is a good idea to make sure your Google+ profile is accurate and up-to-date. This is especially critical for location, since many Google Now cards are displayed based on user location.
3.  Host events
One of the most popular cards on Google Now is the "Events" or "Nearby Events" card.  Thus, you can add your events to Google+ in the hopes they'll display on Google Now.  You don't have to host events to add them, either, so long as you'll be in attendance.
4.  Add offers
Google Now recently added the "Offers" card, which naturally displays local relevant offers to Google Offers users. Make use of Google Offers to get your promotion displayed to local customers.
5.  Keep an eye on the future
As mentioned, Google Now is still in its infancy and opportunities are largely broad.  There are some specifically targeted markets: real estate, for example, and digital goods available on the Google Play store. But if your company doesn't fall under one of those categories, it's a good idea to stay abreast of new Google Now developments to identify opportunities that better fit your marketing strategy.
Moreover, keep an eye out for PPC opportunities. Though I haven't seen any direct to Google Now opportunities thus far, it's fair to say that PPC is where Google makes most of its money. And, since Google largely owns the mobile search market, we very well could see Google Now-related PPC opportunities in the near future.
How else can marketers get the most out of Google Now?