You probably know it's important to let your customers know you care about them, but how often should you show customer appreciation? Every chance you get!
You don't have to host a big budget event to show customers you appreciate their business. In fact, the simplest gestures can have greater meaning and personal value. What's important is that you consistently seek ways to express your appreciation. The following lists ten ways you can show customer appreciation every day!
1. Send greeting cards
Send greeting cards to thank customers for recent business and for holidays, birthdays, and anniversaries. Don't great your greeting cards like marketing tools; instead, include a personalized note that expresses your appreciation and wishes them the best. Adding a personal touch fosters customer relationships and leads to lifelong customer loyalty.
Instead of sending mass mailings at once, print custom greeting cards that feature your brand or your team. Leave the insides blank, and handwrite notes to your customers as-needed. You could send a single greeting card every day!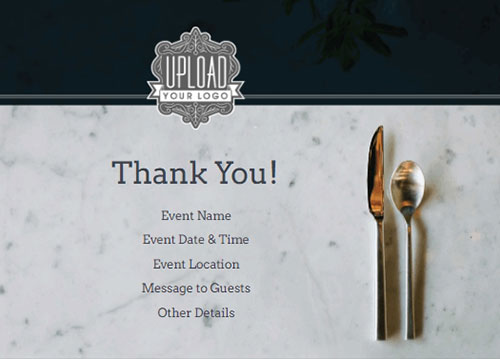 Free thank-you card template from PsPrint's online design tool
2. Make phone calls
Another great way to show customer appreciation is to give customers a call. Follow up with customers a few days after making your sale to be sure they're completely happy with their purchase, to see if they have any questions or if there is anything you can do to help, and of course to thank them for their business.
3. Discount cards
Print business cards with a special customer discount or coupon code, then hand them out at the register or whenever you encounter customers outside your store. Make your promotion all about customer appreciation by only giving the discounts to established customers.
4. Offer a free upgrade
Reward repeat business by offering free upgrades to your best customers. You don't have to advertise this; instead, when a longtime customer makes their next purchase, offer an instant upgrade or other free add-on to show them how much you appreciate their business. The gesture will have greater impact since the upgrade isn't part of a promotion, but instead individualized to the customer.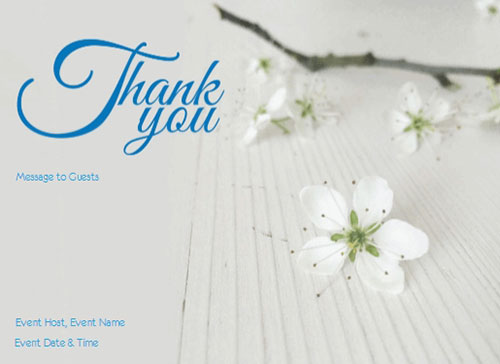 Free thank-you card template from PsPrint's online design tool
5. Spotlight your customers
Snap photos of your best customers and feature them in your print newsletters, catalogs, email blasts, social media pages, and blog. This is a great way to not only thank your customers, but also to showcase your solutions.
6. Put them on your signs
Publicly thank customers and wish them well on your outdoor signage. This is a customer appreciation method often employed by real estate agents and car dealers, but it could be applied to just about any business.
7. Send referrals
If you have B2B customers, perhaps the single best way to show customer appreciation is to send referrals their way. Chances are you know a few businesses that can help one another out; now, you just need to facilitate a relationship that benefits all parties.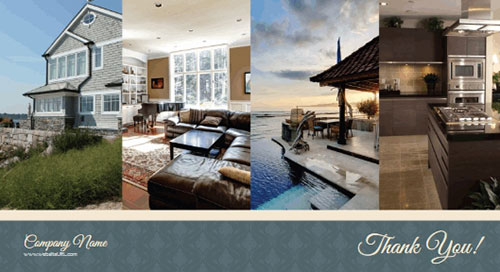 Free thank-you card template from PsPrint's online design tool
8. Simply say "hi"
Do you see your customers out in public? At church, at the store, at community events, etc.? When you do, take advantage of every opportunity to say "hi." We all prefer to do business with people we like, and a simple friendly gesture can go a long way toward building customer relationships. Make sure you remember your customers' names!
9. Print loyalty/rewards cards
Your best customers should be rewarded for their loyalty, and you can make it easy by printing loyalty/rewards cards that offer customers a freebie or discount after they make a set number of purchases.
10. Train your staff
Expressing customer appreciation isn't just up to you. Make sure your customers enjoy an outstanding buying experience by training your staff members to express appreciation. When customers call or enter your store, your staff should be friendly, courteous, and helpful. When customers make a purchase (or even if they don't), your employees should thank them. You can also authorize employees to offer free upgrades or send greeting cards to their customers. Remember your team is an extension of you, so be sure they're in-the-know about your customer appreciation efforts!
Want to show more customer appreciation for less? Get high-quality, discount printing from PsPrint!