Did you know the plumbing industry represents a $102 billion market? Or that the HVAC contractor market is worth $87 billion – and expected to grow to as much as $130 billion by 2020? These statistics illustrate vast opportunities for plumbing, heating, and cooling contractors; but with opportunity comes competition, so you need a smart marketing strategy if you want to get the call when your services are required.
Magnets and stickers are perfect marketing tools for PHC contractors that want to differentiate themselves from competitors. Here's how your plumbing, heating and cooling company can boost business with magnets and stickers.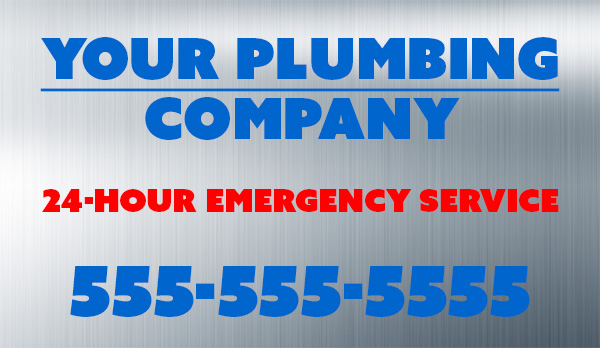 Service stickers
Plumbing, heating and cooling equipment needs routine maintenance – and sometimes it breaks down and needs repairs. You can make sure you're the first company people call by printing stickers that feature your 24/7 emergency service, repair line, branding (company name and logo), and phone number.
Print stickers that command attention (metallic foil roll stickers and brand-colored roll stickers are good options), then affix them to every piece of equipment you install or repair: furnaces, air conditioners, boilers, garbage disposals, PVC pipes, ductwork, and more.
Refrigerator magnets
Service stickers are excellent marketing tools for when equipment breaks down, but how do you keep top-of-mind day after day, year after year? Refrigerator magnets. You can print refrigerator magnets that feature your branding, benefits, and contact information. Refrigerator magnets are useful, so customers will use them. They'll see your brand every time they go to the refrigerator and instantly know who to call if they need maintenance, repairs, or are thinking about a remodeling project and need to buy and install new equipment.
You can make your budget stretch even farther with refrigerator magnet printing by partnering with non-competing businesses to create a local service directory. For example, you can partner with a local electrician, water dispenser supplier, carpet cleaner, and others. Print magnets that showcase each company as the preferred local provider in its respective field. You can share the printing costs and gain even more exposure since each partner will distribute magnets at every service call.
Replaceable product stickers
Some products are meant to last years – furnaces, AC condensers, and air handlers, for example – while others should be replaced on a routine basis: in-line water filters and furnace filters, for example. You can print stickers to affix to every replaceable product you sell, so customers know who to call for a replacement. Leave a blank area on your stickers so you can write the replacement date, so customers know when they need to call (like how mechanics affix oil change stickers to windshields).
Keep records of your own, and you can contact homeowners and business customers when it's time to replace their filters and other replaceable products – a terrific way to ensure repeat business year after year!
Car door magnets
Take your branding on the go and make sure you're marketing your heating, plumbing, and cooling business curbside and on the road with car door magnets. Print car door magnets for every vehicle in your fleet (whether one or 100). Your logo, phone number, and, optionally, your website URL should dominate your car door magnet design, so it's easy to notice and understand from a distance.
Car door magnets help make your HVAC and PHC business ubiquitous; the more you get in front of potential customers, the more likely they are to call when they need your services. Make your marketing even more omnipresent by recruiting friends, family members, and employees to sport your magnets on their vehicles – a great strategy for small, local businesses with limited budgets.
Ready to take your plumbing, heating, and cooling business to the next level with sticker and magnet marketing? Do it for less with premium printing at discount prices today!