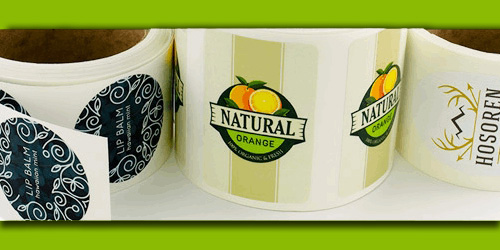 If you operate a service-based business and you're not printing roll stickers, you might be missing out on a golden opportunity to generate follow-up calls and earn more business from your existing customer base. The following details how roll stickers can generate follow-up calls.
Roll stickers offer THE resource for help: you
Roll stickers are a great way to show customers how to get support, which can lead to more business. In many cases customers aren't aware of your full product and service offering, and therefore might go to a competitor simply because they don't know you offer what they're looking for. In other cases, customers might forget where they purchased a particular item in the first place, and then go elsewhere for support. Roll stickers ensure they come to you first.
A perfect example would be an HVAC company that installs home heating and cooling systems. Such systems might last years before they need servicing, and by then homeowners might forget who installed them or new homeowners might have moved in. A roll sticker prominently placed on furnaces, air conditioning units, condensers, and other equipment tells customers who they need to contact to get the service they need.
Another example might be a computer retailer who also offers home networking services. A customer might purchase a laptop and router from the retailer then call a competitor if they struggle to set up their home network. Roll stickers prominently affixed to the computer equipment and user manuals make it clear the computer company offers home networking, and might even reveal a special discount code for previous customers to offer an incentive to call the computer retailer first.
Roll stickers remove all guesswork
In addition to telling customers who they need to call, roll stickers can offer simple troubleshooting information as well as reasons they need to call. Naturally, they also offer relevant phone numbers, email addresses, and support site URLs. Roll stickers take all the guesswork out of follow-up calls.
Using our HVAC example, our technician might install a new thermostat with advanced features. The company could print a roll sticker with simple operation instructions to place next to the thermostat. This could reduce the number of unnecessary service calls. The stickers could also tell customers when they need to call – for instance, if a certain icon is flashing on the thermostat – so they don't waste time trying to troubleshoot something they can't fix themselves.
Placement is everything
If you want to leverage the power of roll stickers to generate more follow-up calls, it's important to strategically place them in relevant areas customers are likely to notice. HVAC equipment should have roll stickers on the front, especially near filter access panels. Appliances can feature service call stickers just above the operational buttons. Laptops often feature stickers on either side of the mousepad.
Think about where your customers will be looking when they're trying to troubleshoot their own issues, as well as non-invasive places from which they're unlikely to remove your stickers for aesthetic reasons, and place your roll stickers there. Above all, make it easy for customers to call you first when they need your support and additional services.
Ready to generate more follow-up calls and yield more business from your existing customer base? Print roll stickers at discount prices today.