It's easy to find blog posts and online articles offering free advice for how to spend your 2017 marketing budget; however, much of that content is written with the explicit purpose to convince you to invest in a specific marketing strategy – whichever strategy the content host is peddling. That doesn't mean you can't glean valuable insight from such articles, but it does mean you should take them with a grain of salt. After all, the writers do not know your business, your audience, or your industry – not to mention the size of your budget.
So, how can you map out a 2017 marketing budget that maximizes your return on investment? Here are some tips that allow you to create a custom 2017 marketing plan that will help you achieve your business goals.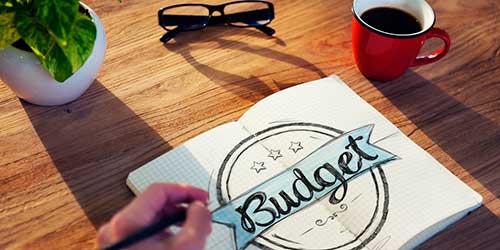 Start at the end
A common, if not misguided, approach is to consider all the marketing tools available and decide which can help you grow your business. However, this strategy has an inherent flaw: it allows the tools you choose to dictate your path, which can limit your growth potential.
A better strategy is to start at the end; that is to say, define precisely what you want to gain as a result of your marketing efforts. This allows you to cherry pick only the marketing tools that foster goal achievement.
The distinction might seem minor, but starting at the end enables you to focus your marketing efforts and create powerful, efficient, and cost-effective marketing campaigns that grow your business.
For example:
You might start by determining how much you want to increase revenues and profits in 2017
Then, how many sales you need to reach those figures (you'll also need to know what each sale is worth and how much you must invest to earn a sale)
Finally, you'll arrive at how many leads you'll need to generate the number of sales you're seeking
Of course, this is just one example. The important takeaway is you need to customize your end goals to your business model before you decide how to market.
Work backward
Now that you know where you want your marketing budget to take you, you can work backward from your goals to identify the best marketing tools to invest in.
Consider the following:
Where are your customers? What do they respond to?
What are your competitors doing? What opportunities are they missing?
What is the ideal sales funnel? Do your customers meet with your sales team? Do they order directly from catalogs? Do they sign up for your newsletters, then later respond to free information offers and finally buy?
Determine what your customers will do immediately before they buy. Then, determine what they will do before that. This will help you choose your marketing tools.
Let's say an interior remodeling company wants to increase its sales in 2017. Working backwards, the company determines:
Immediately before customers buy, they get quotes
Before they get quotes, they call known companies and search online for others
Before they call and search, they determine how they want to remodel their homes by searching for ideas online and off
Now, the remodeling company can determine how to insert itself at different stages of the sales cycle.
Choose your marketing tools
You know your end goals, and you know your customers' buying cycle. Now, you need to choose marketing tools that get your company noticed at each stage of that cycle.
So, our remodeling company example might consider the following initiatives for each stage:
STAGE 1: Customers search for remodeling ideas
Marketing ideas:
Print booklets

packed with inspirational before-and-after remodeling photos (which could be mailed or requested via a website or social media form)

Set up a remodeling inspiration page on its website or Pinterest
Take out Facebook ads leading to remodeling ideas on-site, on Pinterest, or via a mailed booklet
Place a large banner

in prominent areas inviting customers to stop in for a free booklet or to visit the website for remodeling ideas

Send a direct-mail postcard

inviting customers to check out remodeling ideas online or in print

Place yard signs

in front of every finished remodeled home

Distribute door hangers

in the neighborhoods where existing remodeling projects are ongoing
Our remodeling company might choose one or all of these strategies to help customers generate ideas for their remodeling projects.
STAGE 2: Customers call for quotes
Marketing ideas:
Insert a free quote mechanism – and accompanying special offer – in each of the marketing initiatives adopted from STAGE 1
Use targeted paid advertising (online and off), banners

, billboards,

posters

, and

flyers

for consistent branding so the company becomes well-known and gets quote opportunities

Optimize the website for local remodeling searches to make sure the company gets a look and a call whenever people are ready for quotes
Consistently work social media so potential customers are often exposed to beautiful remodeling projects
STAGE 3: You deliver quotes
Marketing transitions to sales at this point, but our remodeling company goes the extra mile to convert as many qualified leads as possible.
Marketing ideas:
Print a leave-behind brochure

or booklet with remodeling ideas and benefits of hiring the company

Send a thank-you letter

or

greeting card

via direct-mail or an email to thank prospects for their time, ask if they have follow-up questions, and deliver a special offer
The remodeling company can then decide which combination of marketing tools at each stage stands the best chance of yielding results. The company also adds a fourth stage: after-service follow-up. A good example would be a brochure or sales sheet that lists all the work the company can do, so happy customers call back for future work.
Now, our remodeling company has a list of marketing initiatives for and the tools required to carry them out. These have been carefully selected through a process of identifying end goals and understanding customer behavior.
All that's left to do is determine what distribution volume is required to generate the number of leads they need to achieve their sales goals. Once that's done, they know exactly how to spend their marketing budget.
Apply this method to determine the best way to spend your 2017 marketing budget, and you'll be on-track to meet your goals efficiently and cost-effectively.
If print marketing is part of your plan, be sure to maximize your ROI with premium discount printing services.