The 40/40/20 Law of Direct Marketing states that 40 percent of your success is contingent on the quality of your mailing list, another 40 is dependent on your offer and the remaining 20 is comprised of everything else. So, how do you create a winning mailing list? The process is actually quite simple. You don't have to hire a list broker, and you don't have to compile your own – though you would be wise to have a list of current customers to send promotions to, this post is focused on finding new customers. Here's how to do it in two easy steps. STEP 1: Define your target customer Do you know who your best customers are? If not, look over your customer list and find out who spends the most money with you. Depending on your type of business, you might have just a few customers who account for the majority of your sales, or you might have many repeat customers who consistently buy from you. Determine where the majority of your revenue comes from, then select the top three customers you have from that group. Make a chart to compare those customers across the following demographics. If you don't know the answers, find them or estimate as best as possible.
| | | | |
| --- | --- | --- | --- |
|   | Customer 1 | Customer 2 | Customer 3 |
| Gender |   |   |   |
| Age |   |   |   |
| City |   |   |   |
| Income |   |   |   |
| Homeowner/Renter |   |   |   |
| Home Value |   |   |   |
| Education Level |   |   |   |
| Marital Status |   |   |   |
| Children |   |   |   |
| Home Size |   |   |   |
| Length of Residence |   |   |   |
| Mail Order Buyer |   |   |   |
| Credit Card User |   |   |   |
| Mail Responders |   |   |   |
| Children Age |   |   |   |
| Other Demographics |   |   |   |
Now, you can develop a range for each demographic for your best customers. You want to create a mailing list that is comprised of individuals who fit within these ranges. You might not be able to determine the answers to all of these demographics, and some data you might not need. For example, you might not need to know whether your best customers are mail order buyers, but these are demographics to consider when creating your list because you will want to send your direct mailers to those known to respond to direct-mail marketing. STEP 2: Get your mailing list Go to PsPrint's mailing list generation page: http://www.psprint.com/print_services/services/mailinglist/index.asp You will be able to give your list a descriptive name, such as "Widget Postcard Mailer." Next, decide how to target your geographic area. If you operate a local business, you can select by zip code or radius. If you target a larger regional or nationwide customer base, you can select by cities, counties and states.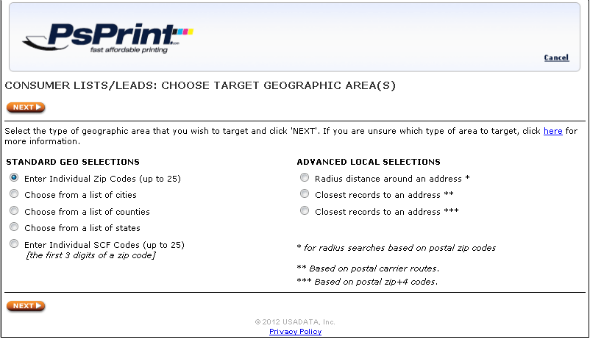 Now you have the option to choose all households in a chosen area, but you're far better off to select households by the specific demographics outlined in Step 1.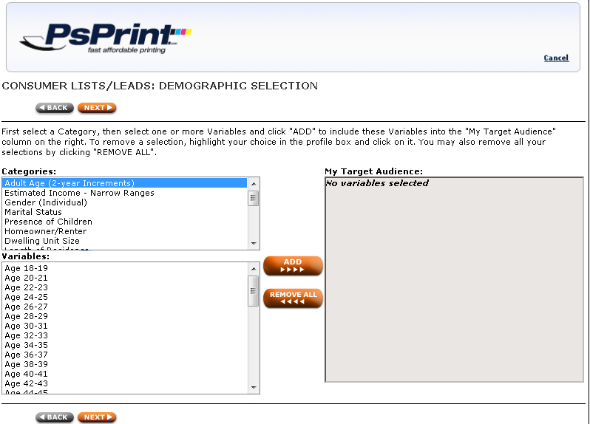 Once you've selected your demographics, you will be presented with a total number of individuals who meet them. Determine how many you would like to rent from each locale, then decide whether you will use this list just once or multiple times. Remember that repetition is important to success.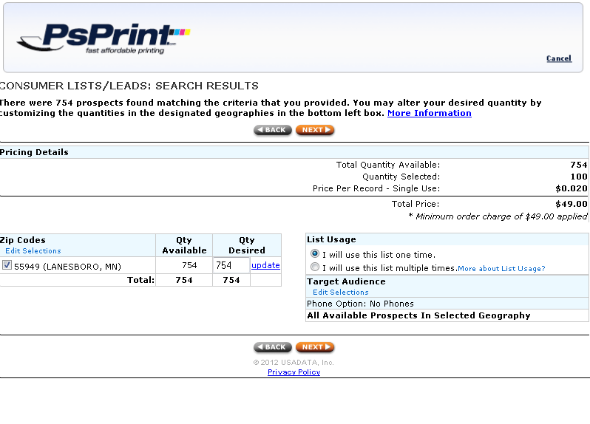 That's it! Now all you have to do is check out and you'll have a highly targeted mailing list comprised of likely buyers who meet your best customer demographic data. It's time to turn some major return on investment!