Restaurants, bars and grills, diners, and night clubs learned long ago how to leverage beverage coasters to boost sales. However, you don't have to operate an eatery or club to take advantage of coaster marketing to grow your business – all you need to do is partner with one. The following lists five different strategies for turning beverage coasters into sales.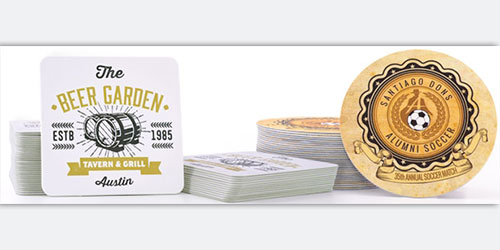 Promote your brand to a shared audience
Partner with a restaurant that shares your audience, then print beverage coasters that boast your brand on one side and theirs on the other. Or, feature a specific product or service diners or clubgoers are likely to be interested in, and offer a special coupon code right on the coaster.
Promote natural after-dinner specials
Where do patrons go after dinner or the club? What do they do? From movies to date night activities to mini golf and more, if you can cater to the after-dinner crowd then you can profit from beverage coaster marketing.
Promote a tourist attraction
Perfect for tourist hotspots, you can promote your tourist attraction on beverage coasters that encourage restaurant and club customers to visit you during their stays. Add in discount admission, freebies, or other incentives to get more visitors through your door. This is a great strategy for museums, theme parks, historical sites, tours, and other attractions.
Get social likes, follows, sign-ups, and shares
Use beverage coasters to run a social cross-promotion between restaurants and your business. For example, customers who like and share both of your Facebook pages might receive an immediate discount on their meals – and both businesses receive their contact information for follow-up marketing.
Promote menu items and take-home products
Of course, restaurants and night clubs can employ beverage coasters to promote their special dishes, desserts, and drinks; but brands can do this as well. Beer companies often give restaurants free coasters that encourage patrons to buy their beers. If you supply restaurants with products that can be purchased for take-home or purchased in the grocery – think sodas and sauces – you can offer a coupon for customers to buy direct.
Brainstorm creative ways to leverage beverage coasters to promote your business, and you can easily boost sales for your business whether you operate a restaurant or not. Then, maximize your return on investment with discount coaster printing.