You know Cyber Monday represents a great opportunity to boost holiday sales, but how do you compete against so many big-hitters and their relentless online advertising? Print marketing can help you reach targeted customers in a tangible way, driving Cyber Monday traffic without heavy competition vying for your customers' dollars. The following details how to use print to rule Cyber Monday sales.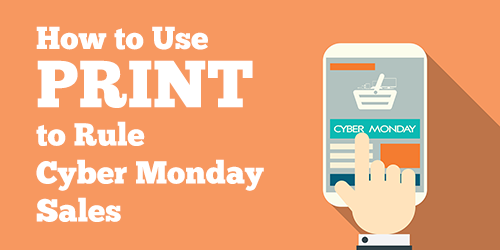 Target with direct-mail
Direct-mail is an excellent strategy for drumming up Cyber Monday business. It allows you to reach a well-targeted audience of likely buyers. Moreover, you can limit your mailing list to those who shop online. Send a postcard, mini-catalog, or sales letter that promotes your Cyber Monday-only discounts. Add in a coupon code for extra savings or an additional incentive so you can track response.
Bring them back from Black Friday
Are you holding a Black Friday sale? Bring customers back on Cyber Monday by handing them flyers at checkout. Your flyers should promote your Cyber Monday-only sales. Sweeten the deal with a special coupon code that's just for Black Friday customers.
This strategy not only entices your pre-existing customers to come back for more, it can also boost Black Friday sales when you promote the idea that your Black Friday shoppers will be eligible for an exclusive Cyber Monday sale with VIP discount pricing.
Indoor/outdoor marketing
How do you get shoppers to hold off on Black Friday shopping so they can take advantage of your Cyber Monday specials? One way is to reach them while they're in shopping mode. Strategically place posters, banners, and wall graphics in high-traffic shopping districts, near malls, along roadways, and in other prominent areas to promote the idea that your Cyber Monday deals are better than the Black Friday deals they're seeing today.
Remember, you don't have to advertise online to yield excellent results on Cyber Monday. While your competitors are toiling away competing against each other online, you can go straight to the buyer uninterrupted with a strategic print marketing campaign. Get started now!