The holiday marketing season is here, and you're probably seeking creative and cost-effective ways to boost holiday sales. Social media is a no-brainer – Facebook, Twitter, Pinterest, and Instagram all present excellent holiday marketing opportunities – but if you really want to increase holiday sales you should consider integrating print marketing with your social media campaigns.
Consider these facts from the Data & Marketing Association Response Rate Report:
Direct-mail yields much better response rates (5.3 percent to house lists, 2.9 percent to prospect lists) than social media 0.6 percent)
Direct-mail and social media offer similar return on investments at 27 percent and 28 percent, respectively
Direct-mail is expected to decline by 19 percent over the next year
Those figures lend insight into holiday marketing opportunities your business can take advantage of; primarily, integrated print and social media marketing campaigns.
Think about this:
High print marketing response rates allow you to drive more likes, follows and social engagement than low social media response rates
With both social and print boasting high ROIs, campaigns that integrate the two stand an excellent chance of succeeding
Less print marketing competition means more social media competition, creates direct-mail opportunities your competitors are missing, and offers the advantage of reaching customers via multiple channels
Whether you want to increase holiday sales for Christmas, Hanukkah, Kwanza, or you're gearing up for a big Black Friday or Cyber Monday push, the following lists ways you can boost your holiday social campaigns with print marketing.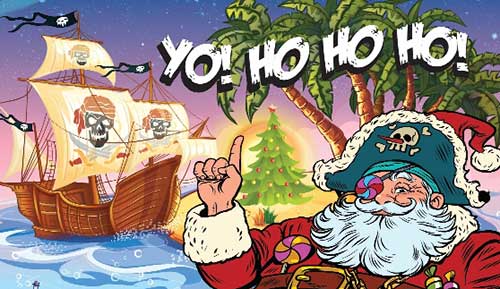 Print to social exclusive offer
Send direct-mail postcards featuring exclusive holiday deals – available only to those who follow you on social media. Any new followers receive a coupon or coupon code for your holiday specials.
Promote Black Friday and Cyber Monday sales
Engage customers with Black Friday and Cyber Monday deals that are released hourly on your social media pages. Promote the sales event with print marketing: postcards, banner printing, even custom-printed holiday cards sent to your customers.
Ultra-targeting
Wouldn't it be great if you could send direct-mail Christmas catalogs, booklets about how to throw the perfect holiday party, custom brochures, custom-printed holiday calendars, and other print marketing tools only to people who really want them? You can, if you ask your social media followers to fill out a form to receive your catalogs, booklets, calendars and brochures. In this manner, you're able to launch a highly targeted direct-mail marketing campaign that offers more information (and authority, credibility and trust) as an extension of your social marketing – and simultaneously eliminate waste and increase your ROI.
Print to social buys
Several Facebook apps allow you to sell products right from your page. If you don't have the budget for a full-blown print catalog, consider sending your targeted audience a postcard that promotes your Facebook catalog and offers a time-limited discount coupon code.
Promote a contest
Use print banners, brochures, flyers, posters, and direct-mailers to promote social media contests: best Christmas lights or holiday decorations, coolest holiday vacation, best holiday party selfie, etc. Thus, your social contests won't be served only to those who already follow you – your print marketing efforts can attract new followers you can market your holiday promotions to.
Ask for reviews
Social media reviews can influence customer decisions, so use your print marketing to ask customers to review your company on social media. One fantastic way to do it is to insert a business flyer into orders that includes a few positive reviews on your site, then asks your customers to share their experience. You can sweeten the deal by offering a coupon code for anyone who leaves a review – no matter how many stars they rate you.
Instant discounts
Offer instant discounts to anyone who follows your social media page. For example, a restaurant could print table tents that ask customers to follow their Facebook page. In return, they'll get $5 off their current meal. Or, a retailer could print window clings that ask customers to follow them to receive a discount at checkout. The benefit of instant gratification can help you increase your number of targeted follows.
Ready to boost your holiday social media campaigns with print marketing? Do it for less with premium discount holiday printing services.