It's no secret the holiday season is the busiest time of year for retailers, spurring $692 billion in annual sales, but when you own a small business it can be difficult to compete with big-box stores and major retailers like Target and Walmart – not to mention Amazon. In fact, 75 percent of shoppers plan to allocate at least some of their Christmas spend on Amazon, another 48 percent plan to buy at Target, and 47 percent will buy at Walmart. How can your small business compete with these retail behemoths?
The truth is it's not that difficult for small businesses to steal Christmas sales from big-box stores and Amazon. Consider this: 67 percent of Americans would rather do their holiday shopping at small businesses instead of retail chains.
While some people will undoubtedly make all of their purchases from major retailers, many more would prefer to buy from small businesses like yours – but you need to give them a reason to shop with you. The key is to identify the things you can do better than the big-box stores, then to develop a Christmas marketing strategy that promotes those benefits so you can get your share of the holiday pie.
Here's how you can steal Christmas sales from big-box stores and Amazon.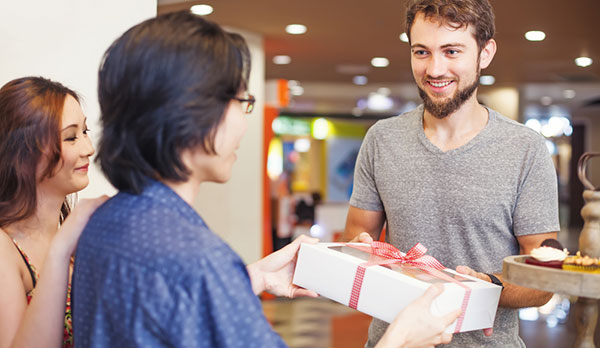 1. Focus on quality
Product quality is a major motivator, and your small business can promote the idea that your products and services are superior to the cheap products sold at big-box stores. In fact, 60 percent of shoppers say product quality is a factor when deciding where to buy gifts – compared to 56 percent who say low prices are a factor.
2. Sell unique gifts
Work on curating a unique gift selection for customers to browse. While the Walmarts of the world are focused on selling products for the masses, you can instead sell gifts designed to appeal to a well-defined niche. A Groupon survey found that a unique gift selection is a prime motivator for people to buy from small businesses. A good rule of thumb? If you can find it at Walmart, it's not right for your store.
3. Up your customer service game
Customer service and a personalized shopping experience are other major factors that influence small business sales; and as a small business, you're positioned to offer a level of personalization the big-box stores simply can't match.
Your holiday marketing should showcase these benefits to your customers. Tell them how you can offer better customer service and how shopping with you is more personalized; for example, your staff might be trained to help your audience find the perfect gift. You can also offer convenient add-ons such as gift wrapping and holiday cards for a one-stop shopping experience.
4. Sell an experience
Big-box stores are great at selling physical products, but many shoppers prefer to give an experience – something small businesses are uniquely positioned to offer. In fact, a full 27 percent of holiday shoppers would rather gift an experience than a physical product.
Brainstorm ways to offer an experience. For example, a boutique gift store might offer an interior decorating workshop packaged with a gift card that can be used to purchase items after the class. Or, a spa might partner with a restaurant and a movie theater to offer a holiday date night package. Consider how you can bundle your retail products in an experience, and you can sell unique gifts the big-box stores can't match.
5. Hyper-target your marketing
Know your audience, then focus all your marketing efforts on reaching them. You can't compete with the mass marketing of big-box stores, but you can market your Christmas sales to the people they don't understand. Send direct-mail postcards to your house list and those who match their demographics. Print banners to place in prominent areas your audience frequents. Consider printing a holiday gift guide booklet or catalog designed to help your niche audience find the perfect gift.
In short, don't waste your marketing dollars trying to reach everyone; instead, invest your marketing budget in helping your customers personalize their shopping experience. The best part? You can maximize your ROI with discount holiday printing services!