Once predicted to be replaced by apps in the digital age, print calendars continue to powerful tools for promoting your business. In fact, recent studies have discovered increased demand for printed calendars. Consider these facts reported by The New York Times:
The average household has more than three printed calendars; the average business, two or more
75% of households have a printed calendar in the kitchen
Sales of decorative and other print calendars increased by 8% from 2014-15 to 2015-16
82% of people enjoy receiving calendars as gifts, and 70% plan to do business with the companies that provide the calendars
Those statistics make a compelling case for printing calendars to market your business. The best part is it's not too late to print calendars to boost business in 2018. The following five tips will help you quickly create a calendar designed to increase sales year-round.
1. Choose a relevant theme
Start by selecting a theme that's both relevant to your audience as well as your business. A company that sells farm implementations might print calendars that feature picturesque farm scenes, for example; or, a pet store might print calendars that feature cute puppies and kittens.
The idea is to select images your audience will want to put on display, then find a way to tie them back to your business.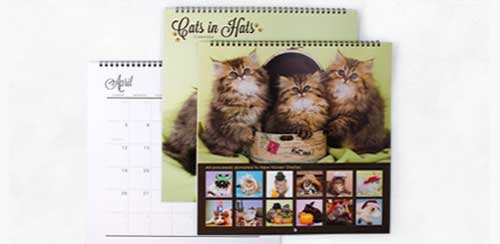 2. Use a template – or hire a designer
You can download free calendar layout templates to make your own calendars. If you're not design savvy or simply don't have the time to do it yourself, you can hire a calendar designer to create your design for you. If you're short on time, a designer might be your best option.

3. Use stock photos
If you do not have good photos to use in your calendar, you can find photos from a stock photo site such as iStock Photo or Deposit Photos. You'll need to pay for the photos, but going the stock route can save time by eliminating the need to take your own photos or to schedule a photo shoot with a professional photographer, which will cost even more.
If you're hiring a graphic designer to create your calendar, your designer might already have a membership to a stock photo service so you might not need to purchase stock photos yourself.
4. Make your calendar sell
Your calendar design should reinforce your branding each month, and you can take it to the next level by featuring monthly specials. This is a great strategy for businesses that have seasonal sales. A home improvement store, for example, might have a special on snow shovels in December, then a special on gardening tools in May.
Your calendar design could feature a specials section each month to promote your deals without intruding on the large images that make your calendars desirable to your audience – for example, a dedicated strip below the photos.

5. Opt for expedited printing and shipping
If you need your calendars fast, you can opt for expedited printing and shipping. You can print wall calendars with two-day turnaround; or, print desk calendars with five-day turnaround; then select next-day shipping to get your calendars in no time.
If you're going to distribute some of your calendars via direct mail, you can save even more time by sending your mailing list to your printing company and having them ship your calendars directly to your customers. Doing so can shave several days off delivery times, since your calendars won't need to be shipped to you first.
Calendar printing is one of the most effective marketing tools available; and when you consider the cost-per-view over 365 days per year, it's also one of the most cost effective. The statistics prove people love calendars, and it's not too late to take advantage of calendar marketing to boost sales in 2018. Be sure to maximize your return on investment with discount calendar printing services.