Calendars are powerful marketing tools that put your brand in front of customers 365 days a year. The great thing about calendars is their value; customers use them, every day. Despite the initial investment for calendar printing, the fact that they're referenced daily makes calendars some of the cheapest marketing tools when you consider cost-per-view. Harness the full power of calendar marketing by planning your strategy early!
When to start planning your calendar marketing strategy
Late summer or early fall is a good time to begin planning your calendar marketing strategy. Getting an early start affords you the time to print high-quality calendars featuring themes relevant to your business and your customers. It also gives you ample time to distribute your calendars to a targeted audience, thereby increasing your ultimate return on investment.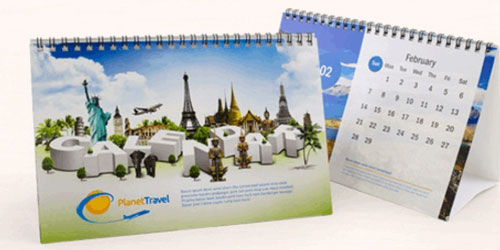 Calendar marketing questions you need to answer now
The following lists important questions you need to answer now to ensure a successful calendar marketing campaign.
What theme will your calendars feature? Your calendars should employ images or illustrations your customers will be proud to put on display, and that are also relevant to your business.
Where will you get photos? You can use stock images, take photos yourself, or hire a photographer, illustrator, or graphic designer. Or, use a calendar template to cut costs and save time.
How will you incorporate branding? Will you put your logo on every photo? Helpful tips each month?
Will you add in monthly promotions? You can turn calendars into direct sales tools by adding in special coupon codes for specific products and services each month – perfect for taking advantage of seasonal sales swings.
How will you distribute your calendars? Options include direct handouts, countertop leave-behinds, and direct-mailing to a targeted list.
Who will you give calendars to? Make sure your audience is targeted!
Where will you print your calendars and what printing options will you need? Think about calendar size, paper stock, quality, and whether you'll be printing wall calendars or desk calendars.
What is your budget? How much will you invest in calendar printing and your entire campaign? The more you print, the greater your reach – but you want to make sure that reach, again, is targeted so your calendars aren't wasted.
When to distribute your calendars
As stated, you have multiple calendar distribution options – and you can employ all of them – but when will you actually distribute your calendars? Typically, November is a great month for calendar distribution, but you can hand them out all the way through January. Your calendars can be printed with December of this year as the first month. That way your customers can hang them early and you can start realizing their benefits right away. Think about distributing your calendars right around Thanksgiving to maximize your reach, exposure, and ROI. Start planning your calendars now so you're able to hit that target date.
Ready to start planning your calendar marketing campaign? Do it for less with discount calendar printing